Over the past decades, Africa's most populous country – Nigeria, has managed to earn itself an unflattering reputation as the graveyard of injustice where the rule of law is almost non-extent and citizens more often than not resort to self-help to channel their grievances and assert themselves. The government whose duty it is to uphold and enforce the rule of law has continued to selectively smash and break it, leaving its citizens, disoriented, disenchanted, and disappointed.
There is no word or phrase that can aptly capture or describe what is presently happening in the country. Terrorism, insurrection, insecurity, and anarchy reign supreme, but rather than making bold attempts to fix the rot and correct the anomalies, the government of the day appears confused and without direction and has continued to chase shadows.
What the country now has in place is a contumacious government that protects and promotes lawlessness and political disorder, while opposing the conservation of fundamental rights and legality in the country. What Nigerians now have to put up with is an oppressive authoritarian dictatorship that does not give a hoot about what its citizens or any interested observer thinks about its continuous disobedience to valid court pronouncements.
One of the events that has perhaps, more than anything else, exposed Nigeria's lawlessness and irresponsibility in recent times is the case involving the leader of the Indigenous People of Biafra (IPOB), Nnamdi Kanu. The Biafran leader was arrested by Interpol and renditioned to Nigeria from Kenya, after being intercepted in the East African country on Sunday, June 26, 2021.
Read Also: MC Oluomo: The Face Of Thuggery And Banditry In Lagos
According to reports made public by his legal representatives, throughout his illegal and horrific detention in Kenya before his rendition, Kanu was never subjected to any form of extradition hearing or proceedings. It was a pure case of kidnap by the federal government of Nigeria.
The truth remains that Kanu's mode of arrest did not come as any sort of a surprise to many Nigerians who saw its present cold-hearted leader, Muhammadu Buhari carry out the same lawlessness forty years ago when he held sway as the country's Head of State.
In 1984, under Buhari's directives, the Nigerian government tried and failed to abduct a former cabinet minister, Umaru Dikko, in London. The extraordinary plan was to abduct Mr. Dikko, drug him, stick him into a specially-made crate, and put him on a plane back to Nigeria.
It is regrettably sad that not even the major diplomatic fall-out with Britain which was caused by the messy event was enough to teach the irretrievably stubborn Buhari some diplomatic lessons. Forty years later, Buhari would go on to authorise another rendition, this time, on African soil. Perhaps, Buhari was relying on a certain Abubakar Malami, his attorney General and so-called Minister of Justice to perform a swift operation this time.
Sadly, unlike in the case of Umaru Dikki and the British government, the Kenyan authorities had to show a bit of Africa in them and colluded with the federal government of Nigeria to kidnap a British citizen simply because he was on their soil.
Kanu was basically bundled back to Nigeria to face trial in Nigeria for charges bordering on treasonable felony instituted against him at the Federal High Court in Abuja, in response to years of separatist agitation for an independent Republic of Biafra through his IPOB group.
Granted that Kanu's methods may not be the best however, a lawless Buhari who hasn't hidden his disdain for the rule of law should not be the one prosecuting him. Given the number of court pronouncements that Buhari and his team of airheads have ignored or blatantly refused to obey, it reeks of hypocrisy, double standards, and injustice to be prosecuted by the same man.
Kanu who is a British-Nigerian activist had in 2014 founded IPOB, with the sole aim of restoring the Sovereign State of Biafra which existed in Nigeria's eastern region during the Nigerian Civil War of 1967–1970. His calls for a referendum have never been a call to war, it has remained a call for self-determination to allow the people of the region to determine their fate by themselves. Rather than engage Kanu ideologically, the federal government of Nigeria resorted to the use of intimidation and coercion to quell his voice which is what is expected of the empty-headed cowards and charlatans who currently run Nigeria.
Following his rendition to Nigeria, on the 29th of June 2021, Kanu was brought before the Federal High Court, without any notice to his counsel, or being afforded any legal representation whatsoever. The court ordered that he be remanded in the custody of the Department of States Services (DSS). For almost two years, he has remained in the said custody; but, under inhuman and degrading conditions – not allowed a private doctor's second opinion regarding his failing health; he is kept in solitary confinement; he is not properly fed or treated for his heart condition and high potassium level; not allowed private audience with his Lawyers with any writing materials, files or documents; and only allowed strictly supervised two visitations per week and he is not even allowed the freedom to practice his Jewish religion. Buhari's government has ignored all court orders to the DSS regarding these poor conditions. They have all been brazenly ignored and disobeyed with impunity and reckless abandon, fuelled by the lawlessness which Buhari's government has become synonymous with.
The lawless Buhari regime has dragged Nigeria in the mud over Kanu's case and they don't give a hoot about it. So far, Buhari has violated all relevant International legal Covenants and instruments such as the African Charter on Human and Peoples Rights; Extradition Act 2004, African Charter's Principles and Guidelines on Human and Peoples' Rights while Countering Terrorism in Africa; and International Covenant on Civil and Political Rights are uniform in their provisions. All these charters which, in their entirety, prohibit the extraordinary rendition of Kanu in the manner in which it was brazenly carried out by the Federal Government if Nigeria have been grossly violated.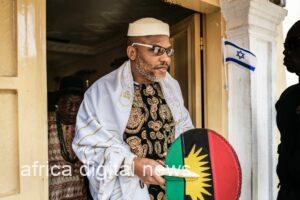 Perhaps, in Buhari's small and timid mind, they don't matter and Nigeria is a sovereign State, yet it is the same Buhari that is always junketing around the world with cap in hand begging for loans and grants. Ignorance is indeed the worst disease known to mankind!
Some eight months ago, a Nigerian court freed Kanu, but till date, he is yet to regain his freedom. In a clear judgment of the Court of Appeal, the Federal Government lost a case in which it tried Kanu as a terrorist. In a landmark ruling, a panel of the court boldly and unambiguously told Buhari's clueless Attorney General that Mr. Kanu has no case to answer.
While delivering their judgement on 13th October 2022, the Justices of the intermediate court unanimously agreed that the extraordinary rendition of Kanu, which was never in any way denied by the Federal Government, constitutes a flagrant and egregious violation of all known international laws and treaties on extradition to which Nigeria is party, and thus, is supposed to obey!
In that ruling, the learned Justices went further to condemn, in very strong words, the executive recklessness and lawlessness exhibited by the Federal Government of Nigeria led by the President, in Kanu's unlawful abduction and extraordinary rendition from Kenya to Nigeria.
Who will have imagined that Buhari's rascality will have graduated to the point where even the court had to strongly deprecate the cavalier attitude of his government in treating the serious issues of Kanu's abduction and extraordinary rendition with levity and utmost whimsicality, sadly, that is exactly where the country is at the moment.
Ever since Buhari conned his way into Aso Rock in 2015, the country has witnessed several cases of outright disregard for the rule of law and disobedience to orders of the courts and all this has gone on without consequences. He must, however, be reminded that he will not sit on that seat forever!
Going forward, all Nigerians of good conscience must continue to mount local and international pressure on the Buhari regime to release Kanu who has since somewhat become a resonating metaphor for the Igbo's struggle against marginalisation which is still in full force till date in the country. If there are still sensible people in Buhari's inner cycle, they must be reminded that Kanu's release will heal gaping wounds, bind oozing sores, and give the Igbos some sense of belonging in the unjust entity called Nigeria.
Buhari must be made to understand that he has nothing to gain by holding onto Kanu but has everything to lose if Kanu dies in the custody of the DSS. The Nigerian government must at this time, obey their own courts and restore Kanu's freedom to him, lawlessness should have limits.