The performing lawmaker representing Owerri North State Constituency in the Imo State House of Assembly, Hon. Engr. Philip Ejiogu, popularly called Mr. Integrity, in alliance with his campaign against illiteracy in Imo state, has moved a motion in the House of Assembly to investigate illegal private schools in the state.
He stands the notion on the fact that most private schools in the state are not operating within the basic educational laws laid down by the state Government and at that, they need to be either reformed or shut down completely.
Read Also: Hon. Philip Ejiogu Takes On Imo State Educational Sector
The speaker who has always been in strong support of the eradication of illiteracy in Imo state took to his official Facebook page to post the successful declaration of the Motion by the Imo State House of Assembly.
"I moved a motion on the floor of the house to investigate all Licensed Private Schools in IMO State to fish out all schools that got their licenses without having the basic requirements to establish a private school. As this motion have been granted by the IMO House of Assembly.#OneWithGod."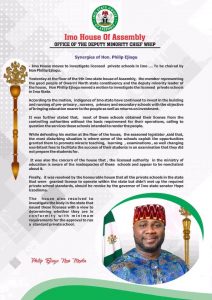 AFRICA DAILY NEWS, NEW YORK