A great leader is one who does everything within his power to leave memorable footprints on the sands of time. It is a leader who is decisive enough and has all the guts needed to take bold and frank decisions regardless of whose ox is gored. These molds of leaders are quite scarce and do not occur every day and that is because their qualities are unique and outstanding. Comrade Joe Ajaero is one of such great leaders and celebrating, and encouraging them is always the right thing to do.
A few days ago, Mr. Ajaero emerged unopposed as the new President of the Nigerian Labour Congress (NLC) to steer the leadership of the union of Nigerian workers for the next four years.
Born on the 17th of December, 1964, in Emekuku, Owerri-North, Imo State – Nigeria, Ajaero has been the NLC deputy president since 2011 where he has been nothing short of a tested and trusted, intelligent, and pragmatic unionist who has at every given opportunity made defining contributions to the improvement in the lives of Nigerian workers.
Offering his best in whatever endeavour he had encountered has continuously placed him in positions of leadership and service all his life. Before now, he has been the General Secretary of the NUEE since 2005. He was also the Head of Training/Information, at NUEE between 2001 and 2005. His role as a Research Officer of the Mechanised Infantry Division of the Nigerian Army, Kaduna between 1990 and 1991 earned him several plaudits as he was greatly admired. He served as the reporter/correspondent and Assistant News Editor at Vanguard Newspapers from 1992 – 2001 where his no-nonsense disposition and his penchant for speaking truth to power through objective reporting shot him into the national limelight which he presently enjoys.
Read Also: Buhari's 2015 – 2023: The Worst Time To Live In Nigeria
Notwithstanding these exploits, Comrade Ajaero has remained humble because he understands that humility is the first test that great men who have graced the surface of the earth have to pass. Ajaero has successfully remained focused on his goals, aspirations, and callings and has often allowed his works and, accomplishments to rather speak for him.
Felicitations are certainly in order following his emergence and subsequent assumption to office as the new numero uno of the NLC. As an indefatigable 'trenchman' as most of his peers and admirers will rather call him, his assumption of office is coming at the most auspicious time, a time when men and women of conscience are desperately needed to stand up and be counted on the side of the Nigerian people whose lacerated backs have been furiously ridden by the Nigerian elite and political class who have nothing but disdain for them.
It is soul uplifting that Comrade Ajaero is a man who understands the place of posterity in human interactions. His actions over the years speak to the fact that he clearly understands that long after we are all gone from here, history will always recall with outstanding vividness where we all stood when it mattered the most.
His elevation as the leader of Nigerian workers at a time when the country was faced and outrageously troubled with a myriad of issues gnawed at her very existence is not by accident. Great men like him are made for times like this. Nigerian workers will certainly be looking up to him to speak truth to power and not go to bed with them and the truth remains that history will surely recall where each and everyone stood and how firm our voices were at a time when a deluge of existential issues ailed Nigeria and the people of this country.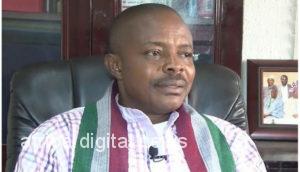 Beyond the congratulatory messages and fanfare, it is without a doubt that Ajaero understands that Nigerians are at a time when firm voices like his are desperately needed to become the vanguard of the downtrodden, which the NLC and other kindred institutions which he currently has the honour to lead represent. Indeed, these are auspicious times and the choice of Ajaero by the union is that of a square peg in a square hole.
It is quite critical to note that the NLC has been a critical voice in advocating for the rights of workers in the country and has played a central role in shaping labour policy. As Ajaero assumes office, it is pertinent that he takes some time off to reflect on the challenges that lie ahead and the opportunities for the organisation to make a positive impact on the lives of workers. He must take bold steps to re-establish the NLC as a powerful advocate for workers' rights, especially in light of the ongoing economic challenges and the need for workers to secure improved wages and working conditions. Courage will be key and thankfully, Ajero is not a weakling.
One of the biggest challenges he will face as President is the need to revive the NLC's role as an effective advocate for workers' rights. Over the last few years, the organisation has continuously struggled to assert its voice in the public discourse and has been criticised for losing its relevance. There is no better personality to undertake this than the Emekuku-born activist.
Ajaero's emergence as NLC President is coming at a time when the need to address the issue of corruption within the NLC has become really important. Over the years, the organisation has been marred by allegations of corruption and mismanagement, which has eroded public trust and weakened its credibility. It is a good omen that Ajero has always been a strong anti-corruption advocate such that he was even nicknamed 'Mr tough' at some point. Going forward, he must take steps to promote transparency and accountability within the NLC, build trust with workers, and restore the organisation's reputation as a trusted voice for workers in Nigeria.
It is gratifying to note that in his acceptance speech last week, Ajaero vowed to pursue a new national minimum wage law that will take into consideration the objective realities of the country's social-economic situation to avoid unnecessary politicking and impunity by employers and reduce the suffering of Nigerian workers. He is not someone that has any history of failed promises hence, Nigerian workers can begin to jubilate. He is certainly the man for the big task at the moment and hopefully, he wouldn't let his comrades down in the struggle.
In view of the foregoing, Ajaero must understand that he has a critical role to play in shaping the future of the NLC and by extension, the lives of workers in Nigeria. The challenges are daunting but not insurmountable so also are opportunities. With him as leader of the NLC, the union is surely on its way to once again becoming a powerful voice for workers in Nigeria and a catalyst for positive change in the lives of workers across the country. His elevation is certainly an honour well deserved and many Nigerians are rooting for him.