It is without a doubt that justice is the means through which established injustices are stationed, however, the golden eye of justice always has a way of seeing and requiting the unjust man. Over the last six months, 5 Governors elected on the platform of Nigeria's main opposition Party – the People's Democratic Party, PDP have been making frantic calls for justice but how genuine are these calls?
Sometime last month, the five PDP Governors metamorphosed into what they now refer to as the 'integrity' group or G-5. The group which is led by Governor Nyesom Wike of Rivers state, also has Governor Ifeanyi Ugwuanyi (Enugu), Okezie Ikpeazu (Abia), Seyi Makinde (Oyo) and Samuel Ortom of Benue state as their other members.
These Governors drew the daggers on the candidate of their party, Alhaji Atiku Abubakar in July over irreconcilable differences pertaining to the Chairmanship position in the party which the Governors have continued to insist should come to the Southern part of the country. The national leadership of the party is not ready and willing to let that happen and since then, the Governors particularly Wike have been making themselves available on TV cameras almost on a daily basis lamenting profusely about injustice in the PDP. As genuine as these calls may be, these Governors have refused to tell Nigerians that no such calls will have been made had Atiku settled for Wike and not Governor Ifeanyi Okowa as his running mate in July.
Read Also: Governor Nyesom Wike And His Politics Of Foolishness
These Governors have failed to tell Nigerians that had Atiku picked Wike, the National Chairman of the PDP, whose head they are asking for would have been acceptable to them, and anybody demanding his resignation would have met Wike's venom. Who fights injustice that way?
If these five Governors were ever interested in fighting injustice, one will wonder why they all supported a power shift to the South but not the Southeast before the PDP primaries. If they believed it was wrong for a Northerner to succeed a Northerner as Atiku was about doing with President Muhammadu Buhari, why then did they believe that a man from the South-South (Wike) should be President when a man from South-South was President the last time power came down south? It is on record that these Governors all preached electability instead of inclusion and equity when equity meant South-East or Igbo Presidency. So where is the justice?
The truth remains that the idea of justice that these Governors have is underlined by opportunism and self-service. Whatever decision they have so far taken speaks to the fact that it is all about their interests and selfish desires.
Granted that by some alchemy, the PDP had ignored Section 3 of its own constitution and decided through a 37-member committee that the party would jettison its zoning formula in May. This was purely unjust and inequitable but if there needed to be someone to speak out against the anomaly, the G-5 comedy group will be the last people in the pecking order to do so. The leader of the gang, Governor Wike in 2015 did not have any issue taking over from a fellow Ikwerre man in Rivers State, for him, that didn't matter. If it didn't matter in Rivers, why should it matter in Nigeria?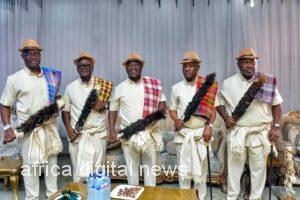 Ever since the statement in the opposition party became obvious, these Governors have made Europe the preferred destination for their horse trade meetings and nocturnal discussions. The reality is that poverty in Nigeria is horrendous, however, it doesn't seem to scare politicians. They have successfully completed the process of chaining the people with primitive emotional chords of ethnicity and religion and perpetually enslaving the people. The truth is that was the average poor man free, these governors wasting scarce foreign exchange in Europe, practicing advanced political harlotry, would worry about the airport reception back home rather than act unconcerned while Nigeria rots away. But they know their dispossessed supporters would still welcome them. That's exactly why these Governors have continued to be champions for social justice despite being vivid samples of societal injustice.
The truth is that Nigeria presently needs urgent help on all sides. Governors who constantly trumpet diversification of the economy to the ears of their hapless electorate have now made the extortion of political meetings to Europe a normal phenomenon. When was the last time any Nigerian saw British leaders at Ikogosi warm springs or Olumo rock for political meetings? To make matters even worse, the irony of the ongoing prodigality going on in Europe is that even Donald duke featured prominently in it. Duke should know. If Ikpeazu and Ortom have no clues about the promotion of domestic tourism, a Donald Duke should teach them. Donald Duke, who had the vision to modernise the Obudu ranch, should be mourning its decay.
Regardless of how one chooses to spin it, the odium of the useless meetings in Europe stinks, in spite of efforts at deodorising those meetings as dialogue to save Nigeria. If anyone should ever hold meetings to save Nigeria, should it be Wike and his gang who have perhaps two of the five worst-performing Governors in the South East? Should that dialogue even hold in London, France, Spain, or any other part of Europe? Have Nigerian politicians lost all their sense of national pride?  What is the value added to their discourse by holding it in London?
The truth remains that considering raging issues ravaging the country – horrific insecurity, a worsening economy, and the shutdown of public universities – the London jamboree is insensitive and a flagrant advertisement of the disconnectedness of the Nigerian political elite from the Nigerian people.
Going forward, while the so-called integrity group or G-5 continues to act as political prostitutes who hold meetings with Presidential candidates every day with the hopes that one of the candidates will see their value and pay heavily to take them to bed, they should be reminded that Nigerians are watching and cannot be deceived. There is no sense of justice in whatever they are fighting for. Calling for the resignation of the National Chairman of their party during a period of electioneering was a tall order that would never have happened had Atiku picked Wike to be his running mate. The fake cries for justice and the hypocritical sermons of national inclusions are becoming nauseating and should be discontinued. Nigerians are evidently tired of Wike and his unbridled noise.