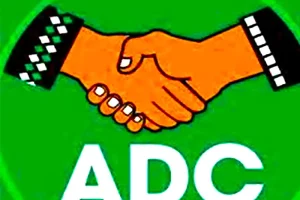 Abdul-Azeez Suleiman, the director general of the African Democratic Congress, ADC Global Campaign Council, has scoffed at allegations that the party's National Working Committee has been disbanded, calling them the desperate lies of expelled members who have no regard for the rule of law.
In response to posters shared on social media that appeared to indicate that there are factions within the party, Suleiman asserted that the ADC is still operating under the leadership of Chief Ralph Nwosu, its legal National Chairman.
The ADC National Secretariat is well aware of the desperate propaganda being spread from hotel bars by a rogue organization financed by the party's expelled presidential candidate, Dumebi Kachikwu.
Read Also:
ADC Presidential Candidate Denies Allegations Of Tax Fraud
"Without needing to give the Kachikwu group more justifications for feeling important, we state here that the only legally recognized and legitimate NWC is that led by Chief Nwosu, with headquarters at No. 4, Lusaka Street, Zone 6, Wuse Abuja, and that all other communications coming from hotels are from impostors sponsored to further the questionable political objectives of specific forces outside the ADC."
We are also aware that expelled party members who attempted to stir up internal strife in order to divert attention away from the party's focus on the upcoming general elections are actively supporting the conspiracy.
It's vital to reiterate that the ADC, which was lawfully established in line with the law and democratic principles and is governed by the constitution and the rule of law, would continue to handle its operations in a manner that is legal and constitutional, according to Suleiman.
Africa Daily News, New York