In the recent rise in the spate of online crimes and internet fraudsters, some individuals have sworn to keep meddling in these unscrupulous activities and actions, going about defrauding innocent people of their hard-earned resources.
A well-known media influencer, Onyeka Chiemelie who recently fell victim to one of these dishonest individuals recently took to his official Facebook page to call out the fraud syndicate while threatening to fish her out of her hiding place if she does not do what is right.
Read Also: Football Fans React To Hushpuppi's Attempt To Dupe EPL Club
The fraudster who he identified on Facebook as Georgina Ike posed as an artist and voice-over singer to defraud unknowing individuals who usually seek her services as an artist and graphic designer. From obvious reports, she has been into the fraud syndicate for a very long time and she has succeded in defrauding a few individuals of recent.
He called out to security services to help track her down and bring her to book for duping him of an undisclosed sum of money.
Below are some screenshots of their conversations: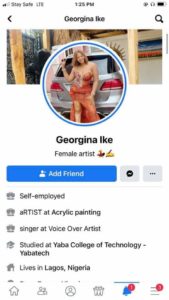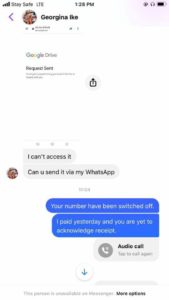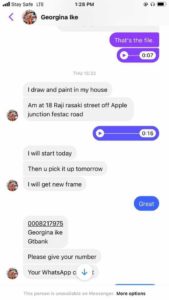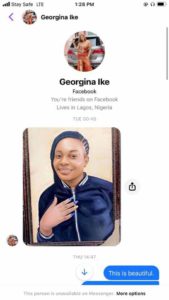 AFRICA DAILY NEWS, NEW YORK