The former Commissioner of Police in Imo State AIG Isaac O. Akinmoyede who has been redeployed to Zone 17, Akure, Ondo State, after his promotion to the rank of Assistant Inspector-General of Police (AIG) has bestowed an award of excellence on the Special Adviser to the Imo State Governor on Diaspora Affairs, Hon. Cllr Osakwe-Hibbert.
The duo have worked together on various projects in their different departments as the Honourable Councillor resumed her Special Adviser duties after she was appointed by Governor Hope Uzodinma.
That was when AIG Isaac O. Akinmoyede who is also a meticulous and industrious police chief made notice of her zeal and commitment to her office and to the welfare of the Imo State Government.
He lauded her on her dynamic and dedicated flair for starting up projects and seeing them to the end. He also praised her contributions to the Imo State police force and quipped in that the Imo State Government needed more individuals like her in the Government parastatals.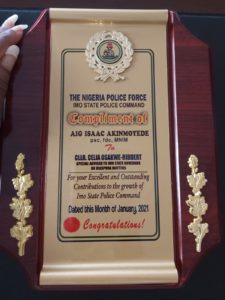 In his words:
'Imo State is a State that is blessed with hard-workers and diligent individuals but there are those who stand out above others and Hon. Cllr Osakwe-Hibbert is one of those few.'

'During my stay in as Commissioner of Police in Imo State, I was aware of her selfless service and her energetic drive to make sure she uses her office as Special Adviser to the Imo State Governor on Diaspora Affairs to empower Imolites  and to pave a better avenue for women in Government and politics'

'She has also proved that regardless of gender, any man or woman can be bestowed with a position to lead and to serve and the individual would make something wonderful out of it'

'The shared prosperity government of Governor Hope Uzodinma would continue to prosper if he has more people like Hon. Cllr Osakwe-Hibbert in his Government.'
AFRICA DAILY NEWS, NEW YORK