In the years that have followed Nigeria's media evolution, quite a number of individuals have made their various marks in their respective fields, breaking out and taking the media industry to another level with their exploits and one of those individuals is the renowned television presenter and entertainment reporter, Oyinlola Sale.
Quite a number of people would recognise the fair-skinned, vivacious TV presenter with her sharp, fluid accent and her brilliant word-play with an air of one who knows her onions. She has indeed made her great mark in the industry after gracing many TV shows as host and presenter.
Her career kicked-off after she graduated in 2009 with a Magna Cum Laude degree in Communications from the Eastern New Mexico University in the United Staes of America. She then took up an Entertainment reporter and presenter gig with Galaxy Television, the first Privately registered television station in Nigeria after which she ventured into advertising and advert productions with Bluebird Communications.
Read Also: Renowned Writer, Onyeka Chiemelie Unveils New Short Film
She had her breakout stint in 2013 when she became the presenter of the popular women's show, 'A Woman's World and Question of the Day' on TVC News.  Four years after this, she already had a wonderful media reputation which helped to launch her into one of her biggest career moves with KAFTAN TV.
Her sterling qualities as a presenter continued to garner her more accolades and soon she became the Face of KAFTAN TV while managing the popular TV Program, 'Amazing Amazon' as a Presenter and keeping her role as a News Anchor in the company. The Amazing Woman program saw her interviewing over 100 women from all walks of life who showcased their businesses, lifestyles, and the various impacts they have made in society.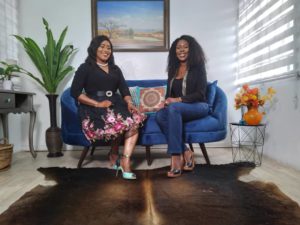 Her exit from KAFTAN TV saw to the birth of her own show, the 'Women Connect TV Show,' which has been very instrumental to the empowerment of women in Nigeria and Africa at large. The very educative program has helped to inspire and educate a lot of women. Onin in addition to being a News Anchor and Presenter is also an image consultant, media coach, and an MC.
For all her work and exploits in the media industry, Oyinsola Sale is a noble example for hardorking women everywhere.
Watch her reel video below:
AFRICA DAILY NEWS, NEW YORK