In recent times, Insecurity has become the scariest nightmare that Nigerians grapple with. Painfully, the security of lives and property, which is supposed to be primary to any functioning government, has eluded Nigerians, leaving them perplexed and worried over what could befall them.
Stories of reported kidnappings, banditry and other forms of insurgency now dominate the airwaves and news headlines, which paint a picture of how lives are being destroyed, businesses are being crushed, dreams are being ripped apart, and millions of citizens are resorting to Internally Displaced Persons (IDPs) camps for refuge and succour.
Rather than getting better with time, the ugly situation has continued to worsen while the rot deepens. According to the Global Terrorism Index, Nigeria is now the third-most terrorised country in the whole world, providing shelter to four of the top ten terror groups in the world.
The elevated insecurity being witnessed in Nigeria today is amply reflected in the 2023 Fund for Peace Fragile State Index, in which Nigeria is ranked the 15th most fragile country out of 179 countries, alongside Mali (13th), Ethiopia (11th), and Libya (17th).
According to data sourced from the Council on Foreign Relations (CFR) and National Security Tracker (NST), in 2022 alone, a total of 4,545 people were killed by non-state actors, while 4,611 others were kidnapped.
It was even worse the year before because, in 2021, the index showed that a total of 5,067 Nigerians were reported to have been killed by non-state actors across the country, representing an average of 14 people killed daily in various violent attacks. The killings have continued unabated, and the government seems very clueless about it.
After taking a break from the wanton destruction of lives and property in the build-up to the just concluded charade of an election, the angels of death are fully back. They are now throwing their wings over hapless and hopeless Nigerian communities as they unleash their dreaded fangs on citizens whose only crime is being Nigerian.
The killings have now assumed a feverish proportion despite deliberate efforts by government agents to suppress the reports. It's happening all over Nigeria, but it appears the situation in the middle belt is far more grave.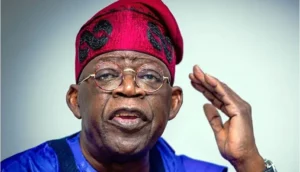 A fortnight ago, some gun-wielding terrorists visited a place called Ukum in Benue. They unleashed terror on innocent citizens, leaving behind them a trail of ripped, slashed, battered and mutilated bodies. At the end of the inhumanity, no fewer than 24 people were wiped off the face of the earth. Many of them, young and virile, were cut short in their prime and left in the bushes, where they had sought refuge from the messengers of death.
This gruesome attack failed to evoke national condemnation because many had already concluded that there was nothing remarkable about it since the situation in question had to do with a massacre in Benue State.
In recent times, Benue has become acquainted with bloodbaths, and there is no tangible effort to reverse the ugly trend. In April, when some demons came for an Easter blood feast in Umuogidi and other communities around Otukpo, 134 souls were consumed in five days. Among those butchered to death were children and pregnant women, many of whom were internally displaced persons living in an IDP camp. A few days after that incident, no fewer than 24 people were gruesomely murdered in a classroom in a camp at Mgban.
For Jos, Plateau State, the story is exactly the same.  In the past three months, the death toll has been mounting and shattering dreams. According to official figures, 346 men, women and children have been killed in the last three months by terrorists. About 200 of them were slaughtered in Mangu.
In the last three weeks, Mangu has literally become a human abattoir. The depth of the deaths and tragedies is indisputable. The cataclysmic degeneration in the village has been unfathomable. In bandit raid after bandit raid, innocent women and children have been hunted down like rabbits and killed like hopeless ants.
Read Also: Tinubu's Sham of A Palliative: A Looting Spree in Disguise
Before the killing zones in Benue and Jos were resuscitated weeks ago, Zangon Kataf Local Government Area in Kaduna State was the epicentre of violence that was embroiled in slaughters, as women and children were murdered in cold blood in their homes. The spate of attacks was unprecedented, and the decimation of innocent women and children was almost a daily affair. Hundreds have been killed, and thousands have been sent to IDPs.
The stories in Taraba and Nasarawa are not different. These once peaceful states have become red zones, where killers and brigands roam the streets unchallenged. Shedding of blood and other heinous activities have become daily occurrences in these states, and there is no end in sight. In these states, life is short and brutish. Nothing is uncertain anymore as villages and communities are battered and decimated, with no help from the badly depleted and painfully underfunded security forces.
In no fewer than three Tangaza LGA communities in Sokoto State, bandits aligned with the Lakurawa Islamic jihadists from Niger Republic, Mali and Libya are the ones running the show. In the last few weeks, they have butchered no fewer than 37 people like worthless chickens. In one of the communities, it was reported that the terrorists had to kill the villagers because they refused to pay their taxes and levies.
In Zamfara, where bandits have been pillaging for over a decade, just a few days ago, about 25 more people were killed in two communities in Maradun LGA. The most painful thing about these Killings is how helpless the security agencies have been.
The current APC-led regime has only continued to tackle the issue of insecurity in Nigeria with kid gloves. The only solution President Bola Tinubu has conceived is to sack service Chiefs in an apparent move to consolidate power. However, he should be reminded that changing security service chiefs may have some effect because the fish gets rotten from the head, but the Nigerian situation calls for a deeper and more profound solution than this.
The only solution anybody who cares about the country should be recommending is a total Restructuring of Nigeria or its inevitable breakup.
The rejigging of the security architecture, while laudable, can only be perfectly achieved if the country is politically restructured. Restructuring is the panacea that can give state police a pedestal to stand on.
To make matters worse, Amid worsening insecurity that has hampered economic activity in parts of the country, especially in the northern region where farmers can no longer cultivate their farmlands for fear of the unknown, the call for total restructuring of the country has thankfully returned to the front burner.
Leaders of Northern Nigeria from 17 groups, including the Arewa Consultative Forum (ACF) and the Northern Elders Forum (NEF), are the latest to throw their weight behind calls for the restructuring of the country, saying that is the only way Nigeria could realise its potential for economic and political development.
Today, Nigerians are not finding the economy funny in any way. It is safe to assume that from rising commodity prices to lean government revenues, ballooning public debt and rising poverty, virtually all of Nigeria's current economic challenges have their root cause in the insecurity situation in the country and among Nigerians.
According to a Brookings Institution, about 40 percent of Nigeria's population, equivalent to the entire population of several European nations combined, are poor.
The unending insecurity has continued to make some parts of the country unfriendly for investors, thereby worsening the country's risk premium. Nigeria must find a way to reverse this ugly trend immediately.
The truth Nigerians must come to terms with is that a delay in the implementation of restructuring will certainly further worsen their economic woes. Demanding restructuring should be the only workable option on the table.
From solving the country's epileptic power situation to reviving its educational and health systems, restructuring holds a myriad of benefits to Nigeria's economy if done properly. Nigerians must insists that the country be restructured going forward.
It is very easy to come to terms with the fact that the Federal Government of Nigeria is presently overburdened by so many responsibilities, thus stifling innovation for states. This has to change.
It is clear to all and sundry that Nigeria today does not run a truly federal government and this has been proven with the federal police, power issues and the compulsion to connect to the national grid, education, agriculture, mineral resources which the states cannot mine and other areas as contained in the Exclusive Legislative List.
Restructuring is highly needed because it is only through that system that state governments can create their state or regional police. This would go a long way in addressing security issues, as states and indigenes who understand their territories can take charge of ensuring that the states are safe.