Last month saw the unceremonious bowing of power of former President Muhammadu Buhari and his criminal enablers and looters of Nigeria's common patrimony. While the former President's penchant for failure, incompetence, and nepotism did not surprise many, his proclivity to harbouring thieves came as a rude shock to many who saw the President earn the anti-corruption title of Mai Gaskiya in Northern Nigeria.
Under Buhari, mindless looting became so common that the old man from Daura saw him gasping for air under the weight of the outrageous stealing which went down under his watch. At a point, he saw himself announcing that he could not wait to leave office. Just before he handed over power to another patron of corruption, Buhari shocked everyone when he announced that he couldn't wait to go back to his cows which were easier to control than human beings.
On the day he left Aso Rock, Buhari knew he was a spectacular failure. He was a witness to how corruption and mindless stealing constantly gnawed at his government from inception to the very last day. He had pledged to demystify and cripple corruption during the 2015 electioneering campaign with his well-known refrain: 'If we don't kill corruption, corruption will kill Nigeria.' Sadly, rather than killing corruption, he allowed it to fester and become shockingly contagious to the point that coming across non-corrupt elements under his maladministration became a rarity.
Buhari's failure in office was tragic, yet, self-inflicted. From his very first day in office, cronyism and nepotism reared their ugly heads and that was enough to pass the message of looting galore to anyone who was favoured to be on the table.
Read Also: Senate Presidency Loss: Kalu And The Other Southern Stooges
The blatant graft which was supervised by Buhari was devastating to the Nigerian economy. It is the reason why the country is now on a fiscal cliff with the current administration trying everything possible to save the country from a calamitous implosion. Buhari and his goons stole so much from the country that it increased the debt profile from a little over N30 Trillion to well over N77 Trillion with little or nothing to show for it. Under Buhari's watch, revenues that were supposed to go to government coffers missed their ways and went into private pockets, dodgy accounts of ministries, departments and agencies of government and collusive banks instead.
It was a free for all looting bazaar. Anybody that refused to participate was tagged the odd one. With the highly ineffective government grossly lacking in political will to push policies through and the MDAs working at cross purposes, bureaucrats and political appointees simply saw their offices as vast acres of diamonds to be mined for personal benefits.
It was a penal maladministration that allowed a former Comptroller of Nigeria Customs Service, NCS who stole a mind-boggling 40 billion naira, to return just 1.5 billion naira in a plea bargain thereby making a complete mockery of President Buhari's anti-corruption campaign.
Buhari's brand of fiscal governance was the odious one that allowed an Accountant-General of the Federation an opportunity to allegedly siphon 109 billion naira and went away without consequences.
Buhari completely ignored the fact that he came into office with the profile of someone with zero tolerance for corruption. Available records clearly indicate that he not only tolerated corruption, he also embraced and romanced it. We will briefly look at a list of 10 of the most corrupt personalities who stole so much from Nigeria under Buhari's watch.
1. Abubakar Malami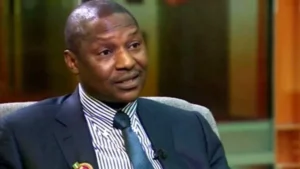 For eight years, Malami tried to steer clear of controversies and failed at every attempt. Like a compass pointing north, every finger of controversy involving the federal government almost always lead to him. It will be convenient to conclude that he holds the prize for the most controversial attorney-general in the history of Nigeria.
The senior advocate of Nigeria (SAN) has been muddled in some unsavoury situations, too filthy for the pristine robe and wig of the bench. He was severally fingered in high-profile cases of graft and his attempts to whitewash himself from them only ended in futility.
Sometime in 2018, Malami was alleged to have spuriously hired lawyers at a cost to the Federal Government of 6 billion naira, to handle the repatriation of looted Abacha funds of $321 million. Rather than deny the story or offer his own side of the story, what Nigerians got from the Kebbi State-born quota system lawyer was outrageous silence.
He openly admitted to withdrawing corruption cases of high-profile individuals. Of course this was always done in exchange for mouth-watering sums of money.
As the number one law officer in the country, he supervised the auctioning of sea vessels holding crude oil seized by the Federal Government, saying it violated Section 31(2) and (4) of the EFCC Act 2004.
Also, Malami owned assets worth billions far ahead of what he owned before his appointment as the country's AGF. Some of the properties listed in his name were a multimillion naira Rayhaan Hotels worth about 500 million naira, located at opposite Aminu Kano Teaching Hospital, Zaria Road, Kano State, a property worth about 600 million naira located at Ahmadu Bello Way, Nasarawa GRA, Kano, a newly constructed school at the back of Nitel at Gesse Phase 1, Birni Kebbi worth about 700 million naira, a multi-million naira property built by Mr. Malami for his son located at Gesse Phase II in Birni Kabbi worth over 400 million naira, a mansion known as Azbir Arena allegedly built by Mr. Malami for his second son. Azbir Arena an entertainment centre worth over 3 Billion naira, with a big plaza and kids playing centre, and hotel all combined in one expansive property.
On many occasions, Malami was caught pants down, twisting the law to shield his family members, corrupt officials, and institutions in the most brazen manners.
2. Abdulrasheed Bawa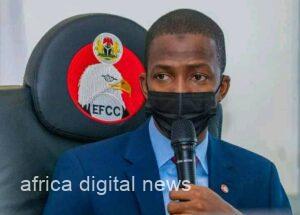 Another appointee of Buhari who stole so much from Nigeria was the suspended EFCC Chairman. Before reaching the summit of his career in the anti-graft office, Bawa had a baggage of weighty allegations that could have precluded him from any consideration for the position but Buhari was Buhari and he was appointed.
Before his elevation as EFCC Chairman, he was indicted for selling no fewer than 244 confiscated petrol trucks to his cronies in 2020. The vehicles were seized from crime perpetrators when he was heading the Port-Harcourt Zonal office of the EFCC.
The now suspended EFCC helmsman supervised the auctioning of the trucks worth between 20-30 million naira each to his proxies at N100,000, or slightly more, per unit.
The 43-year-old allegedly handed over the pricey trucks to his acolytes at a time the vehicles were subject of forfeiture litigation before a federal high court.
It would be recalled that even Ibrahim Magu, the then EFCC acting chairman was so disturbed about the sleaze that he ordered the detention of Bawa in Port-Harcourt, where he spent days being questioned over the allegations.
Convinced that a man of Bawa's conduct was unfit to uphold the foundational principles of the commission, some staff members of the commission in Rivers State revolted against him and asked higher authorities to take appropriate actions. Their revolt, however, ended in futility.
During his short stint as EFCC Chairman under Buhari, Bawa could not even hide his looting appetite.
The last few days of his stay in office witnessed a scenario that played out between Bello Matawalle, a former Governor of Zamfara State, and Bawa. The former accused the latter of requesting $2 million bribe.
Although the former governor did not deny the allegations of public funds diversion against him, he said he had evidence that Bawa asked him to pay the bribe to stop him from being questioned after exiting office.
Matawalle told BBC Hausa that the EFCC was only interested in investigating former governors, leaving federal officials unchecked.
The EFCC alleged that Matawalle diverted 70 billion naira from the state's purse before leaving office. Following the allegation, the commission seized a couple of exotic cars from his residence.
3. Pauline Tallen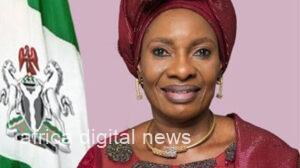 The immediate former Minister for Women Affairs and Social Development, Pauline Tallen, was invited by the Economic and Financial Crimes Commission (EFCC) just a few days after leaving office, over allegations of money laundering.
Tallen was invited based on allegations of corrupt enrichment to the tune of 2 billion naira.
According to the anti-graft agency, the money was diverted from the African First Lady Peace Mission Project.
The women affairs minister stole so much under Buhari that in 2022, she resigned from her position to contest for Plateau State Governorship.
4. Senator Hadi Sirika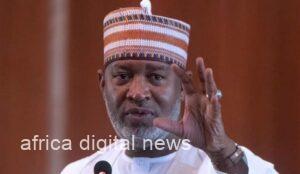 The obstinate minister had defied a subsisting restraining court order and unveiled the controversial airline on Friday, May 26, the very last working day of the eight-year tenure of the administration.
Every well-meaning voice in Nigeria is yelling for Hadi Sirika's arrest and questioning over the Nigeria Air affair which he single-handedly perpetrated in cahoots with Ethiopian Airline officials and other actors. Sirika purported to have floated the airline as a 'national carrier' when, in truth, the single aircraft that was 'unveiled' on May 26, 2023 was a hurriedly repainted, chartered aircraft still carrying Ethiopian registration marks.
The Nigeria Air scam was only one of the major scandals associated with Sirika's name. Way back in 2017 it was rumoured that the minister spent $600,000 on logo design contracted to a Bahraini company before the project, then known as Air Nigeria, was suspended. Sirika denied the amount but failed to say how much was spent. Later the Federal Government budgeted up to 800 million naira between 2017 and 2018 when the blind pursuit of the project was resumed.
Sirika was also under fire for spending 12 billion naira to purchase 10 fire trucks, meaning that each truck cost 1.2 billion naira! Hadi Sirika, who was once rumoured to be eyeing the governorship of his native Katsina State, was caught on a video on December 16, 2022 boasting that his party, the All Progressives Congress, APC, had 'all the money and other resources…I swear we have the money to get the job done'.
To be continued..