When the good people of Rivers State went to the polls with so much zeal and excitement to elect Governor Nyesome Wike as their Governor in 2015, little did they know that they were empowering a tyrant with the keys to their collective patrimony and existence as a people. It didn't take so long before this reality became evident and the rest, they say is history.
In his classic work on the fall of the Roman Empire, Edward Gibbon described the Roman era's declension as a place where 'bizarreness masqueraded as creativity.' Nothing can better define what Rivers State became under the alcohol-worshiping Wike who spent the last seven years running Rivers State as though it were his private estate.
Barely months after he was sworn-in, the Ikwerre-born law graduate began to 'fall under the anointing' of the deep purse of the state. Given the existing laws in the state which restricts anti-graft agencies from beaming their searchlights on the finances of Rivers State, it was only going to be a matter of time before Wike will metamorphose from the humble Minister of State of Education that Nigerians knew before to the tyrant he has now become.
Today, Wike is now the State's Supreme power that now exercises arbitrary authority, and is not accountable to the Parliament of Rivers State and to the constitution of the land. The only thing remaining is for his imperial lips to utter these powerful words: 'I am Rivers State. Rivers State is mine. I own the State' and the deal will be sealed.
Read Also: Wike's Dashed Hopes And The History Of Abandoned Governors
From the 29th, of May this year when the curtains are drawn on Wike's regime, the people of Rivers State will mostly remember the supremo who became a god of whiskey who specialised in using brutal force and inducements to have his ways at all times. He will easily be remembered for how he demolished buildings and premises belonging to opponents, arrested his adversaries at will, destroyed people's sources of livelihood without any serious reasons, and unilaterally converted Rivers State funds to his private monies which he doled without any form of accountability and committed all manner of atrocious deeds.
His political choices and views seemed to be the biggest catalyst as far as his demystification was concerned. Barely three years into his regime, he contracted the disease his predecessors also suffered. Becoming President of Nigeria has always been the dream and with a power-drunk Wike, there weren't going to be any exceptions.
He ran for the office of the President of Nigeria and buried almost half a billion dollars of the common patrimony of the people of Rivers State chasing a futile dream. In thier wisdom, the members of the People's Democratic Party (PDP) saw the danger of allowing a crazy Wike to transmute from being the emperor of Rivers to the emperor of Nigeria. They beat him to his money game and stopped him right on time. They essentially saved Nigeria in the process, albeit unknowingly.
After losing out on the Presidential ticket and the Vice Presidential slot to his sworn enemy and former Vice President of Nigeria, Atiku Abubakar, and Governor Ifeanyi Okowa who became his running mate, the god of Rivers State resorted to noise-making and throwing tantrums on social media. Soon, he was on TV screens every day preaching equity and justice and throwing jibes at his party over matters of exclusion.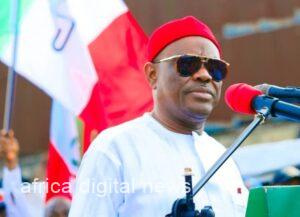 Soon enough, he discovered that he ran the risk of sounding like a broken record, and in order to add verve and grit to his protestations, he dragged four other governors along. Together, they formed a group they named G-5 which became the champions of equity and justice. In exchange for their time, Wike opened up the keys to the Rivers State treasury and began gallivanting around the world to come up with the best justice and equity message to sell to Nigerians.
While the charade was on, of this five, only Wike and Governor Samuel Ortom of Benue State lent their voices openly to the cause they were presumably pursuing. The rest merely tagged along. It was only a matter of time before discerning Nigerians came to the realisation that the G5 did not actually exist in actual terms. It was a creation of the media, which only came to take a life of its own following the unceasing vituperations of Wike against the leadership of the PDP. Other supposed members of the group, namely, Ifeanyi Ugwuanyi of Enugu State, Okezie Ikpeazu of Abia State, and Seyi Makinde of Oyo State are merely making up the number.
Through their garrulous spokesperson and numero uno, the group with their accustomed gusto and fanfare promised to name their Presidential candidate publicly in January only to shamelessly backtrack due to the fear of public backlash and suspension from the angry hawks at the national headquarters of the PDP.
Knowing Wike and his braggadocio, Nigerians were expectant. They waited with bated breath, believing that something momentous was about to happen. But what they got was an anticlimax. January ended and Wike did not announce anyone as his preferred presidential candidate.
Then, as if the dashed expectation was not bad enough, Wike compounded matters by even denying telling Nigerians that he ever said he would announce his preferred candidate publicly. Those who have been following his grandstanding over his face-off with his party, the PDP, knew that he was not facing facts and that he wanted to lead Nigerians by the nose.
Given the lack of balls and sense of direction of the G-5, the Asoebi-loving children in adult bodies lost steam and ultimately the attention of Nigerians. With this reality, emperor Wike felt empty and went back to seal a deal with the Presidential candidate of the All Progressive Congress (APC), Bola Tinubu to bring him 25% of the votes from his state.
Wike's decision to settle for Tinubu was received with hostility among his subjects in Rivers State. Tinubu himself clearly knew that he committed an all-time blunder when he accepted the same-faith ticket, which a section of the North gave him as a condition for their support. Tinubu knew that it was a poisoned chalice. But he decided to drink from it. As expected, the effrontery was always going to boomerang but Wike didn't care, after all, he was still an emperor and Rivers State was still his property which he allocates to whoever finds favour in his sights as long as his political interests were well covered.
Nigerians already knew that the APC was a troubled household. As an aggregation of disparate entities who came together just for the purpose of power-grab, APC was having a hell of a time trying to exist as a harmonious entity all along It had been managing its fault lines, one way or the other, until the hawks in the party imposed same-faith candidacy on its presidential ticket. Wike was one of those who berated the APC for the indiscretion. So, what changed? How did Wike become the super salesman of Muslim-Muslim ticket? What can be deduced from here is that Wike is not a man of principle. He is just an opportunist. That is why he does not think through issues before he gets garrulous.
It is heartwarming to remember that Wike's madness will end on the 29th of May. The empire will eventually collapse because power is indeed transient.