By the 29th of May, 2023, for the first time in ages, the Governor of Rivers State, Nyesome Wike will get an opportunity to introspect deeply on his roles, involvements, and actions during the past seven years as Rivers State Governor. For the first time since democracy returned in 1999, Wike looks likely not to be on the payroll of any government. It sure promises to be a defining moment. 
The maverick Governor of Rivers State who has managed to put his name on everyone's lips is a toxic influence on Nigerian politics. Like virtually all narcissists, he thrives on applause and adulation from praise singers and sycophants. His outsized presence in Nigerian politics is fuelled by the oxygen of publicity he constantly receives from the media even for his most infantile behaviour.
But again, Wike's political noise did not start with him. There was already an established pattern that he only amplified and messed himself up with. Every Governor that has ever governed the oil-rich Rivers State has one or two features that were seen in Wike.
From Peter Odili to Rotimi Amaechi and then Wike, every two-term Governor of Rivers State had since 1999 squandered Rivers State money, sponsoring wasteful presidential bids either for themselves or for someone else which was supposed to benefit them later. None of these costly bids yielded any return on investment to everyday Riverians other than to make needless points.
The brazen, crude, and stupendous expenditure of state resources that always characterised the referenced mad pursuit of power in the state was what Wike inherited and he made every effort to take it to the next level.
In 2007, Peter Odili was dead sure he was going to be President after the then-President Olusegun Obasanjo, who didn't even find him worthy to be Vice President when he eventually settled for the late Umaru Musa Yar'Adua. For Chibuike Amaechi, a promise of the 2023 Presidency was all he needed to open up the purse of Rivers State to fund President Buhari's electioneering campaign in 2015. The rest is history.
In the case of Wike, he wasn't even ready to finish a single tenure before his plotting began. As far back as August 2018, he went cap in hand, begging Sokoto State Governor, Aminu Tambuwal to come join the PDP to run for President. Wike's plan was to run as Tambuwal's running mate, get to Aso Rock and eventually run for President. That plot never saw the light of the day.
Barely four years later, the same Tawmbuwal to whom Wike donated a leg and an arm was the bullet that destroyed Wike's Presidential dreams when he sought to become the party's flagbearer himself when he appeared on the ballot. After spending billions of taxpayers' money on a fruitless exercise, Wike returned to Porthacourt badly beaten.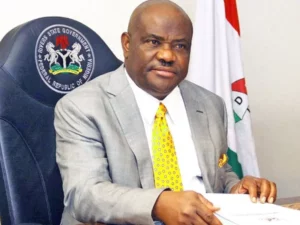 The truth is that those monies could have been brought into the service of everyday Riverians on whose behalf those men obtained the authority to manage state resources.
Blinded by ambition and cheered on by a retinue of charlatans, all of these Rivers State sons, without fail, chose to act on their vainglorious impulses. The opinions of others never mattered because their selfish personal ambitions were involved.
What many Nigerians often fail to realise or sometimes tend to forget is that River State's consolidated revenue for any given fiscal year could fund the annual budgets of about ten African countries put together.
River State, with its oil money, ought to be competing with Dubai, Abu Dhabi, or even Qatar. But no, it has been afflicted with emotionally needy and often erratic political leadership.
It is sad that Riverians whose resources are being mindlessly squandered have chosen to remain aloof to, or in some cases endorse, this near insanity of their elected leaders. It remains to be seen if they have been hypnotised or under some influence.
It is the sincere hope of many that Wike will mark the end of the madness. It is common knowledge that men hardly learn from history. So the next two-term Governor of River State is almost duty-bound to continue the wasteful circus. Who knows? He might even be louder and more brazen than Amaechi and Wike put together.
The last days of Wike seem set to be the worst amongst all the men who have occupied the Rivers State Government House. After this week's presidential election, whatever the outcome, and after he leaves office as Governor on May 29 and no longer controls the resources of Rivers State, Wike looks almost certain to fade into political irrelevance and eventually end up in the 'dustbin of history' fastest.
Amongst all the Governors in the pack, he was the most cowardly and the most irrational. He made too many enemies and rather than build bridges of friendship focused on building needless flyovers in Porthacourt. After insulting and lambasting the APC for seven years, it was shocking to come to the realisation that it was the party that eventually got Wike's almighty support.
Despite being armed with the knowledge that Tinubu's candidacy was indefensible on grounds of equity, justice, and fairness, he turned out the best on Wike's cards. Not even his exclusionist Muslim-Muslim ticket coupled with the ethnic and religious tensions his presidency would engender, let alone mention his acute character and integrity deficits were enough to force Wike and his group to rethink.
Despite spending Donkey years in politics and in the eye of the public, Wike failed to realise that public life is too important to be the property of narcissists, of self-aggrandising megalomaniacs, who see everything through the prism of self-promotion and rather than make amends or retrace his steps, chose to push harder.
The effect is that today, Wike has burnt all available bridges. He has insulted the North away. He has fallen out with many people from his region and current attacks on Peter Obi and his supporters are further alienating him from his Igbo neighbours whose backs he will need one way or the other tomorrow.
In conclusion, the people of Rivers State must come to the realisation that only they can stop the madness. They must wake up from their slumber and stop allowing jokers to come into power. Hopefully, the madness will end with the garrulous Wike.