Desmond Elliot's foray into the Nigerian political scene cum public life has been lesson filled. It has clearly shown that age is no antidote to stupidity and that power, fame, and association all play useful roles in making a double-edged knife. Ever since the Nollywood icon delved into politics and became a Lawmaker representing the Surulere constituency at the Lagos House of Assembly, his life has witnessed nothing but its biggest swing from glory to gore and the drift doesn't appear to be nearing a halt anytime soon. 
A few days ago, Elliot was on the screens to apologise to Nigerians over his utterances and postulations in the past which have continued to hunt him. According to him, the hatred that had been developed and shown towards him over the years was of no small measure and has begun to take its toll on him. Perhaps, in his self-deceit and a lack of self-appraisal, he failed to understand that what he should have been rendering an apology for was becoming a Lawmaker in the first instance.
It will be recalled that Desmond Elliot's troubles began when a viral video caught the attention of simmering and highly provoked young people—who had yet to get over the October 20 Lekki Toll Gate shooting. The video which showed Elliot's submission at the Lagos State House of Assembly (exactly six days after the alleged shooting) left a sour tang in the mouths of the youths who felt the sting of betrayal from someone who they regarded as part of them by virtue of his age and expected exposure.
In the said video, Desmond Elliot lamented the gross misconduct of youths, especially those who according to him had begun to make a mockery of the government's abilities to protect its citizens. He called attention to the snatching of the traditional symbol (staff) of the Oba of Lagos, as well as the barrage of insults generously loaded against high-ranking members of the government. He appealed to the most influential among the protesters against police brutality to stop the wave of hatred and adopt constitutional measures to accomplish their goal.
Read Also: Twitter Ban, A Violation Of Our Human Rights – Desmond Elliot
Elliot concluded his presentation by asking that attention be paid to social media in Nigeria, youthful users—who he sweepingly referred to as children—and social media influencers, or the country as presently constituted might implode in no time. None of these was music to the ears of the Nigerian youths. It rather seemed to be making a mockery of the course that these youths had championed and still had the clearly visible scars to show for it. The most conservative response to Elliot's passionate harangue was that he was so obtuse in his postulations. One cannot but imagine what the other responses would have looked like.
Noting the displeasure from various angles, including that from his colleagues in the Nollywood industry, Desmond Elliot would later go on to apologise for his impassioned descant, chalking it up to his unfiltered initial response to the nest of chaos. That apology has not at all cooled the antagonism against him. Thus, little else has been heard of him ever since. After all, what sensible man fights against the slings and arrows of his own people?
What Elliot failed to understand is that as a lawmaker, he was supposed to be the voice for his people and not a force against them. He failed to understand that he was only a representative of the people of Surulere State constituency and not their opposition and as such, should be the voice of their frustrations in the polity.  He rather chose to be on the wrong side of the people. Talk about the proverbial man who can cook and feed an entire community but cannot eat all of what the community prepares and sets before him.
Many Nigerians were shocked to their marrows in 2018 when the actor-turned-politician openly announced that godfatherism is the best thing to happen to Nigerian politics. In his widely circulated interview back then, Elliot tried to make a case for godfatherism while he was trying to counter Obaseki's 'Edo No Be Lagos' re-election slogan.
In the said interview, Elliot insisted that Lagos is the ideal to which other states ought to aspire to: To quote him, he said; 'But when you say 'cannot be', you're already putting a cover, and I'm a spiritual person. You cannot say such things. We have pastors and Imams that will break the yoke. You can't say it won't be when Lagos makes an IGR of over 30 billion every month. You can't hear about unpaid salaries or pensions. You see projects coming up, investors, and investments coming. We are the fifth-largest economy in Africa. So why will you say Edo can't be Lagos because you are trying to sell an idea? Let me tell you something, loyalty is important.'
In his bid to be in the good books of his paymasters, Elliot failed to realise or perhaps chose to ignore the fact that loyalty is one thing that should cut both ways. It certainly is not defined by the shame he has now become. Loyalty does not mean an inability to remove his mouth from Tinubu's rectum.
In that interview, Elliot failed to tell the interviewer that for all of Lagos State's huge IGR, Lagos State has equally (if not more) huge debt profile. As of June last year, Lagos state had a debt portfolio of almost N2 trillion, representing over 30 percent of the total debts owed by Nigeria's 36 states plus the federal capital territory (FCT).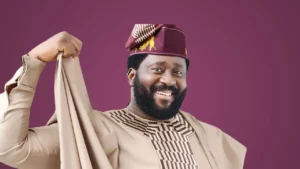 Elliot conveniently ignored the fact that there is a Lagos' opaque system of awarding contracts which many financial activists have always queried. This is not to say that Lagos doesn't have programmes other states can strive to replicate. However, can we overlook the fact that Lagos was Nigeria's capital city for decades with all of the attendant benefits?
Still, the main point Elliot sought to make was about the benevolence of godfathers and why they are necessary because in his estimation, Lagos State has the best godfather in the person of Bola Ahmed Tinubu whom he described as: 'A godfather who always tries to look after the interest of his people. I'm a product of godfatherism but Tinubu has never for one day asked me to do something you know would be detrimental. It's progressive. So, let him (Obaseki) not castigate the whole thing. If not for godfatherism, would he be where he is today?'
To make matters worse, when Elliot is now making snide displeasing comments which annoy the public or praising Tinubu's firm grip on Lagos, he is somewhere delivering laughable substandard projects to his constituents at inflated costs. He is infamous for his tacky constituency projects that are littered across Surulere. Pictures of one occasion are his poorly constructed bridges in his home constituency which went viral on social media.
It is obvious that Elliot does not understand what lawmaking entails. A simple query on his activities in the house shows that he has only presented three bills for consideration on the floor of the Lagos State House of Assembly in the last three years. He has simply been an unrepentant failure and he doesn't appear to understand what his failure portends for people like him who are young, exposed, and supposedly dynamic.
In conclusion, the best decision that can be taken by the good people of Surulere State constituency is to retire the ineffective and grossly inept Elliot back to Nollywood which appears to be his forte. If Lagos must make progress, then a mediocre should never be found around the corridors of power for any reason. He has been such a disgraceful experiment that will continue to hunt young people for many years to come.