Nigerian politicians have over the years gained mastery in the usage of primordial sentiments to sway innocent voters whose only crime is their gullibility. These leaders have time and time again proven beyond every reasonable doubt that they are only interested in deceiving the populace for their votes during election cycles and do not give a hoot about what becomes of them thereafter. For these groups of politicians, winning elections in the country was directly proportional to the amount of religious and ethnic sentiments one is able to muster amongst the high-voting regions, and for them, this is all that matters.
A former Governor of Kano State, Rabiu Musa Kwankwaso has over the years grown notoriety for this brand of politics. In 2015, he openly boasted to a sitting President that he will use 'Almajiri' to remove him from office and he did. Despite his cult-like following in his native Kano State, Kwankwaso has not managed to grow beyond the geopolitical zone owing to his bigotry, ethnic chauvinism, and religious hatred which has now summed up to become his Achilles heel in his laughable quest to become President in a robustly heterogeneous Nigeria.
Ever since he declared his ambition to be Nigeria's next President to succeed his kinsman and incumbent President, Muhammadu Buhari, Kwankwaso has continued to expose himself to the world not just as an ethnic chauvinist but as an Igbophobic bigot who cannot hide his sentiments against the Igbo people in Nigeria who he obviously does not consider humans enough.
A fortnight ago, Kwankwso was in Chattam House just like his fellow Presidential candidates to speak to the world about his plans for Nigeria and how he intends to fix the rot bedeviling the country, and for him, that became the best-suited platform to sell his bigotry, ethnic hate, and religious intolerance. It didn't matter to him that he was on a global platform with a wide reach. Kwankwaso spent most of the time he had during the engagement attacking the former Governor of Anambra State, Mr. Peter Obi who is incidentally, a fellow contender for the top job.
Read Also: Why Tinubu Shouldn't Be Contesting The 2023 Elections
Speaking at Chattam, Kwankwaso claimed that as a former Senator and former minister who has been in politics for over 30 years that he has more experience than Obi. But one will wonder why he didn't deem it fit to utilise his so-called political experience to promote any national cause. One will wonder why he only used his experience to play ethnic politics and divisiveness for selfish reasons. One will wonder why Northern Nigeria where he hails from is still the region with the highest number of out-of-school children in Nigeria, one will wonder how Kwankwso has used his political experience to better the lives of the Northerners that he loves to manipulate.
Kwankwaso's foolishness ostensibly stems from the fact that he is blindfolded by the perceived massive votes of Kano. Kwankwaso, who has demonstrated that he is an ethnic chauvinist, often overrates himself because of his Kwankwasiyya supporters, who have never won any election outside Kano State. What has he really contributed to Northern Nigeria beyond sharing red and white caps, strutting like an overdressed cockatoo with bellhops bowing and scraping to him while propagating Arewa irredentism?
Right there at Chattam House, a young man politely asked Kwankwaso about the possibility of him working with another party to achieve needed results which is basically to remove the ruling All Progressives Congress (APC) from power next month, in response, Kwankwso whose fragile ego immediately launched an unprovoked attack on the young man by ethnically profiling him and saying uncharitable things about where he comes from. The myopic bigot went on to tag the Labour Party, a party which was built on religion and ethnicity, a claim which obviously made to paint the party in unfriendly colours in Northern Nigeria.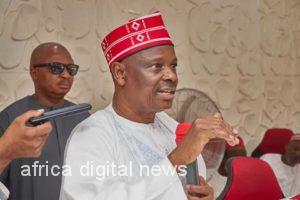 Many Nigerians expected Kwankwaso to seize the golden opportunity to tell the world and by extension Nigerians what he had to offer as solutions to the failed situation of the country and why he feels he is a better candidate. Nigerians expected substance, deep insights, vision, knowledge, wisdom, direction, and atoms of patriotism and all that was lacking during that show of shame. Coming from the North, many Nigerians expected him to show that he is a better option than President Muhammadu Buhari in his ability to unite the country, restore the economy, rebuild the battered educational system, end insecurity and terrorism and give every section of the country a sense of belonging, but Kwankwaso simply unleashed the bigoted devil in himself without remorse.
Many Nigerians who were hearing Kwankwaso speak for the first time on to a global audience were shocked to see that the man is fatuous – empty! He could not raise the narrative from the gutter level of a cart pusher in Sabon Gari Market in Kano. He was an insult to his PhD certificate. Such a man who habours such a degree of hate should never be found near Aso Villa as President. His regional, religious and ethnic adventurism will surely ensure that Nigeria goes up in flames.
Kwankaso is the same man who made sure that Chief Festus Odimegwu, the then Chairman of the National Population Commission, NPC, was fired simply because he vowed to unravel the scam behind the population census in Nigeria. Chief Odimegwu at that time had said; 'Nigeria has run on falsehood for too long. We must stop this falsehood and put a stop to all of this. Because the 2006 census was not correct, the former board of NPC was unable to publish the figures. If they try it, there will be uproar', unfortunately, this statement cost him his job because Kwankwaso and his fellow 'born to rule' merchants were fully involved in the scam.
Despite his purported goodwill and love for his people, Kwankwaso was in the national assembly between 2015 and 2019 and all he could do for his people was to sponsor only a grazing reserve bill that Nigerians rightly resisted. While other lawmakers were busy moving around to attract dividends of democracy for their constituents,  Kwankwaso was never interested as he was busy fighting his successor, Governor Umar Ganduje.
In conclusion, Nigerians must understand that Kwankwaso is a politician who is an ethnic bigot who doesn't mean well for the country. All he cares about is to acquire power at the detriment of his red cap-wearing ardent followers who do not understand what they're being used for. People like Kwankwaso should never be allowed close to the corridors of power.