In the eyes of the international community, Nigeria has become a laughing stock amongst the comity of nations in recent times. Bola Ahmed Tinubu who is the candidate of the ruling All Progressives Congress (APC) has continued to put Nigeria in the spotlight for negative reasons ever since he made up his mind to insult the sensibilities of Nigerians by running for President in 2023.
No time will have been right to have a senile, corrupt, anti-democratic, and oppressive drug addict run for President in Africa's most populous country, however, 2023 is the worst of such times if there were ever going to be considerations. Nigeria is in a messy situation. This is the worse time to bring forward a President, one who even when he is present in the body is barely attentive, aware, or has any dint of mental or physical capacity to manage the deteriorating geographical entity called Nigeria. This is the strangest of times to suggest someone whose incomplete thoughts are manifestations of his degenerating health to Nigerians.
Ever since the Independent Electoral Commission (INEC) blew the whistle for the commencement of campaigns for the 2023 Presidential election, Tinubu has been nothing but a national embarrassment. When he is not speaking in tongues only recognisable to mentally deranged people, he is insulting and denigrating other contenders who have shown far more decorum than himself. So far, he is easily the only candidate that has refused to keep the campaign issue-based because he doesn't even know what the issues are. Having stolen so many resources from Lagos State, and added to his numerous proceeds from narcotics dealings, he has managed to amass so much wealth that he can afford to buy almost anyone available to be bought in Nigeria.
Read Also: African Leaders Should Be Prevented From Medical Tourism
His band of morally deficient praise singers who, completely become zombies in their race to outdo one another in the nauseating game of sycophancy. This has made it very difficult and perhaps quite impossible for Tinubu to even become aware that he has become an embarrassment to the race which he thinks he is in pole position to win. His garrulous bunch who he bought for peanuts have simply promoted him to a God whom they do nothing for but worship him and praise sing on a daily basis. These praise singers have continued to wave off his unrelenting deterioration and in their eyes, their favorite 'Jagaban' can never go wrong. This is why Tinubu himself has failed to come to terms with the reality that he shouldn't even have been contesting the elections in the first place.
This bunch of jobless praise singers is everywhere in Nigeria today. constituting a nuisance in the polity. Rather than interrogate the issues and the complexities of the problems confronting Nigeria at the moment which the heartless APC-led Government plunged it into, many of these garrulous bunch are ready to die sustaining the lies they were told about who Bola Ahmed Tinubu really is. As at today, no one can claim he knows who Tinubu is. From several indications, it appears the ex-drug kingpin probably does not even know himself anymore. Over the last two months, he has been embroiled in cases of identity theft while trying to prove one or two things to Nigerians. In November, his bunch of hired mercenaries published a documentary where they used a picture of the former Governor of Cross Rivers State, Donald Duke as Tinubu's childhood picture. As if that was not enough, recently, he was caught again after his handlers photoshopped a picture of popular entertainment host, Ebuka as his. Everything about the man who wants to govern Nigeria just reeks of fraud and fraudulent activities. Versions of credentials pasted on him peel off once a pointed question is brought forward.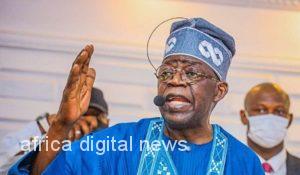 Tinubu has never been straightforward with anything in his life before. To become Governor of Lagos State in 1999, he had to lie in the affidavit attached to his Independent National Electoral Commission (INEC) form that he lost his degree certificates while he was on exile between 1994 and 1998. It was later discovered that St. Paul's School, Aroloya, Lagos, which he claimed to have attended, never existed during the time he claimed that he was there. As if that was not enough, his name was conspicuously missing from the records of the Government College, Ibadan, which he claimed to have attended between 1965 and 1968. Not even his claim to have attended Richard Daley College, Chicago, between 1969 and 1971 was confirmed when they were subjected to enquiries. Tinubu has always managed to wriggle himself out of every controversy because he has managed to amass so much resources and Nigeria, on the other hand, is a crime scene.
Despite the pressure from the media, Tinubu has not come in the open to effectively deny the allegation that his name is not his name; that the parents he claimed were not his; that the certificates he claimed to be his are not, and that the schools he claimed to have attended, didn't know him. Certainly, no one knows any baggage bigger than this for a country like Nigeria that is struggling to sell itself to the world, to now have its President burdened by this pernicious pedigree.
Since Nigeria's independence, hardly has Nigeria had a political aficionado who has deployed the genius of the streets in the service of politics, as the notorious 'Jagaban' has managed to do. Rarely can anybody have the opportunity of encountering him without becoming a captive of his cash influence. He has mastered the art of buying everyone buyable.
Perhaps something many Nigerians have not got to understand is that the man whom all the sycophants in Nigeria are constituting a nuisance for is just a whiff higher than Muhammadu Buhari as far as mental depth is concerned. Remove the fake cockney accent he feebly mimics, you will find out that most times, his extempore speeches lack coherence, logic, and verve. In fact, looking at recent developments, one will gladly pick Buhari. When Buhari was seeking election in 2015, he was just like Tinubu claims, 71, yet, never at any point was he caught on camera saying meaningless things like 'Bala Blue, Blu Blu, Bulaba' neither was he licking microphones simply because he was asked to test it. If Tinubu had any iota of conscience, he wouldn't have put himself and Nigerians up for this amount of ridicule.
In a nutshell, with the calamity that the Buhari presidency has unleashed on hapless Nigerians and Nigeria, it will be more catastrophic to have a Tinubu succeed him under any guise. Governing Nigeria should be far beyond identifying surrogates who will man critical political offices for future political gains. What Nigeria needs at the moment is restructuring not even a presidential election. Nigeria is depressingly sick, a sick quack doctor should never be seen on the queue asking to be allowed to treat her.