Ikenga Imo Ugochinyere, the Spokesman for the Coalition of United Political Parties, CUPP, recently took to his official twitter page to appreciate Nigerians and other well-wishers after his release.
Ugochinyere was arrested on the 18th of June at his residence in Abuja in connection with the allegation of bribery made against the House of Representatives and the Speaker, Femi Gbajabiamila.
This was followed by a  statement made by his team of lawyers on Thursday, who claimed that the CUPP Spokesman was manhandled while being arrested.
Read Also: $10b Bill Gates Bribe: Police Arrests CUPP Spokesman Ugochinyere
The arrest happened despite a Federal High Court in Abuja, on June 4, restricting the police and the Department of State Services, DSS, from arresting the opposition party's Spokesman.
In his words of appreciation, he said:
"Even with a gun on my head, I will not fail you."

"I want to thank all of you for standing with me during my abduction, illegal detention and trumped up arraignment by the lawless and indicted Speaker Femi Gbajabiamila using the Nigeria Police."

"I assure you that i will remain resolute in the struggle for a better Nigeria"

"I am overwhelmed by the support from all of you political leaders, social critics, youths and studentleaders; Religious and ethnic leaders, civil society groups and leaders."

"The media (print, online and electronic), social media influencers and commentators, private individuals and great Nigerian people who love justice, freedom of speech and obedience to the rule of law."

"I will be more dedicated and impressible than ever before."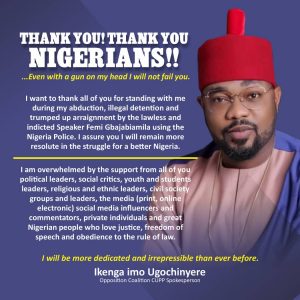 AFRICA DAILY NEWS, NEW YORK