As the world becomes increasingly interconnected, the importance of strategic leadership in Africa is paramount. The continent faces numerous challenges – poverty, inequality, corruption, and conflict, to name a few. These issues, combined with Africa's burgeoning youthful population and the need to compete globally, call for an innovative, strategic approach to leadership.
At the heart of strategic leadership is the ability to envision a future that is different from the present, a future where Africa's challenges are addressed head-on, creating a thriving continent with equal opportunities for all. African leaders must articulate this vision clearly and convincingly, mapping out a strategic plan for its achievement. This vision should not just mirror the aspirations of the leaders but must be rooted in the hopes and dreams of the people they represent.
Once a compelling vision is established, strategic leaders must then define clear and attainable priorities. This process involves making difficult decisions about where to concentrate resources and where to hold back. Africa, with its myriad challenges and limited resources, cannot afford a shotgun approach to problem-solving. Instead, it requires a sniper's precision, focus, and decisiveness—key hallmarks of strategic leadership.
Strategic leaders recognize that no man is an island, and no country can exist in a vacuum. The complexities of today's global society necessitate partnerships and collaborations. African leaders, therefore, must seek and foster alliances with countries, international organisations, and businesses alike. These relationships can open up channels for resource and knowledge sharing, fostering mutual growth and development.
The cornerstone of strategic leadership lies undeniably in the virtue of courage. Embracing this pivotal trait carries a profound resonance, particularly in the context of Africa, a continent replete with challenges yet brimming with opportunities. It is in the heart of this vast and diverse land, which as of Sunday, July 23, 2023, is home to a burgeoning population of 1,462,537,825 (one billion, four hundred sixty-two million, five hundred thirty-seven thousand, eight hundred twenty-five) individuals, according to the latest United Nations estimates. This vibrant populace represents a staggering 17.89% of the global population, illustrating Africa's substantial share in the world's demographic composition.
Leadership in Africa, therefore, is not just a matter of steering a nation or a region; it carries implications that reverberate on a global scale. Consequentially, the courage to make bold decisions, foster innovation, and shoulder risks distinguishes truly transformative African leaders from the rest.
This courage becomes an even more crucial asset when considering the magnitude of Africa's enduring predicaments. Despite its abundant potential, challenges such as poverty, which still afflicts 416 million people in Sub-Saharan Africa, pervasive corruption, and unending violence in conflict zones continue to impede its progress.
Consider the audacious leadership demonstrated by President Paul Kagame of Rwanda and economist Ngozi Okonjo-Iweala. Through strategic risk-taking, economic reform, and an unwavering commitment to better governance, they have shown how courageous leadership can inspire significant socio-economic transformations.
In essence, strategic leadership in Africa is not solely about vision-crafting or partnership-building. It is about the audacity to rewrite the African narrative and, in the process, reshape the lives of its 1.46 billion (one billion, four hundred sixty million) inhabitants. It is about daring to challenge the status quo and bring hope where despair once prevailed. For Africa, the path to prosperity is paved with the courage of its leaders. It is this courage today that will etch the trajectory of the continent's future and determine its place in the world tomorrow.
The exploitation of Africa's resources by Western economies has been a historical issue dating back to the colonial era. Despite achieving political independence, many African nations have remained economically tethered to their former colonizers. This economic exploitation takes many forms, from unfair trade agreements to the inequitable extraction of natural resources, creating a lopsided benefit in favor of the West.
Strategic leaders can disrupt this status quo by adopting policies that promote economic diversification and self-reliance. Instead of focusing solely on the exportation of raw materials, strategic leaders could facilitate the development of value-added industries, thus ensuring a greater share of profits stays within the continent. By investing in sectors such as technology, manufacturing, and services, Africa can reduce its economic dependency on the West.
Additionally, strategic leaders need to negotiate better trade agreements that ensure equitable returns for African countries. This includes challenging existing agreements that are unfavorable and pushing for terms that promote Africa's interests. By doing so, strategic leaders can shift the balance of power, moving Africa from being a mere participant in the global economy to an influential player.
Read Also: Western Influence: The Unseen Control Over Africa
A key element of strategic leadership involves building strategic alliances, not just with Western powers, but also with other developing regions such as Asia and South America. These alliances can provide a platform for mutual growth, shared learning, and collaboration. They also serve to dilute the influence of the West, providing African countries with alternative partners for trade and investment.
Strategic leadership also calls for investments in human capital. By prioritising education, particularly in areas such as technology, entrepreneurship, and innovation, leaders can equip the African populace with the skills needed to drive the continent's economic liberation. Empowered with knowledge and skills, Africans can better negotiate, innovate, and compete on the global stage.
Crucially, if Africa is to escape the clutches of Western economic dominance, its leaders must champion and embody the principles of strategic leadership. This calls for the enactment of robust policies that stimulate economic diversification, fortifying the continent against shocks from over-reliance on specific sectors. It demands the crafting and implementation of equitable trade agreements that safeguard Africa's interests on the global stage, as opposed to perpetuating the cycle of exploitation.
In addition, strategic leadership involves constructing beneficial alliances on international fronts. These partnerships should foster knowledge and technology transfer, strengthening Africa's capacity to compete on a global scale. A focus on human capital is indispensable; the African continent teems with potential, with a population of over 1.4 billion (one billion, four hundred and sixty-two million, five hundred and thirty-seven thousand, eight hundred and twenty-five) individuals, equivalent to 17.89% of the total world population. By investing in education, healthcare, and job creation, African leaders can unlock this potential and transform the continent into a formidable economic powerhouse.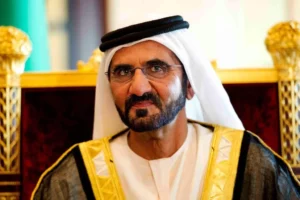 In pursuit of these goals, strategic leaders can steer Africa away from the pitfalls of exploitation, propelling it onto a path of self-sustained growth and prosperity. A future where Africa is no longer the stage of economic extraction, but a key player in the global economy, commanding respect and wielding influence.
In understanding the vast potential of strategic leadership, let us journey through the illustrious narratives of five distinguished leaders who have made monumental strides in their respective nations. These stories, originating from the heart of Rwanda, the economic corridors of Nigeria, the thriving cityscape of Dubai, and the vibrant lands of Kenya, serve as brilliant beacons illuminating the transformative potential strategic leadership harbors for Africa's ascent.
Firstly, we turn to Rwanda, where President Paul Kagame, the embodiment of strategic leadership, has been the driving force behind the nation's remarkable renaissance. Emerging from the harrowing shadows of the 1994 genocide, Kagame steered his nation on a path of economic development and reconciliation, thus shaping Rwanda into an island of stability within Africa. His indomitable leadership, marked by strategic thinking and decisive actions, bears testimony to the power of strategic leadership in surmounting challenges and fostering national unity.
Nigeria, Africa's largest economy, offers the compelling narrative of Ngozi Okonjo-Iweala. As the former finance minister, her unwavering commitment to good governance and economic reform elevated her stature on the global stage, culminating in her appointment as the director-general of the World Trade Organization. Okonjo-Iweala's impressive trajectory accentuates the enormous potential of strategic leadership in driving substantial economic reforms and boosting a nation's global reputation.
Taking a global detour, we reach Dubai, the gleaming jewel of the United Arab Emirates. Under the visionary leadership of Mohammed bin Rashid Al Maktoum, Vice President and Prime Minister, Dubai has metamorphosed from a modest trading port to a global metropolis. His strategic foresight to invest heavily in education, healthcare, and infrastructure has triggered a transformative change, underscoring how strategic leadership can completely overhaul a nation's fortunes.
Back in Africa, we encounter Uhuru Kenyatta, the President of Kenya, a dynamic leader who has masterfully leveraged strategic leadership to propel economic development. His singular focus on job creation has heightened Kenya's allure to foreign investors, driving economic expansion. Kenyatta's successful policies underscore how a strategic approach can strengthen a nation's economy and beckon foreign investment.
Lastly, the remarkable efforts of Pauline Mwakwere, the former Minister of Education in Kenya, have deeply influenced the nation's educational landscape. Mwakwere's relentless commitment to improving access and quality of education echoes the pivotal role of strategic leadership in nurturing education, an indispensable cornerstone of societal advancement.
Each of these luminaries offers a unique exploration into the transformative capabilities of strategic leadership. Their awe-inspiring journeys drive home the urgent need for African leaders to embrace this form of leadership to skillfully navigate the complex matrix of economic exploitation, socio-political intricacies, and development obstacles. By taking a leaf out of their books, African leaders can strategically plot the trajectory towards Africa's liberation and comprehensive development.