With barely 40 days to the end of his constitutionally allowed eight-year stay in office, President Muhammadu Buhari and his criminally-minded gang of looters are obviously not done ransacking Nigeria's resources. His actions and inactions since he took over the reins of power eight years ago have clearly shown how much he hates the country he desperately sought to lead.
Most of the people who ignorantly imposed Buhari on Nigerians in 2015 did so for many reasons, prominent amongst them being the result of his perceived anti-corruption stance. He projected himself as an anti-corruption champion who will stamp out corruption from Nigeria with a wave of the hand. He was sold to Nigerians as the Messiah they had always yearned for but never had. Many gullible Nigerians fell for those cheap lies propaganda and deceit and voted him into Aso Rock, sadly, rather than live up to those noble expectations, Buhari has ended up being the exact opposite of the man Nigerians thought he was. Buhari's government will be leaving Aso Rock as perhaps the most corrupt administration that Nigerians have ever had to endure.
A few days ago, Buhari's graft-loving Minister of Finance, Hajia Zainab Ahmed came out to inform Nigerians that subsidy on Premium Motor Spirit was at the terminal stage of its life in the administration of petroleum products importation and distribution. While that conversation was ongoing, she went on to disclose that the outgoing government has just managed to secure a whopping $800 million loan from the World Bank which will be deployed to provide palliatives for 50 million Nigerians that the government was evidently sure will be the hardest hit by subsidy removal.
By not expressly stating the parameters that would be deployed in selecting 50 million of these 'poor' Nigerians, it didn't require so much to come to the realisation that Buhari was out to coordinate his final bazaar over Nigeria's common patrimony. What is indeed quite mind-numbing is why Buhari will choose to leave the legacy of looting on the psyche of Nigerians even in the last days of his gory administration.
Read Also: Post-Buhari Nigeria And The Looming Crisis
This move by Buhari and his government has left many Nigerians wondering, who exactly borrows $800m at the tail end of their administration just to cushion the effects of planned subsidy removals? Buhari and his gang have clearly demonstrated that their only intent all along was to siphon the country's resources and not to improve the fortunes of her citizens by any means. The level of greed, selfishness, and heartlessness that the Buhari administration has displayed will have had them being hung on gallows if Nigeria were a working society.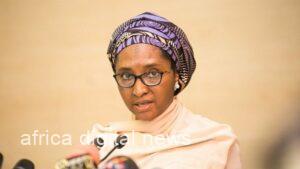 It is even more shocking that out of this $800 million which the Buhari administration secured as a loan from the World Bank to purportedly mitigate the effects of petrol subsidy removal on vulnerable Nigerians, the Federal Ministry of Finance, Budget, and National Planning will be spending about $53 million of these monies on hiring staffers, office administration, committee overheads, and other logistics just for the implementation of the palliative disbursements. No one will certainly need sophisticated investigative tools to raise that the plan has 'scam' boldly written all over it!
How did Nigerians land themselves into the hands of such a dangerously corrupt thieving gang? Having borrowed away Nigeria's future over the past eight years with nothing to show for it, it is now clear that Buhari is now very desperate to mortgage the future of the unborn generation just because he and his allies want to steal public funds. Documents obtained pertaining to the said palliative deal show that the details terms of the loans, interest rate, and repayment schedules of Buhari's $800 looting package will spread till 2051.
The big question many Nigerians are asking is, why Buhari is engaging in this barefaced criminality before their very eyes at the very tail end of his administration? What does Buhari really want? The Buhari government has in the past perpetrated several acts of uncommon looting gaining for itself the reputation of stealing without any form of remorse. Many Nigerians will easily recall how Nigeria's Minister of Humanitarian Affairs, Sadiya Farouq had some time in 2020 shamelessly announce that the Federal Government of Nigeria had spent about N523.3 million on a school feeding programme during the COVID-19 lock-down, adding that about 124,589 households benefited across the FCT, Lagos, and Ogun states. While lying so shamelessly, she forgot that schools were also shut during the time of the lockdowns! Many of these ugly instances abound.
A fortnight ago, Buhari's Minster of Aviation, Hadi Sirika came under scrutiny after he revealed that he spent a whopping sum of N12 billion to acquire 10 firefighting trucks in Nigeria Airports. What Sirika meant by that claim was that he bought each of the fire trucks for N1.2 billion or over $2 million. Without providing any clarifications, the Minister simply ignored the wailing Nigerians and move on to other things. Stealing public funds has almost become a culture under the Buhari government that it is no longer even newsworthy to mention them.
What Buhari and his goons have managed to unleash on Nigerians since 2015 is a classical government by a scam, perfidy, and various kinds of criminality and to make it worse, everything they have done was done with so much impunity and without any iota of remorse. The World Bank's $800 million palliatives loan is clearly the last scam Buhari wants to pull over Nigerians before he says his final goodbye after his years of disastrous rule.
It is perplexing to think about the fact that Buhari's reason for borrowing this loan is to fund post-fuel subsidy removal palliative. This is not only strange but utterly illogical. The removal of subsidy is supposed to save the Nigerian government money, the question then should be, why will the government have to borrow to fund the palliative plan?
Talking about subsidy removal when the government was yet to fully explore fiscal and monetary policy options to incentivise investment in sectors that could mitigate the pains of subsidy removal is plain foolishness. What has the Buhari government done in eight years to attract investors to fix Nigferia's dead refineries, pipelines, petrochemicals, marketing, fertiliser plants, etc? Absolutely nothing!
The planned $800m loan is nothing but an unprecedented crime against the Nigerian economy and Nigerians must treat it as such. For an outgoing government to collect credit, start disbursement, and then shift implementation to the next administration is not only insensitive, but it is also wicked and reckless. Nigerians must therefore make it evidently clear to the outgoing Buhari government that the Nigerian economy does not need to carry a burden of $800 million for subsidy removal and palliatives that are wrapped in fraudulent garments.
Buhari and his gang of criminals do know as a matter of certainty that if the refineries were working if Nigerians had security, if Nigerians had sustained energy, excellent road network, and public water supply, among others, they will do with or without subsidy palliative. The government clearly refused to provide any of that deliberately to keep Nigerians impoverished just to ensure they never speak up for themselves.
In conclusion, since he assumed office in May 2015, President Buhari has spent more than N2 trillion on Social Investment Programmes (SIP). Yet, an estimated 133 million Nigerians, according to statistics, have sunk into multidimensional poverty, just as another 24.2 million people face acute food insecurity. These figures should worry him and ring in his mind as he prepares to loot the country's resources one final time. Nigerians must use their voices now or be further thrown deeper into the ditch of economic stagnancy.