Over the last two decades, the economic relationship between China and many African countries has continued to flourish, alongside speculation that the Chinese government has a hidden agenda. Many see sovereign immunity clauses in Chinese loan agreements as a ploy to re-colonise Africa from the back, while others ask whether these loans form a debt-trap diplomacy.
Chinese engagement with African countries, as one of the country's most important economic partners, has spanned over two decades, traversing trade, investment, infrastructural financing, and aid. During this period, China has catapulted from being a relatively small investor to the highest creditor in sub-Saharan Africa. According to a recent report by Mckinsey, Africa-China trade has been growing at approximately 20% every year since 2000. However, these engagements have been complex and stirred speculations about what the long and short-term motives of China may be. Although these continue to be characterised by suspicion and cynicism, it is difficult to overlook China's substantial influence. The nature of these loans as well as the processes of procuring them are often opaque and confidential. Widespread allegations of bribery and kickback have continued to fuel acrimonious debates and political cacophony across the continent.
The latest was a controversy that was spurred by the Nigerian National Assembly, which suggested that a legal clause, Article 8(1), of a USD500 million contract with China will mean Nigeria likely surrenders her economic sovereignty in the case of default. It was the House of Representatives Committee on Treaties, Protocols, and Agreements that apparently misunderstood and raised suspicion about the presence of the sovereign immunity clause in the agreement.
Read Also: Why Africans Must Learn To Tell Their Own Stories
However, the clause is said to be included in most standard Chinese agreements. The apparent reason is to prevent countries from raising sovereign immunity as a defence in case of any legal dispute. However, many politicians and opinion leaders in Nigeria vehemently disagree. Rather they insist that many of the loans are Trojan horses with hidden intentions that could lead to the surrender of choice sovereign assets.
So far China holds more than 70% of Djibouti's debt and has leased the port for ten years since 2016 for $20m annually.
The string flows from mainland China all the way to the Horn of Africa in Port Sudan. Isaac Kardon, an Assistant Professor in the China Maritime Studies Institute at the US Naval War College argues that the reason behind this is that 'Chinese firms are rapidly developing Africa's ports as platforms for the integrated political, economic, and military presence of the People's Republic of China (PRC) in each of the continent's subregions, taking long-term control over ownership and operations of port assets instead of just building them on contracts.'
The Port of Djibouti is China's first overseas military facility and China's strategic partner. This is due to its strategic position in the Indian Ocean, which overlooks the gulf of Aden and the Bab-el-Mandeb Strait which handles between 12.5% to 20% of annual global trade.
So far China holds more than 70% of Djibouti's debt and has leased the port for ten years since 2016 for $20m annually. There have been fears that Djibouti will go the Sri Lanka way but it won't be easy for China to take over port Djibouti without a proper tiff from the global North. This is because Djibouti leases land to several foreign militaries including the US.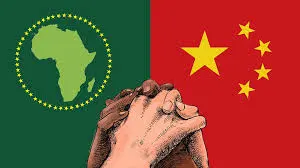 Also in this IOR network, Sri Lanka was forced to give up their Hambantota port on a lease of 99 years to the Chinese company that built it.
Sri Lanka is currently in a financial crisis as the country has been forced to default on its debts with China as one of its leading creditors.
According to the IMF, 'the Sri Lankan government restructured the original loans and reached a 99-year concession agreement with China Merchant Port Holdings (CMPH). Under the concession agreement, CMPH paid the Sri Lankan government a total of $1.1bn, broadly equivalent to the original loan amount.'
Sri Lanka is currently in a financial crisis as the country has been forced to default on its debts with China as one of its leading creditors. The shot in the dark among the international community is that China could be a Trojan horse and not the soft bilateral trade investor it presents itself to the least developing states in the global south, specifically in Africa and Asia.
Former US Vice-President Mike Pence elaborated on China's deals as debt-trap diplomacy in his latter years which is now shaping discussions on the integrity of China's bilateral deals. Except, African states remain unconvinced that China could be a neo-colonial adversary. This is because China has given Africa a big break in infrastructure development in under a generation. A move the US and Europe have failed to achieve post-colonisation.
China is finally willing to restructure Zambia's loans, which were at over $17bn at the end of 2021  into more accommodating and less imprisoning terms.
Despite the debt-trap diplomacy, African states remain welcoming to China with little to no resistance – almost 40 African states have signed an MOU to join China's Belt and Road Initiative (BRI), which has boosted and integrated the export and import supply chain in the continent.
There have also been mega projects in the continent through the BRI initiative from railways, superhighways, mega ports, roads, power dams, and more.
Besides commercial activities, China is also establishing itself as the vigilante of the continent with its new global security initiative through military training, intelligence sharing, and donating military to UN peacekeeping missions in the Horn of Africa and Sahel.
This might explain why Africa refuses to bite the hand that feeds it. So is China undercutting sovereignty in the continent? Africa's sovereignty was already undercut over a century ago but there is a new scramble for Africa and African leaders and peoples must stay woke not to lease their independence for the next 100 years.
In conclusion, the reliance on the Chinese rhetoric of brotherhood and a win-win engagement approach with the continent is lazy, simplistic, and potentially misleading. Ultimately, diplomacy is self-serving, and it is the responsibility of African countries – the borrowers – to articulate their own strategy for engagement. Nigeria is best positioned to lead that conversation. Besides, there is a need for a legislative framework to protect countries from any unforeseen repercussions from these debts in case of uncertainty like the Covid-19 pandemic. Continental bodies like the African Union should show more interest in promoting a better understanding and coordination of engagement with China.