When the Apsley Business School, which is located in London and ranked among the best business schools in Europe, to be more apt, decides to partner with New York Learning Hub, a citadel of learning that is recognised and licensed by the New York State Department of State to churn out an orientation course for postgraduates students, then it can be assumed to be a dream come true for every postgraduate student who wants to journey well to academic excellence. 
One might wonder why is an orientation course even important. Well, with an orientation course, the chances of making mistakes are reduced to the barest minimum. They are the most prominent and effective ways to draw the attention of students and prospective students to the benefits and advantages of selecting a line of studies or a career path to pursue as well as draw their attention to the possibilities available to them.
A lot of the time, students do not know the broad spectrum of the career path they might have picked up an interest in or chosen to study. For many, it might just be a case of joining the rave of the moment and being counted among those who have an affinity for a particular course of study or career without actually knowing and understanding the benefits, perks, difficulties, challenges, career prospects and business prospects that are possible with that course, business or career path.
Sometimes, postgraduate students in particular just want to be seen climbing the educational and professional ladder without actually understanding the prospects before them or trying to have a well-defined road map. They have zero knowledge about the course but are just driven due to its acclaim and recognition or the supposed honour of having a postgraduate degree.
An orientation course, therefore, becomes a necessity because it serves as an eye opener to all the possibilities that are available in different courses, and especially, for the postgraduate learner, the vast array of possibilities that learning and being certified in the exact field or career path that they have chosen presents.
Read Also: New York Learning Hub's Giant Strides With Reginald Nwamara
This is where New York Learning Hub and Apsley Business School, London come in. Being widely acclaimed for its industry excellence in making high-quality and industry-friendly courses readily available, accessible, and affordable, it also has come to understand of the limitations of learners in spotting and acknowledging the goldmine before them. As usual of their proactive nature, they have taken the proverbial bull by the horn and decided to bring to the knowledge of postgraduate students the goldmine that is yet untapped and waiting for them to explore.
In order for all possible grounds to be covered and for the orientation course to be as eye-opening as possible, the New York Learning Hub and the Apsley Business School, London decided to pool together the vast wealth of experience and excellence associated with their outstanding and quintessential educationists and professionals in the course of this orientation course.
Talking about the educationists and professionals, there is an array of them who will take part in the orientation. First is the Academic Director and Chair of the Academic board at Apsley Business School, London, Professor Sebastian Fuller. Professor Sebastian fuller has had an internationally renowned career as a consultant in compliance and Quality Assurance. He spent over 14 years as an academic in Japan establishing and implementing international collaborations across East Asia and North America.
On his relocation to Europe, he has spent the past five years consulting at the executive level in postgraduate education in the United Kingdom and Central Europe while delivering high-quality executive training online through a variety of platforms and media. He is an active consultant in the fields of strategic marketing and education as well as Information Security and has worked on projects for Europol and the University of Security Management in Slovakia. He lectures on the MBA in research methodology, HR, quality management, and marketing.
Also part of this orientation course is the renowned connoisseur of words, public intellectual, publisher, and an internationally acclaimed novelist and social critic with numerous socio-political articles and novels to his credit, Professor MarkAnthony Nze of the Apsley Business School, London.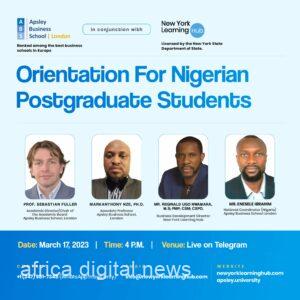 He is the founder and currently, publisher of People & Polity Inc., New York which runs three phenomenal news websites namely, Africa Today News, New York, Africa Digital News, New York, and The Eastern Updates in the United States all of which provide 24/7 news detailed news coverage around Africa and the world.
Mr.Reginald Ugo Nwamara, M.S; PMP; CSM; CSPO who is the Business development director at New York Learning Hub will also be taking part in this orientation exercise. He is a highly sought-after administrator and business executive who has built a solid reputation for himself as far as business growth, public relations, advertising, and strategic management are concerned and will also be a part of the orientation.
Also, the national coordinator of Apsley Business School, London in Nigeria, Mr. Enesele Ibrahim, A dynamic international and development economist as well as a human resource professional, will also be part of those who are expected to unleash their wealth of experience on partakers in this orientation exercise.
Following their years of experience and expertise, it is therefore certain that with the capable hands of the exceptional team, every postgraduate student in attendance at this orientation will not only understand the essence of what they are studying, they would also be exposed to the hidden potentials embedded in every course. Hence, they will come to an understanding of what they are capable of achieving as well as the best way to go about it. This is a classic case of hearing from the horse's mouth.
Now, if you are a postgraduate learner of any course at all, this is for you. This is an opportunity that does not present itself every day. Grab this with both arms and prepare to be a part of the orientation course.
The details of the orientation are as follows;
If you are interested, join via the link below:
https://t.me/+y_5Rz4LXIMUyNmUx
Date: 17th of March, 2023.
Time: 4p.m. Nigerian Time
Venue: Live on Telegram
In the event you need more clarity about this, you can reach them via their contact number and their email;
Contact  no: +1(347) 981-7348 (WhatsApp messages only)
Email:  [email protected]
For more information, you can check out their websites;
newyorklearninghub.com and apsley.university
Clarity of purpose is the beginning of excellence. Do not miss out on this orientation course.