You cannot give what you don't have they say and that's a fact. When a clueless leader like President Muhammadu Buhari is allowed to take over the cockpit of a badly worn-out aircraft like Nigeria, the outcome can be very easy to predict. President Buhari, on record, is officially Nigeria's worst nemesis and if you permit, the worst leader to be produced by the country.
This postulation is not in any way trying to suggest that Nigeria has not had a fair share of bad leaders in the past or that her problems started with President Buhari. No, faf from that. The truth is that no matter where one stands, the records are clear; Buhari compounded the woes of Nigerians. In less than 8 years, he has inflicted the country and by extension, Nigerians with his cluelessness and lack of direction.
From the perspective of the world, Nigeria should be driving black Africa's prosperity. So much hope and expectations have been placed on the country and this is not out of place. Successive leaders in the country have always been looked up to to build a better future for Nigeria and Nigerians but they have all failed. They have consistently failed Africa and by extension, the World.
Read Also: ₦77 Trillion Debt: Buhari's Wickedness On Nigeria's Future
For Buhari, the failure was even more remarkable and deeply upsetting because he made next to nothing attempts to solve any of the myriads of multi-faceted problems. Under Buhari, Nigeria has become one of the most unsafe places in the world to live in. It's easier to die as a Nigerian under his watch than to stay alive. Go to the airports and embassies and see the population of people making efforts to leave the country and you will shudder in disbelief. People are escaping the country because the regime has set new records on insecurity, violent crimes, and banditry. Nigerians have never had it this bad.
If today there is one thing that is profoundly certain, it is the incontrovertible fact that Nigeria, has been terribly besieged by anarchism, and has therefore become divisively dysfunctional and a dangerous enclave to dwell in. Anyone who is objective will agree that Nigeria is presently infested with the deadly disease of anarchism; a system of existence that is in direct opposition and complete conflict with the established order of things. An order that has continually become a blight, an affliction, and a scourge to its people, the state, its institutions, and the foundations, destroying the ideals and ideologies that created, sustained, supported, and glorified these institutions. Under Buhari, anarchism has become the minimum standard.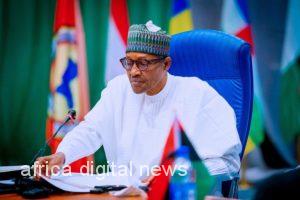 As a result of insecurity which Buhari's ineptitude has allowed to fester, the $4.7B invested in railway transport is now in jeopardy as the trains, rail tracks, and passengers have become objects of regular attacks by vandals, terrorists, and bandits. Just a fortnight ago, gunmen unleashed terror on train passengers in Igueben, Edo State, abducting 20 persons. Under Buhari, kidnapping has become a booming industry in Nigeria. Payment of ransom is a common practice in the engagement between the citizens, government, and terrorists. How else can one describe a country on autopilot mode? Who really is in charge of Nigeria? When was the last time Nigerians felt leadership under the President Buhari-led government of crass incompetence?
Just a week ago, a Catholic priest whose name was given as Rev Fr Achi was reportedly burnt to death at his parish house in Niger State by terrorists. A church in Katsina was bombed during mass baptism and 25 worshippers were abducted. In Imo State, heavily armed gunmen were reported to have attacked the home of the CUPP spokesman and PDP candidate for the House of Representatives, Ikenga Ugochinyere. The attackers killed three persons and burnt vehicles and his country home. All this in a country that presumably has a President. How can one reconcile it?
The South Eastern part of Nigeria, just like other parts of Nigeria can best be described as a jungle. Part of the reason for the insecurity in South East was the consequence of dysfunctional and unjust governance. No one wants to be part of a federation where he is treated as second-class citizen. Yes, this may sound controversial, but that's the honest truth.
Nigeria was already exhibiting signs of division before Buhari was elected president in 2015. But rather than uniting the battered counter, he went on to worsen it by dividing it more. His nepotistic leadership style and one-sided patronage of members of his tribe and religion shouldn't have rared it's head in a multi-ethnic and pluralistic nation like Nigeria, but thanks to Buhari, Nigeria is now more divided than ever.
The economy, which Buhari promised to revive is perhaps one of his weakest points even though no one expected him to do any magic. He successfully set a new record of inflation, debt, and uncontrolled spending. Currently, the government is owing N77 trillion in debt with no repayment plan. The economic mess the country has found itself in, is better imagined than experienced. The unemployment rate, the infrastructural deficit, collapsed public education system and the state of hopelessness in the country are all at their scariest, and one will only wonder how easy it was for Buhari to sink Nigeria the way he did in less than 8 years.
It will be an effort in futility positing that Buhari will address any of the problems as highlighted before leaving office because he has no clue on how to address them. He never attempted to address them in the past seven years and some months since he was president, and will not address them in the remaining months.
Buhari has been clueless over the past seven years and perhaps even more depressing is the fact that he has bluntly refused to step aside to allow more competent hand stabilise the aircraft. While Nigeria and Nigerians bleed, it doesn't matter to Buhari. His cluelessness has been so bewildering that one will wonder how Nigerians have managed to condone him for this long.
In conclusion, post-Buhari Presidency, Nigeria needs restructuring first and not necessarily another President.
The restructuring will definitely calm the storm. Restore trust in the country's leadership and inspire hope. It will build back Nigeria and renew the trust of the citizens in the government and the country. The people are sick and tired of broken dreams and promises. All they want is to return to the pre-Buhari era, not because that era was a bed of roses but because it's a good starting point to refresh. In the meantime, Nigerians will be hoping that Buhari lands them safely with their lives intact.