On New Year's day, former Nigerian President, Olusegun Obasanjo returned to the front burner of the Nigerian political space when he delivered his famous letter to Nigerians. As expected, the contents of the letter were lucid, engaging, and controversial, and ever since then, virtually every political actor in the country has had one or two things to say about the letter which removed the lid on Obasanjo's political preference as far as the 2023 elections were concerned.
Many of the gladiators on the losing side of Obasanjo's loud endorsement of the candidate of the Labour Party, Peter Obi as expected reacted to it by dismissing it as baseless and worthless, well, the truth remains that if it were worthless, no sane man will react or offer strongly worded responses to it because that will amount to a waste of precious time, but away from the endorsement, the key question should be; Does Obasanjo even have the moral locus standi to endorse anyone? The answer is a simple NO!
Clearly, OBJ as he is fondly called does not have what it takes to alight from his moral high horse to recommend to Nigerian youths who should lead them because he was never a good leader and by all intents and purposes does not know one. This piece is not in any way targeted at Mr. Obi who Obasanjos's endorsement is supposed to benefit, rather it is meant to set the records straight, for posterity's sake.
Developments in the Nigerian polity have always shown that Nigerians have short-term memories which are poor at holding political grudging or taking and maintaining principled stands for a long time. They often move with the wind and the season and for many, it is purely the effects of bandwagon considerations. This explains why the incumbent President, Muhammadu Buhari was able to be rechristened as a 'Messiah' by Nigerians in 2015 despite the horrible person he was the last time Nigerians experienced him as a leader. To them, he was a 'Converted Democrat' and was the only way out of the cluelessness of then-President Goodluck Jonathan.
Read Also: 2023 May Make Or Break Nigeria – Obasanjo
When Obasanjo's past actions are compared viz-a-viz his new posturings, it leaves any rational mind wondering when Obasanjo repented and begin wielding the moral standards he now purportedly commands.
What has changed really? When did Obasanjo repent from the man that was obscenely vengeful and revanchist while he held sway as the President of the country? When did Obasanjo become the saint he now pretends to be?
It has remained a mystery to many Nigerians why Obasanjo has not been able to see any good in any of the leaders who occupied Aso Rock after him. More often than not, he prefers publicly scolding them than offering private advice because by his calculation, he alone can boast of a pure record and no one else comes close. After he left office as Head of State, he hit Shagari, clobbered Buhari, and threw broadsides at IBB and none of them could challenge him until he dared Abacha. By Obasano's reckoning, he is the only patriotic Nigerian and only he did well as a leader in Nigeria, his hypocrisy has always been on steroids but he never cares.
In his famous New Year's endorsement letter, Obasanjo clearly submitted that some of the aspirants in the race to succeed President Buhari as president in 2023 deserve to be in jail. True, it is difficult to disagree with him but it wouldn't be fair to allow that pass without unequivocally adding that if there was anybody that should be in jail in Nigeria right now, it was Obasanjo himself. If Nigeria were a sane county where leaders are often held accountable for their actions while in public office, Obasanjo should be in jail for abuse of office and the innumerable infractions and atrocities he committed while he presided over Nigeria as President between 1999 and 2007. The truth remains that a critical analysis of Nigeria's recent problems will clearly show that virtually all the problems confronting Nigeria today have Obasanjo's signature signed all over them.
For the sanctimonious who is desperate about saving the drifting Nigeria, he is the only righteous Nigerian that has ever occupied Aso Rock. To him, every other person is corrupt, yet, it was under his watch that the worst corrupt cases in Nigeria's history happened. Despite his pretense and camouflage at fighting corruption, it was under him that Transparency International (TI) and other highly renowned observers rated Nigeria as one of the most corrupt geographical entities on the continent. How can Nigerians forget how Obasanjo supervised a dubious privatisation program that was nothing but a decoy to appropriate national assets and their proceeds to himself, his acolytes, and his kinsmen? It took an investigation by the National Assembly for Nigerians to discover that a humongous sum of $16 billion was frittered away on the Ministry of power and yet all he could afford to give Nigerians in his eight years reign was only darkness. Today, Nigerians are buying fuel at dangerous costs, yet it is St. Obasanjo that introduced the fuel subsidy scam that has continued to hold the country's oil and gas sector by the jugular. After selling Nigeria's refineries and licensing his cronies to start the importation of fuel, the lives of Nigerians never remained the same again and he doesn't give a hoot about it, yet he is the same man trying to paint his over-bloated sense of patriotism on the faces of Nigerians.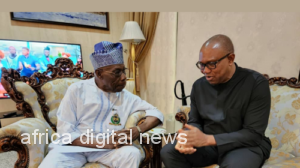 Evidently, the corruption scandals that rocked Obasanjo's government were unparalleled and unprecedented. Nigerians will not have difficulties remembering how Abacha's loot which Obasanjo's government began recovering were 'relooted' with ease. Someone has to cast a spell on Nigerians for them to forget the $182 million Halliburton bribe scandal, the ecological fund's scandal, the PDTF fraud scandal, the Police Equipment Funds scandal, the National Identity Card fraud, and many other numerous scandals which became too common under Obasanjo. It is expected that Nigerians will not easily forget how Obasanjo defrauded Nigerians and indeed many corporate entities by making them donate to his personal library project against laid down rules and the Nigerian constitution. How Obasanjo deployed state power in fighting personal enemies and even going on to commit unpardonable economic sabotage against the country in the process shouldn't have been forgotten this early by Nigerians who witnessed it all. How Obasanjo deported the Vaswani brothers and seized Ibeto cement for no reason other than to promote several businesses which he had a vested interest is still well documented. Throughout his eight-year rule as President, whenever he wasn't auctioning off Nigeria's national assets under the guise of privatisation, he was busy somewhere creating private monopolies and using state powers to commit sacrilegious fraud. Nigerians are not expected to easily forget how Obasanjo for political reasons banned Orji Uzor Kalu's Slok Airline which later went on to become the official carrier in Gambia and for the same reason he dismantled SGBN, Intels, and even shot down Jim Nwobodo's Savanna Bank not minding the fact that he was going to be throwing thousands of Nigerians into the labour market in the process.
There was nothing Obasanjo did while he held office that was devoid of strong dents of fraud and irregularities. In 2006, through the National Populations Commission, he conducted a National Census that was marred with gross irregularities, rigging, and several controversies and as if that was enough, he conducted the most fraudulent elections in Nigeria's history just a year later through Maurice Iwu. Even the artificial satellite that was launched under Obasanjo developed wings and mysteriously disappeared.
Today, it is amusing to see Obasanjo calling on young people to take over Nigeria through the ballot box as if he was a democrat himself. Well, for young Nigerians who do not really know the man behind the mask, Obasanjo has never been a democrat because none of his actions, while he had power, showed that he does believe in the ideals of Democracy and the rule of law. Obasanjo has never been a believer in dialogue, rather he believes in command, control and this was how he smuggled the concept of do-or-die politics into the Nigerian political lexicon. It was under Obasanjo that the culture of impunity and 'gangsterism' became a norm in the politics of Nigerians because he was clearly an expert in empowering touts and renegades to unleash mayhem in the polity. Does Obasanjo think in all honesty that Nigerians will forget all the forced impeachments, undue interferences in the affairs of the National assembly, and the culture of impunity that was deemed normal under Obasanjo? Of course, they are not supposed to!
It is really difficult to forget the dark days of the man that now wants to show Nigerians the way. Under Obasanjo as President, Nigeria witnessed a level of insecurity that is often not talked about. To date, many high-profile murders such as never happened before in the country took place under his watch and they all remain unresolved. Have Nigerians forgotten how Senator Chuba Okadigbo passed on shortly after security operatives pumped canisters of tear gas on him while in a political rally? How Chief Bola Ige who was then serving as minister was murdered in cold blood in his residence? It will surely be difficult to forget that it was under Obasanjo's inept government that the strong man of Lagos politics, Funsho William, Harry Marshal, Aminisoari Dikibo, Barnabas Igwe, and his wife, Abigail Igwe were assassinated without answers. Not even the airways were sane under Obasanjo because it was under him that the international community tagged our airspace unsafe after the country recorded the worst cases of aviation disasters ever recorded in its history. Nigerians cannot forget in a hurry the trauma of the Sosoliso, Bellview, Dana airlines, military plane crashes that rocked the country back then. Those were the years Obasanjo wants Nigerians to reference.
Obasanjo was a horrible leader whose records in people management were nothing short of abysmal. His crisis management skills were shambolic and an eye sore. Many people who understand history and precedents in Nigeria will not find it difficult to link most of the crisis rocking Nigeria today to Obasanjo's poor response to the issues he was confronted with in the office. His needless refusal to pay the oil-producing states the 13% statutory allocation early in his administration was what triggered the agitation for resource control which is threatening to tear Nigeria into unimaginable pieces today. Obasanjo's first and immediate response to the agitation back then was to deploy force to silence and suppress the agitators which lead to the destruction and invasion of Odi in Bayelsa State. Many Nigerians do not know that this led to the formation of many militant groups that went underground doing illegal oil bunkering and kidnapping of oil workers for ransom in order to fund their operations and this has remained a scourge till date. Obasanjo's divisive tendencies and official high-handedness were what instigated the resurgence of ethnic militias like OPC, MASSOB (which later became IPOB), Egbesu, and many others and perhaps, if only he was decisive about the sharia movement which sprouted out from the North, maybe, just maybe the menace of Bokoharam might have remained an illusion. If Obasanjo had simply given a listening ear to, and addressed the concerns of MASSOB there probably wouldn't have been Mazi Nnamdi Kanu or maybe a Simeon Ekpa. The killing of hapless citizens in Odi, the killings at Zakibiam in Benue State, and the killings of MASSOB activists at Okigwe by soldiers under the direct orders of Obasanjo have left Nigeria at a point where it now appears destined for the rocks.
The list is endless. Obasanjo is clearly not the man he projects himself as. He is filthy, greedy, brutal, and domineering. If there is anything he owes Nigerians, it is an unreserved apology for the numerous atrocities he committed against her citizens for which he wasn't prosecuted not dishing out endorsements and attempting to show Nigerians the way. Nigerians are rational people and wouldn't be needing a character like Obasanjo to show them the way to a new Nigeria. This is akin to a dictator preaching democracy, Nigerians could be anything but stupidity is certainly not one of them. Obasanjo should respect himself, keep calm and prepare for his date with posterity and history; his misdeeds are well documented and no amount of image laundering can cleanse him, not even an endorsement for Mr. Obi who by the way is eminently qualified to lead Nigeria.