Ever since Rivers State Governor, Nyesome Wike lost the Presidential ticket of the Peoples Democratic Party, PDP to Atiku Abubakar in June, a lot has changed about him. He has now become a social crusader for justice, a supermodel, an entertainer, and an attention seeker, all in one.
In Rivers State today, clowning has taken over the role of diligence because Wike is Governor. Hypocrisy now roams in garish outfits, dancing in self-adulation and posing for cameras as the self-appointed defender of social justice. Opportunism and political childishness have now been elevated to higher standards and are on their way to becoming the norm. Governance which is supposed to be serious business guarded by diplomacy is now competing, rather unfavourably with content from skit makers and Instagram comedians. Oh, how did governance get here in Nigeria?
Perhaps Governor Wike's biggest source of foolishness is the moneybag of Rivers State. In the build-up to next year's election in Rivers State, he simply handpicked a stooge, gave him the PDP ticket, and he is now going about campaigning for an unconstitutional third term through his lackey, Sim Fubura.
Read Also: Governor Nyesom Wike And His Politics Of Foolishness
Just recently, Governor Wike surprised everyone when he, from nowhere started talking about accountability in public office and even became an anti-corruption crusader. It is rather shocking to know that a man of opaque character like Wike who has primitively hoarded stolen funds for election day vote buying can be talking about anti-corruption. How can a Kettle conveniently call a Pot black? How can a man who has stained both of his hands with filthy lucre and spoils from public office go sanctimonious to the extent that he now wants to be celebrated as Mr. Transparency? It is absurd that a man with such egregious corrupt tendencies and extravagant spending could speak so brazenly when his actions suggest unfathomable fraud and looting of public wealth.
Today, Governor Wike is leading a government of misplaced priorities in the State. While he is going about commissioning flyovers, the economy of the state is dying due to a lack of electricity. A fortnight ago, about 25 innocent children on life support machines died in a Rivers state-owned hospital at exactly the same hour simply because the hospital could not afford electricity. He was unable to provide electricity due to his self-serving decision to redirect all monies to wasteful endeavours. Someone should remind him that he would be facing charges of criminal negligence for the tragic deaths of those kids at the International Criminal Court when his despotic reign on the high horse is finally over.
It is sad that Governor Wike has now been able to recruit other Governors into his buffoonery. Just recently, Governor Wike and his counterparts from Benue, Enugu, Abia, and Oyo States were in Lagos to launch what they described as the G-5 integrity group. The painful truth confirmed by that charade is that these Governors have now completely abandoned governance for frivolities. They have now assumed new ranks in the clowning industry. By becoming Wike's houseboys, they have now abdicated leadership in their states and the madness doesn't appear as one that will end soon.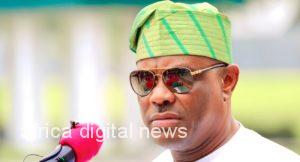 In the last few days, Nigerians have been subjected to the pains of watching men who are supposed to be the Chief Executive Officers of their respective states struggle to outdo each other in broad daylight stupidity. The likes of Governor Ortom of Benue State and Governor Okezie Ikpeazu of Abia State who have been abysmal failures have simply hidden under Wike's foolish jamboree to escape scrutiny.
Today, they are all at the forefront of the call on the PDP to relinquish the office of the Chairman to the Southern part of the country. While their calls may be legitimate, the truth is that these Governors are not making the demand because they love the South or are trying to fester southern interests. While Wike continues to mention equity, fairness, and justice in all his tirades at his party, one will only wonder, since Wike was really interested in true justice, why didn't he support the call for power to shift, not just to the South but to the South-East. Wike's man Friday and Enugu State Governor, Ifeanyi Ugwanyi headed the committee that zoned the Chairmanship of the party to the North. Wike's loyal lieutenant, Governor Samuel Ortom was the Chairman of the committee that threw the zoning of the Presidential ticket of the party open. It's good that discerning Nigerians are not falling for the scam by the so-called G-5 integrity group who are fighting for nothing but their selfish interests.
Wike's story is now pathetic, he has now become restless. The fact that he has only a few options left is a major challenge. The EFCC is on the lookout for the stooge he intends to install as governor of Rivers and in order to keep him safe from the Eagle's roaming claws, he must keep him in holes and caverns. But the reality remains that while Wike is at liberty to continue deluding himself in his oversized gubernatorial robes, he should be constantly reminded that in six months' time, he would descend into a commoner, stripped of all immunity, bare from his haughty airs and boastful manners, and left to face the karma of his actions.