Save for the fact that President Muhammadu Buhari's government has become synonymous with absurdities, believing the story of the torture and detention of a young man on the orders of the First Lady will have been waved off as fake news by many sane Nigerians. It was difficult to believe that Aisha Buhari is so small-minded that a random guy on Twitter got her full attention by just making snide remarks about her looks on social media.
Last month, a young undergraduate of the Federal University Dutse by the name Aminu Mohammed Adamu became Aisha Buhari's latest victim. She ordered his kidnap, captivity, torture, and subsequent arraignment after he took to the micro-blogging platform -Twitter to tweet that Aisha had managed to grow fat with the money meant for poor people.
The tale of how the young man was whisked away to the dungeon of the Department of States Services (DSS) was quite bewildering, according to very credible reports, he was first taken to the state house where he was said to have been tortured in the presence of Mrs. Buhari before who reportedly even joined in the free-for-all-beating before he was eventually incarcerated. How the First Lady of a country who is supposed to be a mother to the young man debased herself to that ridiculous point. But that is Nigeria for you where all forms of irresponsibilities thrive, with President Buhari in charge.
Read Also: Don't Blame Us, You Failed Nigerians, Govs Hit Back At Buhari
In saner climes, the office of the first lady is always a fountain of charity and love, where frustrated parched students like Aminu can find succour and peace. The first lady is always looked up to as a compassionate moral compass who should be setting wonderful standards for women and girls in the country.
The truth is that the reason Mrs. Buhari went to that crazy extent was that the boy's words struck deep cords in her. She is evidently overweight and it is not out of place to any layman with unaided eyes to conclude that since she is now fat, she must have been feasting on something. From 2015 till date, Aisha and her husband have been sustained by taxpayers' money. She has never been seen putting in hours doing other jobs in Nigeria besides from sitting in Aso Rock and issuing orders to people she doesn't consider human enough.
Before Aso Rock came calling for President Buhari, Aisha Buhari was a beautician by profession, what that meant was that any critical assessment of her looks was going to hurt her. Again, according to many close sources, Mrs. Buhari's weight gain was not a consequence of gluttony but of sickness. Just a few weeks ago, many Nigerians even suggested that she looked pregnant when some pictures of her went viral on social media. This explains why what Aminu said hurt her the way it did, for her, he was taking a double tackle at her by reminding her about her ill health and then suggesting that she was no longer beautiful.
Just like everyone else, she is entitled to feel hurt over things people say about her, however, what she is not entitled to, is the power to order DSS officials around like schoolboys and use them to brutalise, terrorise and demean people over their opinions about her. Doing that was tyrannical, archaic, crude, and inhumane.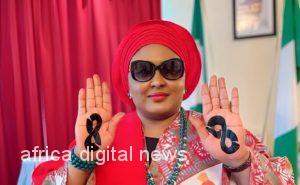 If there is any major lesson she has learned from this, it is the fact that while trying to suppress and punish Aminu through violent intimidation, a tweet that was originally seen by a few hundred people is now being talked about by millions. This is nothing but a reputational equivalent of being penny-wise and pound-foolish.
Adamu's choice of words might be uncultured, however, his observation about a First Lady who has done absolutely nothing for Nigerian society but to feast on the proceeds of corruption, nepotism, and ineptitude is apt. What has Mrs. Buhari done to improve the lives of Nigerians in the last 7 and half years rather than bringing their family squabbles and cabal wars to the full glare of the public, hibernating in Dubai for countless months and arranging lavish weddings for her morally bankrupt children on taxpayers money? What did Aisha do about the plight of the 133 million Nigerians whose misery her husband's maladministration has continued to worsen rather than flaunt vainglory and extravagance before them?
Mrs. Buhari has shown how far she can go to abuse power and privileges. For her, being married to the President is enough reason to command so much power to do and undo. This is the sad situation that Nigeria and Nigerians have found themselves in.
Ironically, Aisha and her husband were the same people that went around the country projecting meekness and promising to stamp out corruption and abuse of public privileges. Some time in 2019, Buhari and his kitchen cabinet members used the same DSS to abuse and prosecute Omoyele Sowore accusing him of insulting the president. This time, it's the President's wife using the same DSS to harass a young lad who only executed the right to free speech which is enshrined in the constitution. The serial abuse of power by the Buhari led-administration is terrible. Nigeria is currently being led by people who want all the spoils of power that democracy endows them but do not even believe in democracy enough to allow it to be fairly practiced.
If Nigeria was a serious country, the singular act of the First lady should have generated enough outrage to force her protection. It is good that she has already bowed to pressure and released the young man but it should go beyond that. An apology should be offered to the young man and compensation paid to him for the torture meted out to him by a woman who is supposed to shield him.
In conclusion, Nigerians must understand that this madness is only happening because of the leadership vacuum which Buhari created in Aso Rock which all manner of people have volunteered themselves to fill. If they are tired of this, they must at this point in her history jointly demand that the powers in the Executive arm of government be watered down through restructuring. If Nigeria is not restructured to weaken Abuja and have true federalism, the present system will only continue to breed tyrants like Aisha who simply abuse power for a living. Something has to give!