Recent events in the polity may be indicative of a jugular war between the Aso Rock Cabal, the de-facto Presidency, and a National Leader and stakeholder of the All Progressives Congress, (APC) Bola Ahmed Tinubu. A master strategist who has dominated the politics of Nigeria's commercial capital for over two decades, Asiwaju Bola Ahmed Tinubu has long been expected to make a run for the country's top job his formidable political network, propensity for deal-making and substantial personal wealth give him a head start over many other contenders.
It is no longer news that Tinubu's alleged presidential ambition drives him to sometimes unethical acts. The general view is that Tinubu will run in 2023 but he has not announced any such intentions. This secrecy may be a new strategy given that he is facing serious rivals in the party and the government. Tinubu has not held an official position in government since his second term as Lagos governor, which ended in 2007, but his influence national politics has grown.
In the political chess game, he is acknowledged a master-until the Aso Rock Cabal, hitherto referred to in hushed tones as the De facto presidency showed their manipulative hands.
The cabal is toying with Bola Tinubu like a yo-yo—and he is naively, if gingerly, playing along in readiness for his eventual political incineration by or before 2023. And the cabal is being ruthlessly Machiavellian about it. Tinubu has been given a promissory note that he'll be APC's presidential torchbearer in 2023. On the strength of this worthless promissory note, they've sought his permission to destroy some of his most trusted foot soldiers. With his consent, they've consigned Yemi Osinbajo to symbolic Aso Rock prison. Tinubu endorsed Tunde Fowler's replacement at the FIRS and is in on his impending trial for corruption. He also stamped his imprimatur to Muiz Banire's unceremonious ouster from AMCON. He's giddily approving everything the cabal tells him it wants to do to his "constituents" and foot soldiers.
Right from the onset, Tinubu had planned to control the major parts of the Nigerian Government besides nominating the vice presidency. That was not to be as of that time as there was Bukola Saraki to stop him through his infamous National Assembly coup. This ambition of his stepped on a lot of toes one of which was former Chairman of the party, John Oyegun, who was said to be more loyal to President Buhari, or by extension, the Cabal.  The cabal then was said to be headed by the former Chief of staff to the  President, Mallam Aba Kyari and he was said to be the "Capo de Tuti" among the various factions that reared their heads taking advantage of President Buhari's vulnerability due to illness to run the government by proxy. Sources indicate that other power blocks were effectively neutralised by the Abba Kyari group, including the secretary to the government. Now, it appears there is only one basic group.
This group, it was alleged, made it their business to neutralise Tinubu completely since they felt he was becoming too strong. Tinubu's ambition has been said to be the presidency. He had toyed with the idea of replacing Osinbajo as the presidential candidate of the party if Buhari honors his initial promise to do only one term. To achieve this, he needed to strategise and enthrone only those loyal to him in the APC primaries. But he has since shifted focus to 2023.
Tinubu'a antics have not gone unnoticed by the cabal. But they still need him for the Southwest vote. He has become a necessary evil that Oyegun was once quoted as saying that he planted Oshiomhole to destabilise APC. The resistance of his plan of planting his structures all over has resulted in crisis in the party in states where these overtures have been made. The cabal has the backing of the Security apparatus. Tinubu has control of the press and majority of Southwest politics. Each party is bent on deploying its own arsenal.
Tinubu as a former two-time governor of Lagos State retains mass support there, with crowds of people gathering outside his mansion on Bourdillon Road, Ikoyi. They credit him with the social and economic progress seen in Lagos over the past two decades. They add that he has also ensured that progressive governors run the state since he left the post. Some of Tinubu's notable achievements as governor include improving the state's waste management system, and better incentives for civil servants (salary increases and better quality of working environments).
Tinubu started out in politics in Nigeria's third republic, where he represented Lagos West in the Senate.
When the APC was formed, a merger of the All Nigeria Peoples Party (ANPP), the Action Congress of Nigeria (ACN), Congress for Progressive Change (CPC, headed by current President Buhari), and the All Progressive Grand Alliance (APGA) – Tinubu was a key member in bringing together these parties to oppose the ruling People's Democratic Party (PDP) ahead of the 2015 elections.
After being a two-time governor of Lagos State, he became known as the 'godfather of Lagos', handpicking his successors. The big question is whether the Cabal wants to play a lead role in determining the successor. Nobody knows the answer of this for certain.
Tinubu cannot succeed with support only from the south-west, he needs northern votes as well. Although as earlier stated, Tinubu has not announced his decision to run for President in 2023, but it will surprise few if he does. The threat of an EFCC investigation and the APC divide could thwart such an ambition but all the other contenders will have their own crosses to bear.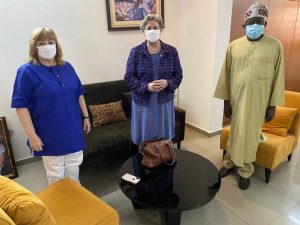 Asiwaju Tinubu remains an indigenous hero in Lagos, the country's commercial capital. He would prepare his campaign with an acute strategic sense of voter data and political messaging. He has already started making moves for foreign involvement and support as can be seen with the recent visit of the United States Ambassador to Nigeria, Mary Beth Leonard, United States Deputy Chief of Mission in Nigeria, Kathleen FitzGibbon and some other foreign expatriates to his personal residence in Lagos.
Tinubu's critical task would be to bring in allies from across the middle and the north to bolster his national reach, his deal-making in the past has proved effective but this would be his greatest test yet.
AFRICA DAILY NEWS, NEW YORK