There is a mistake that most people are guilty of which is to assume that old age automatically ushers in wisdom. Well, the truth is that Wisdom doesn't automatically come with old age. In fact, nothing actually does come with aging except wrinkles. It's true, some wines improve with age, however, that will only happen if the grapes were good in the first place.
Many years after withdrawing from the scene, popular Nobel Laureate, Professor Wole Soyinka perhaps compelled by his instincts to identify with certain benefactors in the Nigerian political environment deemed it appropriate to insert himself in the mess of the 2023 elections at this juncture.
For such a gifted man who has worked all his life on scripts, it was rather disappointing that the very script he used for his infamous come back poorly written. He chose the wrong time, picked a wrong audience, and mouthed the wrong things. Rather than earn respect, Soyinka has now demystified himself and everything he ever was.
A few days ago, the topic many Nigerians were discussing across the country was 'fascism'. Prof. Soyinka used the word 'fascism' to describe the supporters of the Presidential candidate of the Labour Party, Peter Obi who are popularly known as the 'Obidents'. Soyinka had also reprimanded the vice-presidential candidate of the Labour Party, Dr. Datti Baba-Ahmed, for his comment that if Senator Bola Tinubu is sworn in based on the February election which was unconstitutional, it would be akin to truncating democracy.
For many who understood the heavy meaning of the word fascism, it was indeed shocking that a well-lettered man in Soyinka's mold will use such a word on young Nigerians who were simply asking for a better country on social media.
Read Also: Soyinka Lambasts Those Saying He Installed Buhari In 2015
For people who are not conversant with the word fascism, according to dictionary.com, it means 'a governmental system led by a dictator having complete power, forcibly suppressing opposition and criticism, regimenting all industry, commerce, etc., and emphasising an aggressive nationalism and often racism.' The Longman Dictionary of Contemporary English defines fascism as 'a right-wing political system in which people's lives are completely controlled by the state and no political opposition is allowed.'
How could Soyinka have described the citizens of Nigeria with such words? Perhaps Soyinka ignored or mischievously hoped that casting such a label on Obidents because by so doing, he had already prepared the ground for any brutal leader with state power to unleash viciousness on online critics in the name of fighting to enthrone 'sanity' and 'patriotism' among the citizens. Only time will reveal if this was really Soyinka's plan with Tinubu.
Quite a number of people have criticised the aggressive manner of approach and name-calling often deployed by Obidents online, however, if anyone was to point out that anomaly, it should certainly not be a Soyinka.
It is still fresh in the memories of Nigerians that in the build-up to the 2015 election, Soyinka made it clear that he was against the presidency of the then-Goodluck Jonathan. He also went on to support the presidential ambition of Muhammadu Buhari of the All Progressives Congress (APC). Many will recall that while criticising Jonathan fiercely, at a certain time, he declared that the former President was 'worse than Nebuchadnezzar.' He didn't stop there, he went on to body-shame the wife of Jonathan and the first lady of the country, Dame Patience Jonathan, by calling her 'Sheppopotamus' So where did the Obidents learn their name-calling from?
To further put things in proper perspective, long before the 2015 election, Soyinka had done far worse things than the young people he has tagged fascists have ever done. In 1965, Soyinka got so angry with the result of the Western Region election that he had to invade the radio station announcing the results in Ibadan. On getting there, he and forced the announcer to replace the tape of the premier of Western Region with the one he had recorded condemning the election. That was the extent to which Soyinka went, yet, it is not on record that anyone called him a fascist.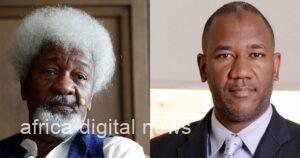 It reeks of plain hypocrisy and obvious stupidity that rather than focusing on the more dangerous issues of electoral fraud, thuggery, ethnic attacks, and other serious offenses, Soyinka chose to pick on a group who were mainly responding to the shambolic exercise.
If Soyinka can award himself the license to seize a radio station with a gun to correct injustice over five decades ago, what makes him think that the Vice Presidential candidate of the Labour Party who is almost 40 years younger than him cannot have the audacity to reject election results and insist that INEC should have employed a literal interpretation of a provision of the constitution?
It is plausible that Soyinka concluded that he had the monopoly of guts and that explained why he had to embark on another writing exercise to perform some intellectual gymnastics while driving home a needless point.
Perhaps the point that roundly demystified Sonyinka and betrayed his bias was how even descended so low as to ask for a debate between himself and Baba-Ahmed. In trying to make Tinubu happy, Soyinka forgot that he was not a candidate in the election or the spokesperson for any of the candidates yet he wanted a debate. Soyinka didn't need to go that low to please Tinubu.
Indeed, nothing could be more apt than the response of the Labour Party Vice Presidential candidate where he said; he is ready to debate, not with Soyinka, but with his preferred presidential candidate or the vice. What the riposte from the Datti-Baba did was that it removed the veil of non-partisanship, which the Nobel laureate tried to wear, as he dabbled in the raging post-election disputations.
Soyinka possibly forgot so conveniently that when he was younger, he felt he needed an unconventional helping hand to fight injustice so he formed the Seadogs. The literature guru didn't wait for the system to evolve. If anyone had claimed that the seagodgs were a harmful secret cult at that time, Soyinka will have surely come for the person.
The questions Soyinka should have first answered were; before his midday emergence, where was he in the last four years after selling Buhari to Nigerians? Where was he during the elections when the character and records of the candidates were being put under scrutiny? Where was he when the criminal cases of ethnic chauvinism, outright violence, and voter suppression tool center stage before, during, and after the elections? Soyinka remained silent all through these assaults on the fabric of justice in society. How come he suddenly remembered his colourful verses of verbose garbage?
By Soyinka's hypocritical standards, intolerance to criticism is far more grievous than robbery, election rigging, killing, maiming, outright corruption, and disenfranchisement of citizens. This is indeed sad and bewildering.
No matter how one chooses to look at it, the truth remains that at 88 years of age, Soyinka has not done himself any good by his cheerless act of challenging his own past and undermining the youth of Nigeria for a cause they believed so much in. It is tragic that going forward, he will, for simply throwing his hat into the ring to defend Tinubu's heist, undertake a rebuke of his past with scant deep thought for his legacy as a voice for public good and justice.
In conclusion, while trying to idolise Tinubu and legitimise the sham elections that happened in Nigeria on the 25th of February, Soyinka must be careful not to destroy his legacies. He has come too far to sacrifice everything he has worked hard for a criminally minded-drug lord who simply bought himself the office of the President of Nigeria. Soyinka cannot afford to continue to thread this unholy path without flushing everything he ever was down the drain.