To gain an insight into how badly Nigeria is managed today, one will simply need to have a critical look at the personality who speaks for the government. How can a government be sincere about its desire to change the lives of its citizens yet retain a compulsive, notorious, and inveterate liar as its Minster of information? This just sums up the whole picture of what the All Progressives Congress (APC) has done with Nigeria over the past 8 years. 
Nigeria's Minister of Information, Culture, and Tourism, Alhaji Lai Mohammed is a chronic liar who lies without provocation in every situation. His parents possibly foresaw what the future held for their son when they opted to name him 'Lai' amongst the hundreds of thousands of names that were available to them at the time. Since then, he has continued to lie without remorse so much so that a few years ago, he had to lie that he has never told a lie before after his grandchildren quizzed him on why he lies a lot.
His infamy became a national conversation when he took over as the national publicity secretary of the newly formed All Progressives Congress (APC) in the last quarter of 2013. The party which was the coming together of strange bedfellows needed all the propaganda it could muster to galvanise Nigerians against the ruling party hence Mr. Lai became handy. As expected, Mr. Lai did a near-perfect job and the propaganda machinery he unleashed on the PDP forced the party to cave in. After the elections, Lai Mohammed was rewarded with the job of minister of information and culture. For most critical Nigerians, that decision clearly pointed out that the APC was not prepared to offer good governance to Nigerians but unhealthy doses of propaganda without any form of restraint.
The move did not shock many critical thinkers because the foundation of the APC government itself was built on outright lies with the sole intention to capture power, so it's only logical that its spokesperson in the federal government will invariably resort to telling lies to defend the government and cover its shame. There is no way the truth will have been useful in defending lies.
Ever since Mr. Lai solidified that appointment, he has never left anybody in doubt as to why he was the best suited for the role. His job description simply reads 'feed Nigerians with ceaseless lies to the point of stupefaction' and that he has been doing excellently well! Ostensibly, the plan was to leave Nigerians bamboozled and in a permanent state of confusion so much so that the line between truth and falsehood will be completely blurred out.
Well, without sounding immodest, it could be agreed that all government information managers all over the world from time to time, often have a reason to lie, however, Lai's lies have no match in their brazenness, coarseness, vulgarism, and disdain for the intelligence of Nigerians. Mr. Lai has told so many lies that it will be impossible to chronicle them.
For the past eight years of the Muhammadu Buhari government, Lai Mohammed has simply been earning salaries for telling lies with gusto. For instance, Barely weeks after Buhari assumed office, Lai Mohammed came out with a straight face and declared that the administration had defeated Boko Haram. Despite having no facts to back it up, continued to hammer the false story into shape with more disingenuous sophistry till many Nigerians began to consider it true. It is without gain saying the fact that the only job Mr. Lai has done since he assumed office as Minister is to lie on behalf of the government he serves and worships. How can a man be useless to himself?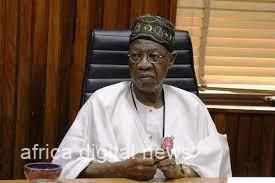 It will remain a major challenge for Nigerian psychiatrists to decipher if Mr. Lai is knowingly being mischievous or if he is perhaps a victim of a psychiatric disorder called 'pseudologia fantastica' or 'mythomania,' that is, chronically compulsive lying that causes liars to believe their own lies. How can a man let allow lies to get so deep into his DNA?
Like the Goebbels of this generation, Mr. Lai recently stepped out yet again just like the German propaganda minister in Nazi Germany who persecuted the Jews under the totalitarian reign of Adolf Hitler. This time, his location was not Abuja or Lagos but the United States.
He ventured into Washington DC where he plied the deceitful trade of telling lies without any iota of shame or respect for himself. According to him, he was there to address international media organisations on the outcome of the 2023 presidential election in Nigeria. Rather than give a fairly honest account, he stood there and lied about everything that happened in Nigeria on the 25th of February. Without blinking an eyelid, he described the shambolic election as the fairest and freest in the history of Nigeria. Given the fact that Nigerians have gotten so used to him, the claim might have gone unnoticed if he did not delve into uncharted territories to accuse Peter Obi of treason. He told his audience that Obi was promoting insurrection back in Nigeria by inciting people to violence over the outcome of the elections.
This was not only careless, it was also reckless because Obi's disputations with the said elections, whatever they may be, are all public knowledge. He has never openly called on anyone to protest nor has he endorsed one. After the announcement of the results, he simply went to court as was expected of him democratically, where then did Mr. Lai manufacture his lies from?
The true state of things is Prof. Mahmood Yakubu and the Independent National Electoral Commission (INEC) rigged the 2023 elections and ever since the results were announced, Nigerians have been squirming with discomfort given the kind of hopes they had invested in the elections. Prof. Yakubu, a nation-wrecker, working in cahoots with the APC, gave Nigeria its worst election ever and no lies from Mr. Lai can change it!
Till date, foreign election observers who were in Nigeria to monitor the conduct of the elections are still bewildered and are yet to come to terms with the level of compromise that Prof. Yakubu inflicted on the electoral system. He rigged the elections by making sure his goons in the commission shut down the result viewing portal and refused to transmit results in real time. The commission later went on to lay the blames on 'technical hitches' further making an attempt to devalue the brains of Nigerians.
Interestingly, Mr. Lai forgot the undiluted lie that the electoral umpire told when he told his audience in Washington DC that INEC shut down the portal for fear of cyberattack. What a contradiction. Indeed, to be a great liar, one has to have a powerful memory.
Ever since the results of that sham were announced, there has been almost a unanimity of opinion that the polls were the worst ever in the country's chequered political odyssey. It was so bad that even Bola Ahmed Tinibu who was declared the winner by Professor Mahmoud Yakubu-led Independent National Electoral Commission, INEC, became so ashamed of his 'victory' that he and his goons dared not celebrate.
Indeed, nothing can be more specious than the allegation that Mr. Lai levelled against Peter Obi. It is the worst form of brazenness where shamelessness was adorned with the toga of effrontery.
If he was sensible enough, Mr. Lai should have known that treason is not a word he can drop recklessly and not even in a foreign land against a key opposition leader. Asides from being a minister, if he did not lie about his profession, he is a lawyer who should know better. Treason is a weighty offense. The Nigerian laws describe it as conspiracy at the declaration of war against the state and the penalty is always death. How did Mr, Lai come to the conclusion that Mr. Obi has done something related to that?
What the federal government of Nigeria and its partners have failed to realise is that externalising the allegation of treason which they have painstakingly continued to level against Obi without proof is not good for the image of the country. It portrays Nigeria as a country where laws don't work.
It is rather sad and distasteful that for no crime whatsoever other than contesting the presidential election which is his constitutional right, Obi has been subjected to invidious harassment by the Nigerian State since the 25th of February. Some agents of the APC have even cajoled him to leave the country or face the consequences. How lawless can a country get?
The Nigerian State is practically stripping him naked using instruments of the state, scanning through his emails, tapping and listening to his private telephone conversations, and combing through every business transaction he has made in the last 10 years. How mischievous can the Buhari government and the incoming Tinubu administration get?
Perhaps the most interesting question is; Who sent Mr. Lai outside the shores of the country to tell barefaced lies on behalf of Nigeria? Before now, this man has been lying within the Nigerian shores and suddenly, he has taken it beyond borders. Before now, Nigerians had already gotten accustomed to watching him with astonishing disbelief while he busied himself with assaulting their sensibilities with half-truths and absolute falsehood. It is so bad that some people have now christened him Liar Mohammed. He tells lies with effortless ease. He is accustomed to the dubious trade. It would appear that the pastime runs in his blood vessels. To make matters worse, he doesn't seem to worry about integrity because he has most likely never encountered such words before.
In conclusion, it is painful that rather than export finished products abroad, Lai Mohammed opted to export lies to far-away America. Rather than earn the country foreign exchange, he has earned the country scorn and ridicule. He has made Nigeria a laughingstock in the eyes of the world. Many Nigerians will be hoping that the gaunt-faced Mr. Lai will be allowed to retire in peace in a matter of weeks to allow the country breathe some fresh air again. Enough of the lies!