In a few weeks' time, one of the greatest criminals to have held political office in Nigeria will be sworn in as the country's number one citizen. At a time when the country is contending with a debilitating reputational crisis abroad and a myriad of state-wrecking issues at home, the last human being that should be handed the cabin to steer the sinking ship will certainly not be a Bola Ahmed Tinubu.
He might be a brilliant strategist and shrewd politician by Nigeria's standard of mercantile politics, but the truth, however, is that the former Lagos State Governor is a well-described symbol of the very nucleus of the problems bedevilling Africa's most popular country.
His acolytes whose brains he exchanged for pecuniary benefits often refer to him as the 'Lion of Bourdillon' who is a thinker, doer, and a forward-thinking progressive. However, the truth is that the only progressive phenomenon about Tinubu is his penchant for state capture and looting of public funds to grow his animalistic empire.
He is sycophantically loved by a select few who depend on his criminal structure for survival, and for this category of people, their admiration for him has metamorphosed into adulation, and given the trajectory, it will only be a matter of time before they create a Kim Jung Un or perhaps a tiny god out of him.
Give it to the self-styled 'Jagaban'. He is criminally smart and tenacious, and this is perhaps why he was able to easily convert Nigeria's most economically viable state into his private estate and personal property. By his own personal confession and admission, he stated a few years ago that he lost every property and fortune he had during his struggles against the military alongside NADECO years ago. How then did this bizarre creature of a man manage to become one of the wealthiest human beings alive in Nigeria today without no known job and no quoted companies or businesses? This is a question that will never get an answer from Tinubu himself, but the answers are obvious enough for the blind to see and loud enough for even the hard of hearing, to hear.
Since 1999 when he smuggled himself into Alausa, the Lagos State government house as a greenhorn governor, albeit with a stint in politics as a senator in the Ibrahim Babangida days, Tinubu has continued to deploy crude tactics and has seen himself grow in stature and eminence, first, in Lagos politics, to South-West and subsequently on the national front. To further buttress his current political size, a few weeks ago, he successfully acquired the office of the Nigerian President to complete the heist.
Over the past two decades, Tinubu has continued to wave flags of Yoruba irredentism while ascribing to himself the role previously held by the revered Late Chief Obafemi Awolowo. Despite the fact that he does not possess the oratory prowess, philosophical discipline, and intellectual sagacity of the late sage, Tinubu has continued to paint himself in amazing colours. Through over-ambition and sheer opportunism, Tinubu has made bold moves to rewrite the history and cultural heritage of the Yoruba. Before Tinubu, thuggery was frowned upon in the South West, monetary inducements were not popular and violence against visitors was never heard of. However, all that is changing today because one insisted on fulfilling his life ambition of being President of Nigeria at any cost.
Tinubu identified early, the power of money and has used it to build bridges of favours and political leverage that has sustained him and his political empire. When faced with danger, Tinubu's most potent response has always been propaganda.
But how did Tinubu amass all these funds which he used in metamorphosing himself from the Tinubu of the 90s to the Tinubu of today? The answer is simple and relatively straightforward – Lagos! Lagos was his cash cow, his ATM machine, and his yam barn.
We must give him his flowers, in terms of internally generated revenue (IGR), as Tinubu brought creativity and ingenuity to revenue generation in Lagos that saw the state's internally generated revenue snowball into the multi-billion naira bracket under his government and subsequent lackeys who he installed after himself. However, Tinubu merely cooked those eggs because he wanted to eat them. His intention was simply to tax every taxable entity in the state to allow him access to resources that will propel him on his ill-contrived journey.
It is really sad and perhaps depressing that to date, the exact amount generated in Lagos state is still shrouded in occultic secrecy. His creation of LAWMA, LASTMA, KAI, LAMATA, etc while they did well to give a meaningful structure to the state have merely become massive cash cows that only service Tinubu and members of his dynasty.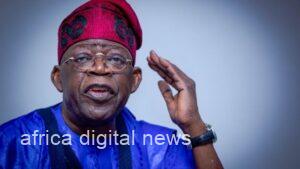 One of the things that Tinubu has been able to implant in the brains of unsuspecting Nigerians is the claim that he met Lagos State a jungle and converted it into a megacity. This is not only a wicked lie but a terrible one at that. Lagos was not a jungle inhabited by uncivilised people in 1999 as claimed by Tinubu's minions. Many Nigerians did not know that Lagos was the headquarters of the stock exchange and the private sector since the 1960s. Lagos currently houses seaports, airports, and in fact, the headquarters of corporate Nigeria. The point Tinubu misses is that, while he was still coordinating a narcotics-bearing firm in the early 90s, Lagos was already Lagos and all he needed to do was to widen the tax nets and collect tax! Tinubu is simply a rogue!
According to a recent Forbes report, the 'Bala Blue' crooner has a network of about $32.7bn. His fortune includes not only a fabulous property portfolio but also at least one extremely lucrative cash cow: his 10% cut of all Lagos tax revenue. Talking about property portfolios, many Nigerians do not know that Tinubu is the biggest landlord in the country at the moment apart from the federal government itself. He technically owns Lagos State going by his acquisitions which is no longer secret.
Although the properties owned by the Lagos State government are too numerous to mention, one vivid example that easily comes to mind is how Tinubu relocated the Lagos State Polytechnic in Ketu to Ikorodu only to appropriate the land to TVC, his television station. It was when Tinubu became Lagos Governor that many Nigerians got to understand that indeed, there is a very big difference between leaders and dealers.
Throughout his eighth-year stay as Governor, Tinubu never accepted failure or took responsibility. Anytime he was asked probing questions, his usual excuse was that the PDP government which was the central government at that time seized federal allocation for eight years and thus he was handicapped. The sad truth is that this claim has been severally fact-checked and it was not true. The federal allocation to the state was never touched during the eight years, Tinubu received all! The funds that were withheld were those belonging to the local governments which Tinubu fraudulently created and this was for two and half years. They were later released by President Umaru Musa Yar'Adua after the dispute was settled and Tinubu's lackey at that time, Babatunde Fashola was around to disburse them according to Tinubu's instructions.
To steal from Lagos State officially, Tinubu uses his company called Alpha Beta, which he has continued to deny ownership of. Perhaps, the company is ownerless. Alpha Beta, was registered as soon as Tinubu assumed office in 1999, and the State effectively outsourced its tax collection to the firm. It has remained like that since then and has since spread to other states in the country where Tinubu decided to spread his tentacles. It wouldn't be surprising when Alpha Beta begins to carry out the same nefarious activities for Nigeria at the federal level by the time the Jagaban is sworn-in.
Tinubu has ensured that Alpha Beta has mentioned a monopoly on the revenue collection of the state government which actually testifies to his stranglehold over the affairs of the State. No wonder he also earned the nickname, 'the Godfather'.
Not too long ago, one of his successors as governor, Akinwunmi Ambode, elicited the godfather's wrath by refusing to allow Alpha Beta to double its cut. This 'sin' was big enough a transgression that denied the young man who wasn't doing badly a second term. The current governor of the state who is more of Tinubu's aide than a Governor, Babajide Sanwo-Olu has since learnt his lessons and to date, Tinubu's pipeline in the Lagos State judiciary is still untouched and indeed untouchable.
It should be said that Tinubu is far from alone in his venality because at least 75% of Nigeria's national budget is basically stolen by powerful forces in the country. The issue with Tinubu is perhaps just that he doesn't hide his own corruption like others. In fact, he even chides those who dare to question him: a habit that was most notoriously on display in the run-up to the 2019 presidential election. As the then national leader of the ruling All Progressives Congress, he was at the forefront of President Muhammadu Buhari's campaign for a second term, and was busy mobilising the party faithful when two bullion vans were seen entering the refurbished mansion he was gifted as part of his pension.
During his eight-year stay in office, Tinubu brazenly stole Lagos State so much that he had to be noticed by the CCB. He was formally arraigned before the Code of Conduct Tribunal in Abuja a decade ago to defend himself against allegations that he operated foreign bank accounts between 1999 and 2007, while in office as governor, thus contravening Section 7 of the Code of Conduct Bureau and Tribunal Act, Cap 56 LFN, 1990.
The chairman of the tribunal, Justice Danladi Yakubu Umar, indeed had his hands full with the many charges against Tinubu. The charge sheet signed by the chief prosecutor, Kyari Ahmed, read: 'That you Bola Ahmed Tinubu, former governor of Lagos State, being a public officer, as listed in part II of the fifth schedule to the 1999 Constitution of the Federal Republic of Nigeria and having subscribed to the Oath of Office as enshrined in the seventh schedule to the 1999 Constitution on assumption in office, as such engaged yourself in the operation and maintenance of several foreign bank accounts namely:
'Name of Bank – First Heritage Bank, Country Club Hill, Illinois, USA; Account Name, Bola Tinubu, Account Number – 263226700. Name of Bank – Citi Bank NA. New York, USA; Account Name – Bola Tinubu and Compass Finance and Investment Company Limited; Account Nos – 39483134, 39483396, 4650279566, 00400220, 39936383. Name of Bank. Citi Bank International, New York; Account Name, Bola Tinubu. Name of Bank – HSBC, 177 Great Portland Street London WIW60J: Account Name Sen Bola Tinubu; Account No. 71253670, Sort code-40-03-15. Name of Bank – HSBC, 177 Great Portland Street London WIW 60J; Account Name; Sen. Bola Oluremi Tinubu, Account No. 71253670, sort code 40-03-15. Name of Bank – HSBC, 177 Great Portland Street London WIW 60J Account name, Sen. Bola Tinubu – money market, Account No.04320002DN. Name of Bank – HSBC, 177 Great Portland Street, London WIW 60J; Account name: Tinubu Zainab Abisola (Miss); Account No. 172447101. Name of Bank – HSBC, 177 Great Portland Street, London WIW 60J; Account Name, Tinubu Oluremi Shade, Account No. 41421522.'
Typical of Tinubu's style, he manoeuvred his way out of the case by bribing the judges, and the rest they say is history.
In conclusion, there is no escaping the damning reality that Lagos is today being plundered by a group of political usurpers who are commandeered by the notorious Jagaban. Nigerians must understand that he coming to the national scene is to run the country using the Lagos template of criminality. Nigerians must resist him using civil disobedience or have themselves to blame when the looting emperor takes over their collective destiny.