Nigeria has become the theatre of the absurd in recent times. It has become a bizarre place where governments at all levels have enthroned themselves as Lords and masters over their citizens who they consider slaves who must abide by their dictates or perish. At the subnational levels where Governors exist, the situation is a very regrettable one as these Governors who are in charge of their respective states have made it a duty to control everyone and everything without any form of limitations.
It is no longer news that apart from official State matters as clearly stated in the constitution, State Governors in Nigeria control the security agencies, control the religious bodies, and determine the kind of leaders they want for them. They control the town unions and determine who emerges as President Generals at every point in time. The traditional institutions are not spared in their drive to run everything, as these governors even crown and overthrow traditional rulers and stools without respect for culture. They control the legislature and decide the fate of their state house of assembly members. They adjudicate on matters concerning all unions, bodies, and organisations in the state, and whenever any move is made to remove any of these institutions from their firm grip, all hell is let loose.
A very regrettable case is that of Imo State where Governor Uzodinma could barely wait for the newly elected President of the Nigerian Labour Congress (NLC), Comrade Joe Ajaero to celebrate his one month in office before coming for his head, having shown signs that he was not prepared to 'play ball' or be controlled as a stooge of the Governor.
Read Also: Senatorial Loss: Governor Ikpeazu's Defeat, Well-Deserved
The truth is that most State Governors have often made it a pass time to interfere in the activities of several unions such as the NLC out of their untamed lust for power without any form of resistance, thankfully, once in a while, they encounter men and women who clearly understands their original mandates and refuses to yield to tyranny. That is the match Uzodinma has met in Ajaero, and the state government is not prepared to have any of it, hence the commotion that has engulfed the state lately.
What Governor Uzodinma foolishly failed to realise or perhaps chose to ignore was that while he is the Chief Executive who controls the formal institutions of the state with a well-cut-out responsibility to ensure the security and well-being of the people by articulating and implementing policies, the President of the labour union who in this case is a man from his state, also has his own well-articulated responsibility of ensuring that workers in Nigeria and by extension, Imo State who are affiliated to the NLC enjoy their democratic rights to the fullest.
Before the emergence of Ajaero, Governor Uzodinma was having a field day as Governor having successfully hijacked the Imo State chapter of the NLC which gave him the leeway to leverage on and blatantly abuse Imo workers the way he deems fit. Committing several gross acts of violations against Imo civil servants without consequences was made possible by the fact that the previous NLC leadership was obviously compromised and unwilling to demand the full rights of the Nigerian worker in the face of the grueling hardship.
Over the last three years, Uzodinma has subjected Imo workers, institutions, and individuals to horrendous scare, fear, and violence in their daily activities without consequences. Using state powers, Uzodinma has ensured that no influential voice within the labour union gets to criticise him for his mindless treatment of the average Imo worker.
As a matter of fact, Uzodinma is currently owing about 11,000 workers over 20 months' salaries in the state. Some of the legitimate workers have been arbitrarily and wrongfully declared ghost workers just to ensure that their rightful entitlements and salaries do not get to them. For the workers who are receiving prompt payments, the salaries are often incomplete. Uzodinma has been engaging in these acts of serial abuse and gross violation simply because of the games he has been playing with the leadership of the worker's union. That game appears to be over with the arrival of a new Sherrif in town.
The painful deliberate actions of the government of Uzodinma have ensured that the Eastern Heartland has now been pushed further down the pecking order despite its previously held status as the choice destination for relaxation to Nigerians. The insecurity, decaying infrastructure, abuse of rule of law, and corruption, to mention but a few have all ensured that the state's ease of doing business ratings have dropped drastically on the ease of doing business (EoD) index for 2022 as released by the World bank. Rather than working on removing the clogs in the wheel, Uzodinma has continuously introduced more clogs to frustrate the innocent Imolite whose only crime was allowing a criminally-minded human being to become his governor.
Uzodinma's wickedness is not only being perpetrated against the workers in Imo State alone, he is alone serving the same poison to retirees and pensioners in the state. Uzodinma has consistently failed to realise that denying people within this bracket their rightful entitlements is actually a sacrilege because, at this stage of their lives, they have fewer opportunities and will certainly need help the most. Using his crooked officials in the state, Uzodinma has declared over 10,000 genuine pensioners as 'ghost pensioners' and vehemently refused to pay their pensions which has led to the untimely and avoidable death of many of them.
In light of all these atrocities, Uzodinma has managed to control the narratives by always deploying his Commissioner of Information who has actually become his 'Commissioner for propaganda' over the last three years to media houses to tell blatant lies.
Mr. Declan Emelumba has become Uzodinma's willful tool which is always readily available to be deployed to blackmail and malign workers and union leaders. At his age, he has sadly managed to turn himself into an attack dog whose actions continue to bring the State into ridicule.
It is this same shameless Emelumba that has now been unleashed on the President of the NLC to malign, blackmail, and threaten him for merely declaring that the ongoing subjugation of the Imo worker must come to an end.
To spin the narrative, as usual, the Imo state government through Mr. Emelumba has now begun to link Ajero's strong stand against the abuse of Imo workers by declaring that it was in possession of documents that show that the NLC President was in bed with his kinsman whom he intends to help actualise his governorship ambition. These narratives are not only shallow and nonsensical, but it is also lacking logic and sound reasoning.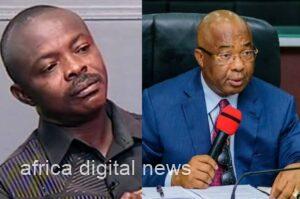 The big questions even if the claims were true, is will Ajero be mobilising Imo workers against Uzodinma's government if their welfare was paramount to the state government? Will he be able to mobilise a well-informed Imo voting electorate against a performing governor if Uzodinma was living up to his duties as governor? Has Uzodinma even performed well enough to earn the second term consistently talks about? The answer is an emphatic NO!
It is sad that Uzodinma has chosen to malign a citizen of a state he governs simply because he refused to be in control or to take instructions from Douglas House. At this rate, Uzodinma does not mind sacrificing Ajero or his position as NLC President just to remain in power and it only shows the level of wickedness inherent in his heart which influences his conduct.
Today, Uzodinma is out to quash Imo workers over their common stance on saying No to his antics. Rather than focus on the real issues and coming up with workable solutions on how to pull Imolites out of the pit he has sunk them into, Uzodinma has continued to show that he does not care about their plight. This clearly underscores the fact that all Uzodinma thinks about is how to perfect electoral heists to remain in power and not necessarily to solve the problems of the people of the state that he governs.
Going forward, Uzodinma must come down from his high horse and be undertrained so that it is no longer business as usual. Comrade Ajaero who he has chosen to continuously denigrate, blackmail, and harass is certainly no push over and the more he fights him, the more he will enrage the people of the Imo State against himself. Rather than focusing on mundane issues and spewing pedestrian beer parlor claims, Uzodinma should focus on redeeming himself with his performance. Ajero will certainly not cower to his antics and that is something he must understand.
In conclusion, Uzodinma must as a matter of urgency begin to fix the issues confronting Imolites for which he occupies Douglas House. If he insists on recontesting again in November despite his poor performance so far, then he should be ready to face Imolites and face scrutiny. Government is a serious business and not a game for good-for-nothing charlatans.