It is one thing to brazenly steal a mandate to lead people, and it is another to acquire legitimacy to complete the heist. Just as clearly stipulated in social contract philosophies, the agreement has to exist between the ruled and their rulers for governance to happen. It is now weeks since the Presidential candidate of the All Progressives Congress (APC), Bola Tinubu committed one of the most organised electoral heists in Africa which saw him snatching an underwhelming victory in Nigeria's Presidential elections.
Tinubu's triumph at the crooked elections did not come as a startling surprise to keen observers who already knew that there was nothing independent about the electoral umpire which in this case was the Independent National Electoral Commission (INEC). Many critical observers had, before the elections, made a case that Nigerians should boycott the elections if the right systems were not put in place to holistically reconfigure the country and its institutions. Sadly, out of passion and burning enthusiasm, Nigerians dismissed these calls and provided Tinubu with an opportunity to manipulate himself into power.
Any critical thinker who has an untainted understanding of how flawed the Nigerian system is will agree that INEC is merely an appendage of the ruling party at any point in time in Nigeria. The only time this stinkingly corrupt institution enjoyed any semblance of independence was in 2015 when the then President, Goodluck Jonathan opted to allow the Fulani Oligarchy to blackmail him out of Aso Rock. All other elections held in Nigeria apart from that were nothing but poorly scripted charades to fool gullible Nigerians who by the way are in the majority.
In the build-up to the just concluded exercise which cost Nigeria over 300 Billion naira of tax-payers money, fair-minded Nigerians should have begun suspecting foul play when Tinubu chose the Chatham House hall as his most preferable location to announce to Nigerians that he is convinced that the Bimodal Voter Accreditation System, BVAS, required under the Electoral Act 2022, would deliver what he described as the fairest and freest election' in Nigeria's history. As true and profound as that statement was supposed to be, Nigerians should have smelt the rat and suspected that Tinubu knows something they do not know.
Read Also: 
Today, the BVAS machines which were originally billed to be deployed for accreditation and electronic transmission of results are the biggest source of controversy with INEC playing poor scripts to cover their malfeasance. As expected of anybody or institution on contract, the electoral body has arrogantly refused to grant access to opposition parties to use the access to the machines despite repeated court orders. This move has not been greeted with outrage because Nigeria, as presently constituted is a lawless country where the default system is the flagrant abuse of the rule of law.
Fuelled by daring 'Emi Lokan' passions, Tinubu's decision to foist himself on Nigerians has been greeted with local outrage and international fury. Virtually all notable election monitors who observed the elections have returned very damning verdicts on the elections and a barrage of negative stories about Nigeria and Tinubu has continued to hit the mainstream international media. One can only pity innocent Nigerians who will now have to face more frustrating scrutiny over Tinubu's failure to control his dangerous lust for power and wealth.
In the coming days, it is expected that several stories will be further amplified, and this is not good for Nigeria's image. The allegation about Tinubu being a bag man for drug traffickers in the US in the 1990s for which he reportedly forfeited $460,000 to that country's Internal Revenue Service; the various allegations of corruption and State (Lagos) capture which he has shamelessly continued to deny; issues with schools he attended and certificates he obtained; his parentage; and of course the Muslim- Muslim ticket he unleashed on a dangerously fragmented Nigeria that lacks any sense of inclusivity will form very heavy clogs around Tinubu's futile search for undue legitimacy.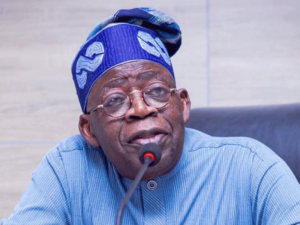 Just last week, the London Times rightly described Tinubu as 'a wealthy kleptocrat', whose election means 'Nigeria only managed to replace Muhammadu Buhari, an ailing northern octogenarian Muslim with a reputation for financial propriety, with an ailing Southern septuagenarian Muslim with a reputation for lavish spending and corruption'. In the Financial Times, a report which asserted that Tinubu 'faced allegations of corruption and questions about his vast wealth', and a drug-related criminal forfeiture in the United States was published and widely circulated further adding to the long list of questions that may never get an answer.
According to the Economist magazine, Tinubu won 'a flawed election after a chaotically organised vote and messy count'. In an editorial titled: 'Nigeria's badly flawed election fails to set an example', the Financial Times says that 'if Tinubu's victory is challenged, the court should take a long hard look.' The long list of damning verdicts is endless.
Perhaps Nigerians do not understand the level of damage that the negative global perception of Tinubu's corrupt image will be doing to their already battered international reputation that is seriously begging for a coordinated effort to rescue.
Tinubu's mandate is so bleak that should one even opt to dismiss the obvious reports of electoral fraud, the former Governor of Lagos and self-styled Jagaban will still be found wanting. If the cooked figures allocated by INEC are anything to go by, Tinubu won only 12 of the country's 36 states which technically means that he was only elected by barely one-third of the states of Nigeria, making him a minority President. Again, another look at those numbers will show that Tinubu's challengers, Alhaji Atiku Abubakar of the PDP and Mr Peter Obi of the Labour party both won 12 states each which shows how unpopular Tinubu was or most appropriate, notorious. How much legitimacy do you expect when less than 19% of eligible voters reportedly put you in office?
To begin with, how much legitimacy do Tinubu and his crooked handlers expect when less than 19% of eligible voters reportedly put their capon in office? How do they expect legitimacy when despite the well-orchestrated rigging, going by their figures, more people voted against him (16m) than for him (8.8m)? Well, these are questions they will only answer in their closets even as they continue to seek ways to legitimise their fraud.
Tinubu's purported victory in last month's presidential election fails every available basic test, from legitimacy, to process credibility down to fairness. It failed all.
Going forward, Nigerians must at this point, free themselves from the illusory and delusional belief that a court in Nigeria will upturn the verdict of a Presidential election in Nigeria. Perhaps, the only condition that could give an opportunity for such is when an interim government is in place. In the absence of that, Nigerians must do away with these emotive thoughts and face reality. The way out at this point is a violence-free civil disobedience to register their frustrations. If Nigerians are serious about stopping Tinubu then they must refuse to legitimise him by keeping quiet. They must demand that the country be restructured before any new President is sworn in.
Finally, Tinubu and his bad-intentioned handlers must understand that what they have is nothing but a poisoned chalice, and to be clear, this is by far the worst time to carry out such an electoral heist in Nigeria. Beyond all the shenanigans, the next president of Nigeria has some tough choices to make, and will not be able to do so with a questionable electoral mandate. Their failed attempts to legitimise that stolen mandate will continue to hit brick walls and further expose them.