Despite its widely acclaimed failures, the just concluded 2023 general elections in Nigeria will not go down in the history books for only negatives. One of the positives of the elections is the upheaval and dismantling of evil structures belonging to several criminals in the Nigerian political space. For a vast majority of right-thinking Nigerians, the 2023 election will certainly be hailed for retiring the likes of Abia State Governor, Okezie Ikpeazu to political oblivion.
Many Nigerian political actors have not come to the full realisation that power is actually a responsibility, therefore an individual vested with any form of power at any level is expected to deliver essential services and good governance to the people who allowed him or her to acquire this power on their behalf. After all, they didn't put a gun to the individual's head and ask them to make promises as compensation for their (the people's) trust.
Governor Ikpeazu is a classical case study about the flagrant abuse of power and responsibility. This is despite democracy being politically and conventionally espoused and empowered to serve the people of Abia State, chose to destroy the lives instead by bastardising the entire governance structure in the state.
It is sad and painful that Ikpeazu, who rode on the lacerated backs of the people of the state, came into office and chose to watch them groan helplessly under his maladministration for seven years. Why then will they not reward him with electoral defeat when it mattered most to him?
Read Also: PDP G-5 Govs: When Mature Men Dance Naked In Public
Perhaps one of the sweetest highlights of Ikpeazu's defeat was the fact that after months of futile gallivanting around the world with a group of 5 other clownish Governors of the People's Democratic Party (PDP), for nine months, he was slammed with electoral defeat in Abia State who saw through his shameless shenanigans. He came third in the polls despite being a sitting Governor scoring 28,422 votes as against the 49,903 and 43, 903 scored by Senator Enyinnaya Abaribe of the All Progressives Grand Alliance (APGA) and Chinedu Onyeizu of the Labour Party, respectively. In clear terms, Ikpeazu was roundly rejected by his own Senatorial district.
Ever since he was foisted on the people of Abia State by the Peoples Democratic Party (PDP) cabal in the state, led by Theodore Orji in 2015, Ikpeazu has been unleashing nothing but ineptitude on the people of Abia State. Considering the poor infrastructural condition of the state, from the omnipresence of bad roads to the unpaid salaries of workers and pensioners, it was certainly going to be the 8th wonder of the world to see Abians queue behind him in any electoral contest.
Under Ikpeazu, workers in Abia State had to endure the excruciating pains of working on an empty stomach and returning home at the end of every month to a dejected family empty and abandoned. Apart from those owed months of accumulated salaries and pensions arrears by the Ikpeazu government which was the most inconsiderate government in Abia's history, the state witnessed total collapse and abandonment in several sectors.
Under Governor Ikpeazu, Abia State polytechnic Staff are owed salaries of 2 years and 4 months. Pensioners owed for 4 years, Abia State Teaching hospital staff owed for years and some months, and gratuity not paid to retired workers. The list is endless.
While the governor, family, and some wicked cronies were drinking and pouring their champagne across choice locations, Abia workers and their families were going to bed hungry. Some workers are dead, while some are critically ill as a result of long years of not receiving their salaries and pensions
It is without any iota of doubt that Ikpeazu under-performed as Abia Governor. Under him, governance was reduced to painful lows even as the lives of the people of Abia State were subjected to painful stories of tears and sorrows.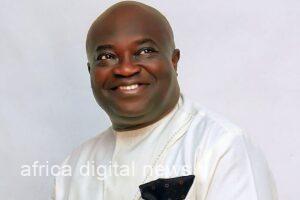 The powerful Igbo proverb, 'an old woman is always uneasy when dry bones are mentioned', encapsulates Governor Ikpeazu's unease at the mention of unpaid salaries and pension arrears. You don't need a light to see someone you know intimately at night. Abia citizens do not need a light to see their bad roads or know that Aba is stinking and is one of the dirtiest cities in the world.
Any sincere citizen or resident of Abia State will easily agree that Ikpeazu in the last eight years was a breathing metaphor for the crippling retardation of the economies of the southeast, and perhaps, for many other states in Nigeria.
Ikpeazu in eight years, took corruption and embezzlement to the highest levels ever witnessed in the history of the state. Abia State government under Governor Ikpeazu took a world bank loan of N27.4 billion naira to construct Port Harcourt road, Obohia road, Ngwa road, and the drainage system within those areas, today, none of these roads were completed.
The rainy season is one that the people living at Port Harcourt road will always hope against because the flood that it ushers in rarely wastes time in sacking so many people from their homes. The people living in those places will end up suffering while businesses are subsequently closed down as a result of the unavailability of passable roads.
It was indeed shocking for many people in the state to see that a governor who has done nothing meaningful with all the federal allocations to the state, Internally Generated Revenue, IGR, 13 percent derivation, loans (internal and external), and bailout funds aspire to go to the Senate after a failed 8 years as governor. If he had won the polls, it would have been against the run of play.
Sending a well-defined failure like Ikpeazu to the Senate would have been a calamity because what he will have been going there will have been to attract bad roads, unpaid salaries, and pensions. Indeed, Abians dodged a bullet.
Security under Ikpeazu was an eye sore. Under him, Abians were kidnapped and killed on daily basis by Fulani terrorists parading as herdsmen in the state. A Prelate of the Methodist Church, His Eminence Rev Samuel Kanu Uche was even kidnapped on Abia soil sometime last year and he had to pay a whopping sum of N100 million to regain his freedom from his captors. Since last year, countless of citizens have been kidnapped on Abia soil which was not reported. All these point to; bad leadership and gross ineptitude.
Abians were very unfortunate to have added Governor Ikpeazu to their long list of Governors who only came to serve themselves, their families, and their cronies. His administration was a cesspool of corruption as the only democracy dividends in Abia State are looting, looting, and looting of Abia's common wealth. Salaries and pensions were all looted, funds meant for the construction of roads were looted, and loans collected were looted. Looting is just the other of the day.
Abians can now heave a sigh of relief while preparing their petitions to send to the different anti-graft agencies in the country to ensure that Ikpeazu is forced to vomit most of the resources of Abia State that he swallowed without any remorse. His loss as Senator certainly calls for heavy celebrations and Abians must be thanking their stars for avoiding this human disaster that was out to embarrass them further, this time, on the floor of the Nigerian National assembly.