In today's Nigerian churches, there are various pointers that could help delineate the audacity of religious hypocrisy which has already metamorphosed into a culture, perhaps it could play an important role in exposing the blatant evils, lies, and cruelty perpetrated in the name of Organised Religion in the country. 
One of the dangerous situations that many Nigerians have refused to come to terms with is the fact that contrary to the saintly apparel the church and its leaders have continued to clad themselves in, they are perhaps among the biggest sources of instability to the country who they never hesitate to profess love and admiration for.
Through expert manipulation and crafty mind games, churches have become venues for agenda brewing and this is becoming quite problematic. Through their actions and inactions, the multitude of gullible folks they shepherd has become almost irredeemable from the well-plated seeds which were sowed into them, sometimes without their properly situated consents.
Very sadly, the religious charlatans are mostly getting away with their manipulation because of the disposition of Nigerians and the African continent generally to the issue of Organised Religion. In clear terms, it is not news to many that discussing matters relating to religious inclinations has been tagged as 'no-go' areas or red zone during conversations in the polity.
Read Also: 2023: CAN President Warns Churches To Be Non-Partisan
At this point, it is pertinent to clarify that the standard practice which Africans have refused to break away from is what is being deployed to coax them into sheepishly following some puritanical dogmas. This practice is what has held Africa down. it is the only reason Africa has remained far below the pecking order when compared to viz-viz other continents.
The Redeemed Christian Church of God (RCCG) has become one of the leading institutions where this dogma has taken root and is fast spreading without any form of inhibition. Lately, apart from the religious manipulations and obvious lies, the church, which is evidently populated by the Yoruba ethnic tribe in Nigeria has now elevated other mundane sentiments such as ethnicity to powerful positions of significance in their choices and decisions.
The truth which only deluded members of the church will disagree with is that RCCG is becoming a tribalist institution. Each of its actions and inactions points to this. From the composition of its pastors and workers to the kind of messages, it propagates down to the nature of political posturings.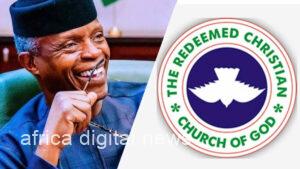 To make matters worse, RCCG has become an incubator for some of the most terrible human beings in Nigeria – who parade themselves as 'Christians'. Most of their so-called pastors are severely lacking in virtue, character, and morality. Saying that the church has become a big cesspool of bigotry wouldn't be completely out of place.
The current youth leader of Nigeria's ruling party – the All Progressives Congress (APC), Dayo Israel is perhaps one of the biggest sources of disunity in the country. Pastor Dayo, the young man deeply marinated in the stench of bigotry, also doubles as the upholder of the wickedness that murders young people, an arbiter of lies, a proponent of evil that paraded in the night, and the very spokesperson of drug kingpins who only came to capture Nigeria for their own selfish reasons. Currently, he is all over social media fanning the embers of bigotry and spreading hate against the people of the South East whom he despises so much for no probable reason other than differences in political choices.  It is shocking to come to terms that he is a pastor in RCCG and an active one at that.
The wife of Nigeria's incoming President, Remi Tinubu has been caught time and time again, making frantic efforts to pit the Yorubas in the South West against Igbos, it is no longer news that she is an RCCG Senior Pastor and a very active one at that. It is rather befuddling that she will openly spew hatred against fellow citizens on weekdays and still stand before a congregation on Sunday with a microphone preaching funny sermons to her congregants.
Many Nigerians do not know that the FUTA VC who was instrumental in rigging Osun's election on live TV years ago is an RCCG Pastor. These are facts and yet, most Nigerians will prefer to hide under the charge to 'touch not my anointed and do my Prophets no harm' to dismiss some of these atrocities as non-issues.
For the General Overseer of the Chuch and founder, Pastor Enoch Adeboye, his case is perhaps more classical. Despite throwing up the name of his fellow RCCG pastor, Yemi Osinbajo (who later became a slave to the Fulani Oligarchy) as running mate to Buhari in 2015, he has conveniently found it easy to keep quiet in the face of the maladministration which he enthroned.
It is even more laughable that when it appears that his silence is becoming dangerous, he simply resorts to deluding his followers and congregants that a prayer warrior is more effective than an activist, urging them to pray for the failures he played big roles in manipulating upon Nigerians. Well, the truth is that Adeboye is only quiet because he shares so much in common with the inept administration, and prominent amongst them are nepotism and ethnic irredentism.
When the self-adopted political party of the RCCG adopted the infamous Muslim Muslim ticket in June last year, many Nigerian Christians did not hesitate to condemn the lack of inclusivity it portrayed for a secular country like Nigeria. Those who waited for the RCCG to join in that condemnation only ended up wasting their time because the RCCG, the church, and what it represents can be trampled upon provided it has the capacity to make a member of the church the first Lady of such a government. With a fellow tribesman set to become President on the altar of 'Emi Lokan' the church and its tenets which they profess can go to blazes and burn to ashes for all it cares.
The highly chameleonic and deceptive Vice President, Prof. Yemi Osinbajo who had earlier claimed that his hands were tied with regards to the Muslim Muslim ticket of his party, later had them untied as soon as it was time to vote as a Yoruba man. While it was surprising that he managed to deliver his polling unit, Ward and State to the APC, it was only a matter of ethnicity for him at that time and that is exactly what the church represents.
In conclusion, the time has come for Nigerians to stop making themselves available for religious manipulations. Oragnised religion is a very big scam that was unleashed on mankind to perpetuate control and enslavement. The earlier Africans drop those inanities, the better for them, and for the RCCG, hope they find their voices to condemn Tinubu when he goes astray contrary to what they did with President Muhammadu Buhari whose maladministration they helped to coordinate.