A few days ago, there was a frenzy in the Nigerian social media space after Simeon Ekpa, the self-appointed Biafran spokesperson and a disciple of Nnamdi Kanu was arrested in faraway Finland. The reactions which greeted the arrest will leave one wondering when Ekpa's influence grew that much to the extent that his arrest in another continent was 'big' news.
For people who do not know him, Ekpa (also known as Ifeanyi Njoku) is a Finland-based Nigeria-born Biafran self-styled secessionist activist. He was born on March 21, 1985, in Ohaukwu LGA, Ebonyi State in South-Eastern Nigeria. He currently leads the so-called 'Auto Pilot'.
Ekpa is a Finnish citizen and he is reportedly married to a Finnish woman and the marriage is blessed with kids. Ekpa holds a degree in Law from the Aberystwyth University, Wales. A lawyer and CEO of Ekpa & Coy, an organisation that provides legal services in immigration matters and asylum issues in Finland, he is a former track and field athlete who represented Nigeria at different competitions including the 2003 African Junior Athletics Championships in Cameroon where he won a silver medal for the country.
Simon Ekpa is in the news lately following the online petition being signed by angry Nigerians calling for his arrest for 'terrorism and genocide' in Biafraland.
Recently the Finnish-Nigerian had declared unilaterally a 4-day sit-at-home in the South-East region and it led to deaths and destruction of properties. Basking in the euphoria of the 'success' of the operation that crippled economic activities in the region he had declared that there would be no elections in Biafraland this year!
While his violent means to achieving his objectives may not be said to be exemplary, the Finish citizen is not completely out of place. He has very valid reasons to be aggrieved and hoping that he will be arrested to silence him is not the best route to take.
It has to be established that Ekpa is not Nigeria's problem. Nigeria's problems stem from a cacophony of actions, inaction decisions and that have been witnessed in the country ever since Lord Lugrad amalgamated the country for administrative convenience over a century ago.
One of the most potent drawbacks holding Nigeria and Nigerians down is the 1999 Constitution which was written by the Fulani oligarchy and introduced to serve as an instrument of oppression and subjugation by which minority Fulanis whip into submission majority non-Fulani ethnic groups. This has continued to be the case and Nigeria has continued to pay dearly for it and this alone is enough reason to agitate. So one will wonder, is Ekpa really Nigeria's problem?
Has Nigeria made any frantic effort to correct some of the fundamental anomalies bedeviling the state and people like Ekpa are still thriving? The answer is a very big No. The truth is that, as long as these problems continue to remain, thousands of Ekpa's will still always spring up in the Nigerian polity and that is certainly not going to change.
The 1999 constitution is not truly a legitimate document however a valid one for the purpose of justice as it was brought about by decree 23, upon which it was handled over to the Nigeria people by the transition military government of Abdusalami Abubakar in 1999 without consultation or contribution from Nigerians. Of course, this makes the 1999 constitution, a fraud because the Nigerian people never had a hand in that constitution. How come to the Nigerian state is making efforts to seek the arrest of Ekpa when these have not been remedied?
It has become long overdue that the Nigerian National Assembly must realise that the 1999 constitution has outlived its usefulness and is currently unable to sustain us as a people now to chart a new way forward and assess the political, economic, and social structure that truly reflects the aspirations of every Nigerian.
It is no longer news that the 1999 Constitution was promulgated by military Decree 24 of 1999 and was never subjected to any referendum whatsoever by Nigerians, yet, the same constitution is supposed to be binding on every Nigerian, what a joke!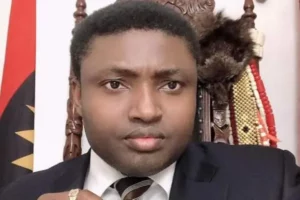 This 1999 Constitution which was was written by a selected few that never got the consent of the indigenous nationalities or their representatives and this explains why it was hidden from the public until after the inauguration of former President Olusegun Obasanjo.
Beyond the scope of what Nigerians know, the 1999 Constitution actually created a unitary government as against the projected federal government and this forged inefficient document was solely behind the overcentralising of government as well as the creation of overcentralised judiciary which has never been autonomous till date.
How will the country not have people like Ekpa in their thousands when the 1999 Constitution falsely and maliciously claims that indigenous nationalities willingly handed over their natural resources to the Federal Government which is obviously a lie? Which country thrives on lies, deceit, and manipulations like this and does not run into problems?
Many Nigerians do not clearly know that the 1999 Constitution calls state Governors chief security officers but at the same time has managed to centralised all security agencies while entrusting their command to Abuja while, denying these state governors control over any of these security agencies.
That useless piece of trash called the 1999 Constitution is as illegitimate as it sounds. Many Nigerians do not know that the 1999 Constitution section 6 subsection 16 absolves the government from liabilities regarding the rights of the citizens as provided in chapter 2 making these rights not justifiable this and many more are the reasons why corruption, unaccountability, incompetence, insecurity, and institutionalized in Nigeria, so why wouldn't Ekpa have followers who listen to him?
In conclusion, the earlier the Nigerian state gets to understand that arresting the likes of Ekpa will not end what they are agitating for, the better for them. The 1999 Constitution is a piece of garbage designed for state capture and subjugation. It is a constitution that stole power from the people and domiciled them in the hands of members of a select few who do not mean well for the country. This is a constitution that lacks every ingredient needed to run a democratic state, yet Nigeria is purportedly democratic. That bogus document is Nigeria's main problem and not the likes of Ekpa who are basically reacting to the anomalies sighted in the system.