African leaders have grown notoriety for a shameful sit-tight mentality in power that has given the continent a bad reputation. Most leaders who made it to leadership positions have become so used to what power denotes and connotes — hence they don't joke with it, and Cameroonian leader Paul Biya is no exception.
Biya just recently celebrated his 90th birthday and despite the deteriorating state of his mental and physical health, he seems poised to celebrate his centenary birthday in office as President.
Reigning as the oldest leader in the world after the death of the Queen of England, Elizabeth II, Cameroonian President Paul Biya is now spending his 41st year in office, after marking his 40th year in 2022 amid statements by critics that the leader is celebrating his stay in office amid violence, corruption and the forceful silencing of dissenting voices.
Since being sworn into office on November 6, 1982, after the nation's first post-independence President Ahmadou Ahidjo resigned from office, Biya has sat over Cameroon like a Lord over servants, or perhaps a puppeteer over his puppets. The autocrat has ruthlessly Lorded over the citizens of Cameroon in all areas, making it clear to the world that he neither cares nor is concerned about how he is perceived, either by his people or foreign observers.
Read Also: Biya, Other Ailing Leaders Must Stop Disgracing Africa
As is sadly expected and often true about African leaders of this caliber, Biya ruled the nation with an iron fist; not hesitating to clamp down, hit hard, and take down anyone who was or even appeared to be an opposition or dissenting voice.
In the past 41 years, the 'mis-leadership' of Biya has brought nothing but suffering and peril to the 25 million people living in Cameroon. The country has become very familiar with poverty, on the receiving end of unending violence, and submerged in corruption that runs over every sphere of government and even society.
How did Cameroon make its bed with poverty and suffering? Every right-thinking individual might be forced to ask. After all, the nation has a lot to be proud of, and a lot of potentials, especially as it concerns its economy.
Cameroon is not only the largest producer of timber in Africa but also the fifth-largest cocoa producer in the world. These two products and exports have raked in billions for the country, which should have changed the state of the country for the better. Instead, Biya, in his corruption and high-handedness has razed these funds to the ground, with no tangible investment or development to show for it.
Biya didn't stop at crippling the economy and crowing poverty as the second ruler over the people. He went further to plunge Cameroon into the bottomless pit of crisis resulting from his enthronement of violence and unrepentant engagement in corrupt practices, to the detriment of the nation.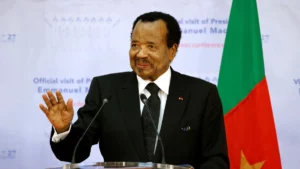 Cameroon is currently in such a perilous state that it would take nothing short of a miracle to calm the raging storms of corruption and quench the inextinguishable fire of violence that is consuming the nation while Biya watches from his high horse.
Being only the second president since Cameroon gained independence from France in 1960, the only thing Biya has succeeded in proving to Cameroonians and the rest of the world is that leadership in Africa can get worse than the wildest imagination and a man can be heartless enough to throw caution to the wind while destroying a nation of people whose only offense was to love and trust him.
In 2018, Biya began his seventh term in office; whether by the will of his people or his will is arguable, but the figures show that he got over 70% of votes cast, making one wonder whether 70% of people made a pact with suffering, poverty, corruption, and death, or Biya stole the mandate of the people to crown himself as a tyrant and torturer of the people once again.
The poverty levels in Cameroon are one for the books, as the World Food Programme says at least 40% of the country's population sit below the poverty line and wallow in dire poverty.
Not only that, about 6.2 million Cameroonians require humanitarian assistance to ensure their continued survival, especially due to the renewed escalation of violence by the Boko Haram terrorists in Nigeria and the Lake Chad region.
If you found the poverty records shocking, you would be gobsmacked to discover that Cameroon set the record as the most corrupt country in the world twice in a row. Biya's Cameroon sat in first place on Transparency International's world corruption index in 1998 and 1999. Despite all efforts by agencies and well-meaning people within the nation to win the war over corruption, Cameroon was ranked 142 out of 180 corrupt countries in 2022, meaning the nation is only less corrupt than 38 countries of the world; a fact that should shame the old authoritarian leader, but as they say, you cannot shame the shameless.
Cameroon continues to be freefalling towards destruction, destitution, and eventual annihilation, and the aged Biya who seems devoid of all wisdom and compassion simply watches the nation fall as he counts the years until his Centenary Celebration.
What can Cameroonians do to break off the chains of bondage hung on them by Biya? Perhaps, they need to push to make sure the multiparty system Biya reluctantly adopted becomes the vehicle that sets them free from a life of peril.
But will Biya be able to let go of his greed and obsession and allow people to break off their chains? Will Biya find some nobility that will spur him to step down from office after his tenure is due in 2025? Or will Cameroon continue to fall until it reaches the bottomless pit?
How many more lives and dreams will get destroyed by Biya before the Cameroonians and the rest of the world, especially France declare 'enough is enough' and save the lives that remain to be saved?
Will Pau Biya still be Cameroon's President when he turns 100? We can only watch and see.