Nigerian politicians, ever so creative in political gimmickry, appear to be the only species among global politicians who have mastered the art of using lies and deception to fool the same group of people over and over again without consequences. By unleashing a myriad of disingenuous, ingenuous, and obviously idiotic spins, they hoodwink their ways to relevance without substance, which is something Nigerians must end if they intend to stand the slimmest chance at redemption. 
A bunch of aggrieved Governors in Nigeria's main opposition party, the People's Democratic Party, PDP, who have not metamorphosed into the G-5 or 'Integrity Governors' as they prefer to call themselves, have been constituting a nuisance in the political space ever since their leader and Governor of Rivers State, Nyesome Wike was outwitted in the primaries of the party in June.
Governors Seyi Makinde (Oyo), Okezie Ikpeazu (Abia), Samuel Ortom (Benue), and Ifeanyi Ugwuanyi (Enugu) who actually form a very small minority within their party, for their selfish personal interests have continued to insist on a principle, within a political party, which had long parted ways with principles and have chosen to continue to tell Nigerians meaningless tales.
Sometime in December 2022, they voluntarily pledged through their leader, to publicly endorse a Presidential candidate in January ahead of the upcoming elections. Well, January has come and gone, and all the spineless desperados have managed to cook up are excuses and outright cowardice.
The truth remains that as far as the election slated for February 25 is concerned, endorsements have become two-a-penny at the moment, and it is doubtful that it carries as much electoral punch as the endorsers and the beneficiaries wish. However, that notwithstanding, endorsements are not only bestowed but also actively sought and highly treasured for many reasons and the top among them is that they have signalling appeal or they telegraph a measure of social proof or wide acceptance. Since electoral politics is a game of addition and not subtraction and voters are historically known to be risk-averse, any suggestion of additional support is valued by politicians, their strategists, and their supporters.
Governor Wike and his G-5 were able to attract attention to their pledge or their threat for two key reasons. The first was the orchestrated suspense they managed to create. It will be recalled that after making itself available to every interested suitor, the rebel faction within the PDP gave a three-month notice of an impending endorsement, and was constantly in the business of reminding anyone who paid attention of a big announcement coming in January. Wike spent considerable time and effort hugging TV cameras proclaiming January as the month of reckoning and justice.
Nigerians generally took notice of the promise such that when in early Januarya BBC News Pidgin journalist reminded Governor Wike of the self-assigned deadline, he retorted, with dramatic flair: 'Why are you in a hurry? Why are you in a hurry?… January… Did I tell you January 4th? Did I tell you January 10th? Did I tell you January 16th? You, people, are just errrr… Calm down!' This comical encounter from a coward, which went viral almost immediately on social media and was pressed to many hilarious ends, was good enough to petrol to the burning fire of suspense. Innocently believing his words, many Nigerians concluded that the G-5 group was going to drop the bombshell in January.
Again, perhaps even more relevant than the first reason is the fact that the G5 aroused significant interest after it drove home the promise of high political drama in the country. Evidently, Wike and his bunch of clowning fellow Governors were not doing all the songs and dances just to pitch their tent with Atiku, the presidential candidate of their party. Of course, that would have been an anti-climax. However, by their obvious calculations, five sitting governors openly supporting and campaigning for a presidential candidate competing with the flagbearer of their own party would be quite a sight, a novelty actually, even in Nigeria's highly treacherous and drama-laden political landscape.
However, following the entire needless theatrics and suspense, the G5 Governors failed to drop the hit song, to the relief of some and the disappointment of others. Governor Wike who doubles as the Supreme leader, spokesperson, and chief strategist of the group, rather than quietly owning up to his group's lack of political balls has been trying aimlessly to spin the no-show. While speaking recently at a rally in Port Harcourt, he shamelessly declared that he never promised to announce his preferred presidential candidate publicly on camera. The people of Rivers State, he added, already know who to vote for on 25th February. It is a smart attempt at wordplay but it is naked.
Wike ostensibly forgot how he promised on tape that he will not only declare his preferred candidate openly but that he will also travel to the 36 states of the country campaigning for him.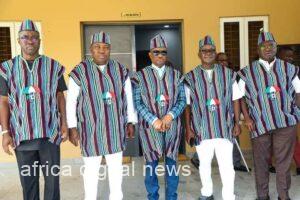 It is without a doubt that the G5 simply chickened out of a promise it made without anyone putting a gun to its head in a clear case of arrant noise and no substance.
Many Nigerians have continued to wonder why the group failed to fulfill its promise to announce a Presidential candidate in January. A number of reasons have been hazarded on why the G5 reneged on the January deadline. I will stick to three here. One is that the group was divided on who to support between the two southern candidates on their shortlist. i.e Peter Obi and Bola Tinubu. Two, that the personal preferences of the governors do not align with the widespread sentiments of the people of their states. And three, that pushing different parties for federal and state elections could confuse the voters or create a bandwagon effect that could see the governors or their candidates losing in the state elections on March 11th.
All these reasons are plausible and they are not mutually exclusive. Their point of convergence is that openly endorsing a presidential candidate from another party comes with heavy risks to most of the G5 governors. So, the rebellious G5 settled for playing safe. The endorsement may also hurt its beneficiary, especially if the PDP candidate is able to line up the north behind a southern gang-up narrative. Already, there is said to be a campaign slogan that translates to 'yours is yours.' An open endorsement by the G5 can make such narratives more sticky, and more persuasive.
Regardless of what the reasons were, one will wonder if their current shamelessness was the only impact they could make after the countless stupidly extravagant trips to London which can only be fully explained by psychiatrists. Just like a bunch of desperate spinsters, made lonely by their own pride, the group of noise-emitting cowards on more than half a dozen occasions offered themselves to Presidential candidates in London like wares hawked by hawkers on the streets of Lagos.
It is rather amusing and at the same time interesting that Wike and his gang of loquacious fellows have now tucked their tails in between their legs and will no longer be disturbing the ears and airwaves of Nigerians with opportunistic cries for justice. In all their conversations, saving Nigeria from the precipice was always related to the background. This should be a big lesson for everyone whose inclination is always to act selfishly.