With every passing day, it is becoming glaring that the refusal of Nigerian authorities to release Nnamdi Kanu is part of a well-orchestrated plot against Ndigbo for whom they have absolutely no respect, however, what is confusing here is why Ndigbo who are on the receiving end of these evil plots have opted for a grave silence in the face of injustice.
Nnamdi Kanu who is the leader of the secessionist, Indigenous People of Biafra (IPOB) was in 2021 kidnapped in Kenya. It happened in the most bizarre manner. It was said that on the 8th day of his abduction, Kanu's abductors brought him out of the private facility, put him blindfolded, in a waiting vehicle; and drove him straight to the tarmac of Jomo Kenyatta International Airport. In doing this, they clandestinely evaded and circumvented Kenyan immigration authorities; and forcibly bundled him into a waiting private jet. They consequently smuggled him into Nigeria (recall Umaru Dikko's savage crating and brutal abduction case of the 9th of July 1984). Throughout Kanu's illegal and horrific detention in Kenya, he was never subjected to any extradition hearing or proceedings, before he was extraordinarily renditioned to Nigeria.
Ever since then, Kanu has been in the dungeon of the Department of  States Services (DSS). Sometime in October last year, he was discharged and acquitted by the court of appeal in Nigeria. A three-man panel of judges of the Appeal Court had in its unanimous judgment, quashed the remaining seven-count charges preferred against Kanu by the federal government and consequently discharged him only for the lawless federal government to choose to act otherwise.
Read Also: 2023: Tinubu, Atiku, And The Brotherhood Of Corruption
The court in its ruling held that the IPOB leader was 'extra-ordinarily' renditioned to Nigeria and that the action was a flagrant violation of the country's extradition treaty, also a breach of his fundamental human rights. In line with the culture of lawlessness that the Nigerian State is known for, Kanu was never released.
By not releasing him, the federal government clearly violated his rights to personal liberty as stipulated under section 35 of its constitution. The Buhari government ignored the fact that the personal liberty of a citizen cannot stay under any guise and they went on to appeal the case at the Supreme court while holding on to him.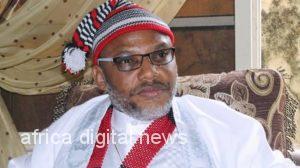 Over the last seven years, the cabal-controlled government of President Muhammadu Buhari has continued to show its disdain for human rights and the rule of law. With Buhari as President, respect for human rights has been nothing but a ruse. Under him, Nigeria has recorded the worst form of human rights violations since the country returned to democracy in 1999. The regime of tyranny has been characterised by extrajudicial killings, indiscriminate loss of lives, unlawful detentions, lack of respect for constitutionally guaranteed fundamental rights, the threat to press freedom, etc, and Nigeria has sadly continued a fast-paced journey to the abyss under his watch.
What is perhaps more painful at this time is the seeming silence of Ndigbo to the injustice being perpetrated against Kanu. The presence of Peter Obi in the political landscape has forced many outspoken people of Igbo extraction to go quiet in order not to offend the Fulani Oligarchy or step on the toes of Nigerians just to sustain any perceived milage Obi seems to be getting, but the truth is that this action is tantamount to cowardice, foolishness, and wickedness. Why should Nnamdi Kanu's freedom be sacrificed on the altar of the Presidential ambition of another individual? Why should it be so? From every indication, it looks certain that there is a hidden agenda from the Fulani Oligarchy to place Ndigbo between a rock and a hard place as Nigeria farcically careens into the 2023 elections. By their calculations, they can continue to violate Kanu's rights simply because Kanu's brother wants to be President. This is simply the height of it!
The excuses which have been propounded by the federal government as the reason why they will not return Kanu's freedom to him are only laughable and shows the height of their stinking ignorance. It also speaks volumes as to the level at which Buhari and his quota system enabled Attorney General and Minister of Justice, Abubakar Malami are holding Ndigbo. From every available record, Kanu's incarceration is clearly political. But the federal government must be reminded that Justice delayed is justice denied and Kanu's case should not be an exception.
It was the height of its absurdity and indeed an affront to the psychology of Ndigbo for President Buhari to have informed Igbo elders shortly after Kanu's arrest and disgraceful rendition from Kenya to Nigeria that Kanu should go through the judicial process in Nigeria, only for the same federal government to blatantly disobey an order of the Court of Appeal to release him from detention on the same matter. If Kanu's ethnicity was different, this surely will not be the case and that is the honest truth.
To think that this is the same government that is constantly caught in the web of controversies around the release of terrorists who have purportedly repented is the height of it. What crime did Nnamdi Kanu commit that has not been committed by those terrorists that are always treated as kings and even offered an opportunity to join the Nigerian army? The continued detention of Kanu despite the court judgment to free him is nothing but simple confirmation that the Igbos are not needed in Nigeria and it will be wicked of Ndigbo to keep calm and quiet in the face of the whole shenanigans. Why should Boko Haram terrorists be released and Kanu is still in incarceration?
At this point, Igbos must follow the example of Governor Chukwuma Soludo of Anambra State by speaking out against injustice. Serious pressure must be piled up on Buhari to immediately release Kanu who has since become a resonating metaphor for the Igbo's struggle against marginalisation. He must be reminded that Kanu's release will heal gaping wounds, bind oozing sores, and give the Igbos the much-needed sense of belonging in Nigeria if there is anything like that. Presently, there are already two open windows to make that happen. Buhari must either obey the Appeal Court verdict or seek a political solution but Nnamdi Kanu must be released! If the federal government can dialogue with bandits, why not with Ndigbo? Political leaders from the region must understand that it is not Nnamdi Kanu that is on trial but the entire Igbo race, they may not like his modus operandi but they must not forget that he fought for something at some point and does not deserve the treatment he is getting from Ndigbo at the moment. Nnamdi Kanu must be released regardless of the outcome of the 2023 elections in Nigeria.