Isn't it amusing to find out that with less than 40 days to the general elections, the two major gladiators who are front runners to take President Muhammadu Buhari's job are calling for each other's arrest and prosecution for almost the same reason? The two political juggernauts who are essentially six and half a dozen clearly have nothing to offer Nigerians and it appears they are tired of trying to prove otherwise. 
Ahead of the February 25th elections, the presidential candidate of the Peoples Democratic Party (PDP), Alhaji Atiku Abubakar, and his counterpart from the ruling All Progressives Congress (APC), Bola Tinubu have taken the gloves off and are at each other's necks. While Tinubu is asking that Atiku withdraws from the race on the ground of corruption, Atiku is insisting that Tinubu must withdraw from the race on the grounds of his links with drug dealing. These calls from both politicians have only succeeded in making a mockery of the elections and by extension, Nigerians whose mandate they are dubiously seeking.
The truth many Nigerians must get used to is that Tinubu and Atiku are like two peas in a pod. They only have three things to offer Nigerians, which are Corruption, corruption, and more corruption. They are ostensibly in the race for two reasons, one is just to take the title of 'Mr. President' for egotistical reasons and the second reason is to corruptly enrich their families, friends, and cronies at the expense of the collective interest of Nigerians.
Read Also: ₦77 Trillion Debt: Buhari's Wickedness On Nigeria's Future
In the 2015 elections, Nigerians were bombarded with empty rhetorics of corruption fights by the then opposition party, which is today a ruling party – the All Progressives Congress (APC). Many Nigerians have been wondering why this time, despite the massive cases of graft going on in the country, none of Tinubu and Atiku has managed to make it central to their messaging ahead of the elections. The reason is simple. Both candidates swim and drink corruption and like siamese twins, they will require rigorous surgery from gifted hands to stand a chance of separation.
Both the Adamawa-born billionaire and the 'landlord' of Lagos are irredeemably corrupt going by their antecedents and records even though they are not so different from their peers in the Nigerian world of political business. Through very crooked means, they have become very senior citizens in graft, rich and influential, in a poor country where opulence lives side by side with misery.
Just a few days ago, Tinubu shamelessly called on security agencies in the country to invite, arrest, interrogate and prosecute Atiku over a series of corruption allegations. While citing a video clip made by one Michael Achimugu, a young man said to be a former aide of the PDP candidate, Tinubu claimed that Atiku as vice president between 1999 and 2007, colluded with his then boss, President Olusegun Obasanjo, to operate illegal accounts tagged, 'Special Purpose Vehicles' SPVs. As serious and damning as the allegations were, it is only laughable that it was coming from Tinubu, a man whose entire life has depended on the expert deployment of 'SPVs'.
Tinubu's inability to come clean to Nigerians on his involvement in some SPVs which include Alpha Beta and Soft Alliance which he has continued to use to siphon money from the treasury of the Lagos government has completely rubbished any claims or calls he is making.
Details of how the 'Emi Lo Kan' crooner used an SPV company known as Soft Alliance, to steal a whopping $ 1 million belonging to Lagos State through an account 0015778102 in a third-generation bank and how the sum of $826,000 belonging to Lagos State was also reportedly moved to a domiciliary account with the account number,0036620785 which is owned by Tinubu in a first-generation bank with a number in a three-day lodgment scheme is no longer secret.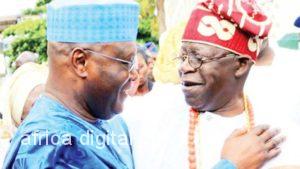 Over the past two decades, Tinubu has continued desperately try to divert the attention of Nigerians away from one of his special SPVs named Alpha Beta Consulting Limited and Alpha Beta LPP, which are companies he owns by proxy which he uses to siphon billions of taxpayers money from the government of Lagos State, since 2002. It is rather sad that Nigerians, whose future is being toiled with are not asking questions. They are not asking Tinubu why and the government of Lagos State why and how it is only Alpha Beta that has for over 20 years held the exclusive rights to collect taxes in Lagos State in return for a commission under very shady arrangements. They have not tried to find out from the dangerously corrupt Tinubu why the identities of the owners of the SPVs are not yet common public knowledge. Many Nigerians do not know that some of these SPVs actually do shares addresses with Tinubu's office on Idowu Taylor Street. They seem not to be so interested.
Atiku on his part is no different, perhaps, he is even worse. The trending video from the whistleblower underscores the evil nature of Atiku's heart and his propensity to corruption and illegal dealings. Many Nigerians do not know that the company called Marine Float is the SPV that was used by Atiku to receive over N100 million Naira from former Plateau State governor, Joshua Dariye, who was jailed for offenses relating to that dubious transaction. It is now easy to connect the dots as to how Atiku Abubakar managed to build his private university and acquire some of the companies he now owns.
Atiku's expertise in 'cooking' corruption is no longer in doubt. In the viral voice note, he could be heard boasting that the issue of that account was thoroughly investigated by EFCC and nothing was found. Armed with the knowledge that the SPVs were untraceable to him, Atiku showed no mercy in looting the common patrimony of  Nigerians as Vice President.
How the former customs officer brought tens of millions of dollars of 'suspect funds' into the US when he was Nigeria's vice president in the 2000s, according to a US Senate report, and was implicated in a bribery case that resulted in the imprisonment of an American congressman, William Jefferson is no longer new to Nigerians.
At this point in time, Nigerians must come to the full realisation that the PDP and APC have only presented them with two sides of the same rusted coin called Atiku and Tinubu, and the only patriotic duty they owe Nigeria is to reject them both at all costs. Both looters are exactly the same and belong to the same cathedral of embezzlement and looting as renowned Bishops. The manner in which they bamboozled with their ways to snatch the nominations of their parties should paint a horrible picture for discerning Nigerians. While their battle for supremacy in the 'corruption brotherhood' continues, Nigerians should only sit back and watch and be grateful to posterity for pushing them to expose themselves. Both men are dangerously corrupt, handing over the keys to Nigeria's treasury to any of them is akin to handing over the keys to a well-stocked barn to a hungry goat, it will require a miracle for them not to loot Nigeria to death!