It has been established that there is nothing wrong with borrowing, however, when one borrows on behalf of the public only to steal it, it becomes highly sacrilegious, wicked, and inhumane since the repayment of such debts are going to fall back on the same public who knew nothing about it Ab initio. 
Perhaps, one of the most potent dangers threatening the very foundation of the Nigerian state is the increasing propensity of governments to solely rely on internal and external borrowing to finance their operations. Under previous administrations that preceded the President Muhammadu Buhari-led government, there were flashes of restraints from time to time as it concerns matters relating to loans, however, under Buhari, it has gone full ballistic as no one cares anymore about what becomes of Nigeria's future since the repayment plans are almost non-existent.
Upon his inauguration as President in 2015, Buhari clearly showed that he was going to run a very careless government and this reared its head in every decision he has taken so far as the country's number one citizen. His Ministers and appointees have continued to insist that Nigeria's rapidly rising debt profile is not a problem and that the country will continue to borrow without remorse. It is this type of warped thinking and lazy approach to issues around governance that has catapulted the country's debt profile to over ₦42 trillion and has now driven the country to the precarious level of deploying the whole of its retained revenue to service debts. How would any forward-thinking and forward-looking government consider taking loans to fund projects that cannot pay back themselves? Is it not tantamount to borrowing away the future? Is it not the same as throwing borrowed money into a bottomless pit? To Buhari and his goons, it is abnormal not to borrow funds for looting purposes and this has been their mantra.
Read Also: Why Tinubu Shouldn't Be Contesting The 2023 Elections
As things stand today, the Debt Management Office in its honesty has already admitted to Nigerians that the country is owing ₦42.84tn as already publicly declared, and interestingly when the ₦23.7tn that would have been borrowed by the end of the year to fund the 2023 budget cycle is added to that figure, Nigeria's total public debt will be totaling ₦77tn. If this is not wickedness on the future generations which are yet to be born, then we do not know what it is.
Buhari's penchant for borrowing is legendary and unprecedented. The appetite of his government and its surrogates for debt accumulation have done their best to make sure that Nigeria's public debt rose almost four folds from the N12.118 trillion Buhari inherited when he took over power at the end of May 2015. To be clear, Buhari has added well over ₦30 trillion to Nigeria's debt profile in just seven years and with virtually nothing to show for it apart from a few projects which were funded with less than 1% of the declared sum. This has heightened the concerns of many Nigerians who are not only genuinely worried about the ability of Buhari or his successor to pay back the debt but are also troubled by the fact that Nigeria may find itself in the same quandary it was before the debt forgiveness that was secured 2005 when it was weighed down by debt burden and was unable to properly fund critical sectors such as health, education, and infrastructure.
As expected, the high debt profile that Nigeria now commands clearly means that the cost of servicing debts has been on a steady rise. To be succinct, it has been on steroids! Going by figures from the debt management office, in 2014, Nigeria spent ₦712bn on servicing debt but this figure increased to ₦943bn in 2015, ₦1.48trillion in 2016, ₦1.84trillion in 2017, ₦2.014trillion in 2018, ₦2.09trillion in 2019, this rose to ₦2.452trillion in 2020 and ₦4.22trillion in 2021. In 2023, it will cost Nigeria ₦6. 55 trillion to service its existing debt. The figures are as terrifying as they are worrying. How did Nigerians offend Buhari to deserve this?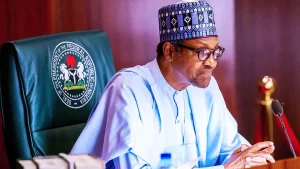 Since 1999, Nigeria's public debt has increased the most under the current Buhari administration when compared to previous governments and foreign debt has soared at least three times more than the figures recorded by the past three administrations when combined.
When Obasanjo took over government in 1999, he met Nigeria's foreign debt at $28 billion, and by the time he left in 2007, it was $2.11 billion after he successfully secured a write-off by the London and Paris clubs of foreign creditors. The Yar'adua/Jonathan government which took over after him added $1.39 billion to what they met, and the Jonathan government in all its excesses managed to incur an additional $3.8 billion, taking the country's total foreign debt to $7.3 billion when that administration signed out in 2015. Under Buhari as President, by December 2020, Nigeria's external loan had already reached $28.57 billion meaning an extra $21.27 billion had been accumulated under him and the figures has remained on a steady rise ever since. This analysis was done in dollar denominations to knock off any exchange rate arguments that could be put forward by the Buhari government.
For domestic debt, considered relatively less harmful to the value of the Naira than foreign debt, the figure rose from N795 billion in 1999 when the Obasanjo government came to power, to N8.8 trillion in 2015 when the Buhari administration assumed office. By December 2020, Nigeria's domestic debt stood at N16.02 trillion — twice as much as the amount taken by the past three governments when combined.
Buhari and his gang of thieving acolytes do not understand that growing the debt of a country by almost 400 percent in just a little above seven years without growing the economy at the same rate is economically frightening and financially reckless. When one factors in the promises made by Buhari with regard to frugality and fighting corruption which it rode on to get to power, it becomes more worrisome. It is easy to remember how the All Progressives Congress (APC) had condemned the Jonathan administration for its alleged profligacy with a promise to tread a new path while they were wooing Nigerians for their most cherished votes. Seven years later, what has really changed if all it could give Nigerians in return for those votes was to shoot up their debt profile by almost 400%? Perhaps Nigerians would have been comforted by the unprecedented debt increase had there been a corresponding level of development in the country.
The big question is, which projects did the APC finance with the gargantuan debt it incurred? The project which the APC often points to is the second Niger Bridge which is easily the most financially demanding project it embarked on cost the country just about ₦232 Billion if figures from the Ministry of Finance are to be believed so what exactly did Buhari spend these loans on? Which structures can Nigerians point to as a justification for the ever-rising debt? Where are the factories built with the borrowed money? Where are the new jobs created? Where are the hospitals built? Where are the new airports? Where are the new roads? Where has all the money evaporated to? The plain fact is that the governments deployed the bulk of the borrowed money to financing recurrent expenditures which were largely unaccounted for. Most of the borrowed trillions went into running an over-bloated government; paying salaries and allowances. This is not only tragic, but it is also exceedingly heart-wrenching.
Finally, the implication of all the loans Buhari has collected is that unless there is a volte-face in Nigeria, the heavy debt burden that Buhari has imposed on Nigeria will only slow down development in the country, escalating the poverty of the people in the process and consign future generations of Nigerians into excruciating debt bondage that they will have to face for merely being Nigerians. If Nigeria still had patriots in the National Assembly, the best gift they can give Nigerians is to ensure that none of Buhari's last loans are approved and for Nigerians, the only thing they can do to help themselves is to ensure that Buhari's successor is not as wicked as him and it must be someone willing to drastically cut the cost of governance in Nigeria since its obvious that the country can't be restructured before the 2023 general elections.