Following his emergence as Governor on the 14th of January 2020 through what he has now agreed to be 'Ben Johnson' theatrics, Imo State Governor, Hope Uzodinma had just one job, win the hearts of Ndi Imo, sadly he has failed abysmally at that task. Why then is he seeking re-election?
Deep down within Governor Uzodinma's dark heart, he knows he was not the Governor that was voted by the people of Imo State. Just like the former Governor of Osun State, Gboyega Oyetola who was declared winner of the Osun State Governorship election in a contest that many Nigerians dubbed fraudulent, Uzodinma was never the people's choice.
It is easy to come to the realisation that the failure of governance in Imo State assumed higher proportions the very day the Supreme court headed by the icon of 'technicality' and former Chief Justice of the Federation, Justice Tanko announced Senator Hope Uzodinma the Governor of Imo state. That was the day, shady Government contracts, neglect of infrastructure, owing of salaries, and the spate of wrongdoings in Imo State skyrocketed under his tenure with the new inclusion of the menace of insecurity which spans the activities of the Eastern Security Network, Fulani herdsmen and other unknown hoodlums in the State became a norm in Imo State.
How a man who supervised this ugly menace in a state is still preparing to present himself to the electorates for votes is extremely preposterous. If Nigeria were a sane country, how could that even be happening in the first place? How could one steal a mandate, perform woefully and still have the guts to seek re-election? How does that work?
Read Also: 2024 Gubernatorial Race: Why Uzodinma Must Not Be Returned
Many people from Imo State will find it worrisome when they come to the realisation that most of the noticeable failures of Governor Uzodinma aren't just linked to ineptitude and incompetence; most of the failures actually stem from the fact that the former Yahoo Yahoo criminal is a stark illiterate swimming in blatant ignorance.
Over the years, it has been observed that oftentimes, when an illiterate gets hold of power, he or she somewhat becomes inebriated with it, and sadly Uzodinma's case hasn't quite been an exception. It is even worse when the mandate was stolen, it completely eliminates any form of tact while enthroning impunity.
Over 30 months after stealing a mandate that wasn't hitherto his, Uzodimma is still struggling to understand what his mission in Douglas House in the first place, is. Delivering good leadership and good governance to Ndi Imo has not been easy for him because it was never his intention and sadly, he doesn't know how to do it. From every indication, he doesn't know his left from his right. Over the last few months, when he is not in Abuja frolicking and partying his life away with public funds when taxpayers are being owed and the decrypt infrastructure is collapsing, he will probably be in Imo commissioning uncompleted or terribly executed projects that were done haphazardly. This has become the sorry story of Imo State under Uzodinma.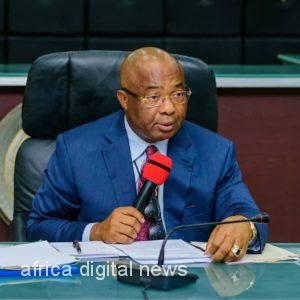 Uzodinma will only be deluding himself if he decides to run for re-election in 2023. The signs are visible to the blind and audible to the deaf that all the factors that collaborated to help him carry out his heist in 2019 are no longer in place. By the time he will be facing Imolites in the next election, there will be no Justice Tanko at the Supreme Court to perform judicial Abracadabra, there will be no Corrupt Attorney General in Abubakar Malami to coordinate funny movements, there will be no obtuse electoral act to guide INEC and there will be no docile Imolites who were gullible about his antics in 2019. So why on earth will Uzodinma allow himself to be disgraced in such a manner? Of course, greed and selfishness have no limits.
What Uzodinma has failed to understand is the determination of Imolites who are simply very determined to work towards correcting the absurdity through whatever means in the next elections. The feelers from the street point to the fact that they are ready to match Uzodinma, 'Ben Johnson for Ben Johnson', 'Abuja for Abuja', and 'Cash for Cash'. The former Orlu-born Senator has proven himself to be empty in the head and as the saying goes, you cannot give what you don't have, so why should he be retained in an office he is only good at abusing?
It is true that Governor Uzodinma is an astute politician, perhaps, by Nigerian standards. There are already strong indications that he has already started making moves and political alliances to show how he plans to retain the stolen seat for himself in the State and this has done nothing but destroy the state even further.
He has started by destroying other opposition parties in the State by luring their staunch members with the use of mouth-watering monetary bribes, political gratifications, and plum undeserving positions. He has gone ahead to monopolise the Judiciary and House of Assembly in Imo State by ousting former officeholders like napkins and replacing them with those who have sworn an unwavering allegiance to him. To make sure his plans are foolproof, subtly, he is gradually putting in adequate plans to terminate the idea of Gubernatorial zoning politics in Imo State while pushing laws to make sure he has little or no opposition from any quarters in the State. All these moves are not unexpected, however, they will fail and Uzodinma will be thoroughly disgraced if he tries to vie for that position again.
The job of a Governor all over the world is to do whatever they can to improve the living standards of the people they govern. Rather than improve the living standards of Imolites, Uzodinma has made their lives worse and have reduced them to paupers. All the indices such as unemployment numbers, poverty statistics and infant mortality all paints a very harsh picture that should worry Uzodinma if he had a conscience. Sadly, there's no fact on the ground to suggest that he has one.
In conclusion, in 2023, Uzodinma must be made to understand that governance is a serious affair that should be left to only serious people and not any kind of characters that can maneuver their way through. Imo must get it right by ensuring that Uzodinma is disgraced at the polls should he insist on testing the waters with both feet. Imo deserves better.