The United States clearly understands what it wants from the African continent, but the million-dollar question is whether or not Africa has been able to reach conclusions on what it wants from the United States. Contrary to widely held opinions, what the US wants from Africa is not democracy and until Africa understands this, her ignorant indecisiveness will continue and the continent will remain a perpetual loser.
A fortnight ago, the President Joe Biden-led government of the United States of America (USA) extended invitations to African leaders to what it described as the 'U.S.- Africa Leaders' Summit'. On face value, the summit was supposed to build on the shared values between both countries with the hope of finding ways to foster new economic engagement, advance security, peace, and good governance, and reiterate unalloyed commitment to democracy, human rights, and civil society. However, beyond these rhetorics, African leaders must begin to ask themselves some salient questions.
Anyone following world geopolitics and international relations will understand that for quite several decades, Africa was never the priority for successive governments who occupied the White House. Rather than get directly involved as most world powers do, Washington preferred to adopt what can be described as an 'anchor states' model for Africa, where all it needed to do to leverage influence was to work directly with a handful of powerful, regional, and subregional actors. This worked almost flawlessly for many years because its supremacy and interest on the continent and perhaps many other parts of the world were seemingly unchallenged. Since the end of the Cold War, the United States had not been caught in the web often as most of its peers due to some of the key decisions it took.
This would have remained the case for a few more decades or even centuries if China did not begin to rear its head at the turn of the millennium. Today, China is arguably the biggest trading partner as far as the African continent is concerned, and with every passing day, it has continued to mount influence, and of course, this is unsettling for the U.S.
Read Also: Expect More Poverty In Africa With Buhari, Museveni Et Al
Today, Africa is rising to become the beautiful bride again. What this portends is that if Africa does not negotiate with tact, wisdom, and foresight, she might make mistakes, which she cannot afford making.
This situation explains why African leaders are now receiving more invitations for 'summits' in recent times than they have ever witnessed. Over the last 24 months, there have been several of them. Last year, there was a China – Africa summit which, according, to the hosts, was aimed at building a stronger community with African leaders with a shared future in a cooperation that will usher in a win-win situation for everyone. A similar event was held earlier this year between France and Africa. This summit was put together to address all the challenges which have risen in recent times with a view of arriving at a new perspective on the relationship between the European erstwhile colonial overlord and the whole of Africa, to offer the new generations a new framework for reflection and action. War-loving Russia has also not been left out. Sometime in the last quarter of last year, it also held its summit that brought over 40 world leaders together under one roof intending to forge new trade and bilateral relationships that could be enduring.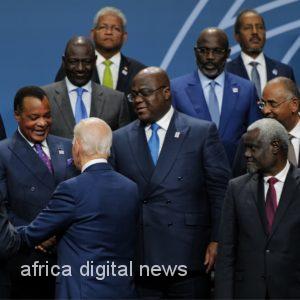 In international relations, it is usual to see countries always go for policies that foster their agenda and drive their interests. However, it is eye-opening that most of these world powers have, by their actions, chosen to treat Africa as a collective entity in their relations with the continent. To them, Africa is one and will remain so. This is not supposed to be so.
Africa is a continent that is perceived by world powers as a reliable supplier of primary raw materials and yet a bastion of underdevelopment. What an irony! However, before one begins to get angry at this insulting mindset, it is pertinent to note that this wouldn't have happened if leaders from the African continent did not play along such a subservient tone for pecuniary benefits. It is important that is clearly well spelled out.
The actions and inactions of these African leaders have pushed world leaders to a point where they now see visiting each African country separately whenever they manage to visit the continent as a waste of time. To begin with, they rarely embark on such trips, and when they do, it is often nothing to write home about.
These realities have opened up the relevance of those summits put together by world powers up for debate. A critical look at the challenges facing African countries will show that no serious efforts are ever made to remedy them during such summits. Apart from serving the selfish interest of the World Power hosting each summit, African leaders benefit nothing besides exposure to the international media which they consider a 'win'.
It is important to state categorically that there is absolutely nothing wrong with the bilateral or multi-lateral relations that currently exist between these countries and Africa. However, what should be emphasised is how mutually beneficial the relationship is. Sadly, most of these relationships are currently being handled in a way that clearly suggests a superior-cum-inferior unequal relationship and this has to change if Africa will ever grow.
To begin with, African countries must insist that they must stop getting treated as a single country outside the continent especially when they attend these summits. They must find a way to drive home their message which is that issues must be treated in line with their peculiarities and that participating countries must be accorded full respect as critical stakeholders.
African leaders must stop attending summits where all they have to do as leaders is to fall over themselves while queuing up for a handshake with the President of the host government after which they are herded into committee rooms to be addressed by ministers or even officers of lower ranks. This has to stop.
Africans must start calling out their leaders when they attend summits which, in the end, turn out to be nothing but mere jamborees with nothing concrete to show for them. Most of the time, millions of dollars in taxpayers money are wasted on these shameful outings and this is not the way to go.
If Africa will change the tide where as a continent, it has no respectable voice speaking to the world when issues pertaining to the world economy and politics is discussed, then it must stand up and declare that enough is enough.
The time has come for African leaders to begin to assert themselves when they are playing on the global stage. They must learn to resist the urge to make moves that have a way of presenting the continent as one that has the tendency to be taken for granted by neo-colonial irredentists and imperialists, and rather insist on relating with countries, regardless of the influence and power they wield, on a strictly bilateral basis and as equals and not as puppets and slaves.
In conclusion, African leaders must understand that the US and the European Union (EU) covet what they could bring to the table. At the moment, the U.S. can do anything to secure Africa's support on the war in Ukraine, reach agreements concerning climate change reduction, and finally, access to rare earth minerals that have never stopped flowing from the continent. African leaders must come to this realisation and, rather than the timidity displayed during such summits, prepare to look world leaders, eye ball to eye ball, and do their best to secure the best deals possible for the continent and its individual countries.