From all indications, it appears there is fire on the Nigerian mountain. Sadly, this fire is not particularly getting the attention it deserves because presently, Nigerians are engrossed in the euphoria and frenzy of political activities. Nigeria is presently witnessing one of the biggest brain drain ever experienced in the African continent and the leaders and citizens alike appear unbothered by this ticking time bomb.
It is difficult to come across any profession in Nigeria that is not currently losing its best brains. With every passing day, countries in Europe, Asia, North America, and the like are opening up new avenues to 'steal' the best hands Nigeria can find leaving the country with 'chaff'. Of the different professions that have been so hit, the medical profession appears the worst hit. The demand for doctors and health professionals in several parts of the world has remained on a steady rise and Nigeria, sadly is paying heavily for it.
The picture is grim. In October this year, the United Kingdom's General Medical Council announced the licensing of a batch of fresh 91 Nigerian-trained doctors within 15 days. This number brought the total number of Nigerian-trained doctors presently practicing in the UK to a staggering 10,387 as of the end of October. To think that this number is only for the UK alone sends shivers down any spine and the numbers are soaring relentlessly.
Read Also: Anyone Coming To Clean Buhari's Mess Should Be Pitied
According to the Nigerian Medical Association, among the 10,387 doctors that recently relocated to the UK are 5,210 associate specialists, 1,837 general practitioners, 2,318 doctors in training, and 1,273 specialists. Asides doctors, other health workers are not left out as they are migrating as rapidly as well. The figures are so high that at the moment, Nigeria has the third-highest number of foreign doctors who reside and work in the UK after India and Pakistan.
Nigerian doctors have continued to 'escape' the country due to the neglect of the sector. When the Buhari administration assumed office in 2015, the Nigerian Medical Association, NMA, reported that Nigeria had 35,000 doctors out of the 237,000 required to serve a population of about 180 million then. Less than eight years later, the number of doctors available in our health system dropped to 24,000 while the population rose to an estimated 211 million. This has in turn made the doctors to patient ratio in Nigeria to be 1:10,000 as against the WHO recommendation of 1:1,000. The worrying part of this is that the numbers are getting messier every day.
In clear terms, the signs that Nigeria is heading for trouble are clearly visible to those who care to see. Already, the number of doctors writing postgraduate fellowship exams has fallen drastically. During the last exam organised by the body, only four of the centres of the National Postgraduate Medical College of Nigeria (NPMCN) across the nation were used for the computer-based postgraduate fellowship examinations due to what was described as a 'marked decline' in applications for the fellowship. Again, resident doctors and other health workers are now being asked to work more hours and suspend or cancel their vacations over shortage of manpower. The situation is dire.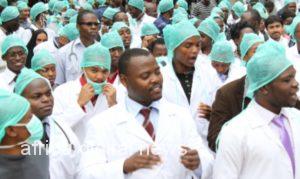 But who do we blame for all this? The answer is simple – President Muhammadu Buhari. Despite promising to revamp the country's healthcare system during his electioneering campaigns, the healthcare sector under him has been nothing short of an abysmal failure. To begin, he doesn't even believe in Nigerian doctors or its health facilities. This explains why for over seven years, he couldn't fix one hospital or healthcare facility to which he could submit himself for his routine medical checks. He preferred to constantly put Nigeria up for ridicule in the international community. His constant foreign medical trips were nothing but a symptom of a National malady. When leaders don't lead by example, why wouldn't their citizens do the same? It is not surprising that under Buhari, Nigeria lost the highest number of doctors to the UK than it has ever done under any Nigerian President.
To further compound these issues, despite these glaring problems, facing the sector, Buhari's sycophantic Ministers have continued to insist that all is well with the country. Buhari's Health Minister, Dr. Osagie Ehanire has continued to maintain that Nigeria currently has enough medical doctors. To him, the number of doctors leaving Nigeria is less than 1,000 and Nigeria produces up to 2,000 or 3,000 doctors every year. Obviously, he is not the only one living in this fool's paradise. His predecessor in office, Isaac Adewole, also shared the same thoughts in 2018. These absurdities leave one wondering who is more inept, incompetent, and completely bereft of ideas between Buhari and his ministers.
Why will a country be losing upwards of a thousand out of 2000 or 3000 doctors it produces yearly and not be worried? How should this be happening when the doctor-to-patient ratio in Nigeria is one doctor to over 10,000 Nigerians? How can a country with such a debilitating record be found exporting doctors like crude oil and its health administrators are at home with it?
To further buttress the gravity of the situation, statistics obtained from the Joint Admissions and Matriculation Board show that the quota for medicine, pharmacy, and health sciences in all of Nigeria's institutions in this year's exams was just 39,850. Out of this figure, only 33,671 were admitted to Nigerian universities in 2022. The truth is that a crisis is staring Nigeria in the face and Buhari and his Ministers must understand that having a problem of shortage of medical personnel is bad enough, but denying that the problem exists is far worse.
President Buhari and the current All Progressives Congress (APC) government must understand that Nigeria has already accumulated so many problems and becoming a doctorless society would be stretching it too far. A look at the foreign reserves will show that at the moment, Nigeria can not afford to import doctors from Asia, Europe, and North America. In fact, if Nigeria ever gets to that point, it will come at a price because healthcare workers are easily the most in-demand professionals globally. Nigeria can definitely not afford it and that is the truth. This must be treated as a national emergency and the government of the day must do everything possible to stem this tide before it becomes too late.
In conclusion, apart from the fact that President Buhari and his cohorts are evidently on their way out of power, Nigerians also appear to have already lost hope in them as far as the healthcare system is concerned. What this means is that Nigerians must now shift their attention to the need to elect leaders who have the mindset to revive the ailing health system in the country. This is the only way the ugly trend can be reversed. Adequately equipping public hospitals in the country and offering competitive welfare packages to doctors and other health sector workers can stop and reverse the exoduses. Nigerians must look towards leaders who are committed to restructuring the Nigerian political system to reduce the hold that the federal government has on the country's healthcare system. Nigerians must take this very seriously because of this bomb implodes, a greater percentage of them will pay the heavy price and this of course does not include the elite class and rampaging politicians.