With every passing day, the New York Learning Hub is taking bold steps and making gigantic moves that is fast positioning it as a higher institution of unconventional training in the United States. The Learning Hub which has witnessed exponential growth in such a short time appears prepared to make the sky its starting point. 
In this interview, Africa Digital News, New York caught up with the brain behind most of these successes, Mr. Ugo Reginald Nwamara who is the Business Development Director/Facilitator of the institution.
Mr. Nwamara is a highly sought-after administrator and business executive who has managed to build a solid reputation for himself as far as business growth, public relations, advertising, and strategic management are concerned. Working in tandem with the torch-bearer and founder of this institution, Prof. MarkAnthony Nze has further exposed Mr. Nwamara to endless possibilities that have managed to give the institution a foundation that is set to outlive them and many generations.
Read Also: Unveiling New York Learning Hub's Accelerated Programmes
In this interview, he speaks to us about the journey so far with the New York Learning Hub and what the prospects and possibilities are. We sincerely appreciate you for finding time to speak to us.
ADN, New York: Can we meet you?
Reginald Ugochukwu Nwamara: My name is Reginald Nwamara Ugochukwu. I am the Business Development Director for New York Learning Hub, and a senior information system analyst for Geico Insurance USA.
ADN, New York: As the Business Development Director of this institution, what are those challenges you've encountered and how are you surmounting them?
Reginald Ugochukwu Nwamara:  As the Business Development Director, the major challenges I have faced are basically around these 3 sets of people;
The interested students: They are those who understand what it means to grab opportunities that come their way in form of academic qualifications, with the hope of greater achievement, the problem is – I have to be ready to answer their questions as long as they are not satisfied.
The career-distracted students: These are the set of students I have to deal with when it comes to making choices on which course to get into or how it relates to what they have done before. Most times they tend to give up
The unconvinced parents/guardians/students: I have been in contact with parents of interested students who want to be sure that NYLH is not a scam. They have very brilliant family members or friends they want to help or they actually want to enroll but they are not fully convinced of the UNCONVENTIONAL METHODOLOGY, deployed by NYLH. They tend to relate their experiences with online classes or trainings and in most cases, they give suggestions on how they would prefer things to be done, which I will now have to bring in clarity from NYLH perspective.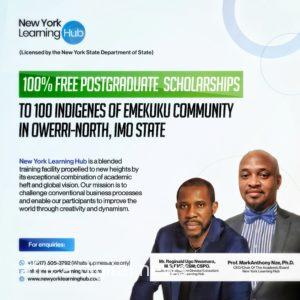 ADN, New York: Do you have scholarships? Tell us about them.
Reginald Ugochukwu Nwamara:  Yes, we have scholarships on various levels and stages. Earlier last month we just concluded our 50% off scholarship on all courses.
We do have courses like:
1. Corporate Social Responsibility
2. Principles And Practice of Digital Journalism
3. Understanding English Communication In Business
which are free for the lecture for 3 to 6 months.
we also designed a community youth empowerment package which allows some communities like Emekuku in Owerri-North L.G.A to place their graduates on PGD scholarships or the complete Master's and doctorate programmes. Every educational-conscious community should key into it and improve the academic profile of the youths in their community.
ADN, New York: Where do you see the New York Learning Hub in 5 years?
Reginald Ugochukwu Nwamara: NYLH is geared towards competing with the best business schools in the world. In 5 years we are looking at creating consciousness around the whole world.
First, we must maintain our standards and design a strategy that will strategically elevate us to the top for others to learn from.
ADN, New York: What advice do you have for that person reading this on the Internet right now that is still confused on the choice of career in life?
Reginald Ugochukwu Nwamara: For someone who is just getting to know about NYLH, I advise them to get involved. Some people put forward the issue of finance, but money has never been the issue. The biggest problem is the right information and the right choice. I do assist interested students to break the bond of confusion, make a choice and run with it. With the way things are opening up for NYLH , whoever doesn't join us now, will rush to beg for a seat in the coming months.
ADN, New York: Any final words?
Reginald Ugochukwu Nwamara: We are here to solve problems, to bridge a gap, and to connect students to the utmost reality which doesn't come their way after several years in the regular universities of these days . NYLH is first, a business school and we truly mean business!
ADN, New York: Thanks for speaking to us today.
Reginald Ugochukwu Nwamara: The pleasure is mine.