It is time to bully the bully. The world can no longer continue to watch President Vladimir Putin throw his weight around while subjecting the world to unimaginable difficulties. There has to be an end to the whole charade and the time is now.
Today Putin's Russia has become a big threat to the entire world order and with every passing day, the possibility of witnessing a Third World War which was once assumed unthinkable is now being seriously considered a possibility by diplomats thanks to the man who thinks through his ego. Following the invasion of Ukraine in February this year and the economic disruptions it unleashed on a world that was already on its knees, struggling to find its feet from the devastation of the COVID-19 pandemic, the last thing the world was prepared for was to see Russia issuing threats to deploy nuclear weapons just to win an unwinnable war.
Last week, a series of well-calculated drone attacks deep inside Russian territory by the fearless Ukraine military was quickly followed by a horrifying barrage of missiles that were mainly targeted at Ukrainian infrastructure by Russia to send a clear message that the 10-month-old war was now fully ready to escalate. According to very credible reports, over 70 missiles were fired by Russia even as it launched airstrikes against mainly civilian targets as it intensified efforts to devastate its neighbour's territory. Evidently, peace initiatives by the United Nations and other interested parties do not appear positive as the world continues to search for ways of ending the carnage.
Read Also: Putin Set To Host Talks Between Rivals Azerbaijan, Armenia
The effects of the war have been devastating and despite the horrendous losses, the world cannot give up. In terms of human losses, according to the President of Ukraine, Volodymyr Zelenskyy, between 10,000 and 13,000 Ukrainian soldiers have been lost so far to the war. For the Russian side, the BBC estimates that no fewer than 9,311 soldiers have died. This figure includes about 4 generals and 47 colonels. The US army believes that no fewer than 100,000 soldiers have either been killed or severely wounded combined on both sides. US figures also indicate that between 15 million and 30 million Ukrainian citizens have been displaced while 40,000 civilians in Ukraine have paid the supreme price. These figures paint a gory picture of how one man's ego has forced many to their untimely graves and changed the lives of millions of others forever!
On the economic front, the war has been nothing short of a generational calamity. Ever since Putin ordered his men to invade Ukraine on the 24th of February this year, the economic consequences have been seismic on the entire world, spreading well beyond Russia and Ukraine to afflict a world grappling to climb out of the COVID-19-induced recession. According to Library Services' database of the London School of Economics,  by mid-November (last month), the global economy had been negatively impacted to the tune of $1.5 trillion by the war. This figure represents about 1.0% of the global GDP in the year 2022. The economic disruptions have left many countries around the world gnashing their teeth and paying heavy prices over what they knew nothing about. It has to stop.
All of these harsh realities were very obvious as soon as the war started, but despite the failure of his vision of an easy win over his smaller neighbour, Putin's obstinacy in continuing the unnecessary aggression in the Ukrainian territory has continued to grow. He has been increasingly intensifying in his efforts to achieve this goal despite being hindered by the ferocious opposition of the army and people of Ukraine.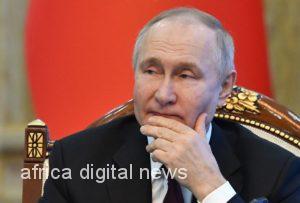 The war will have ended with Ukrainian annihilation save for their resilience. Their grit and ingenuity was on full display just last week when they used outdated Russian-made drones to attack air bases (one 600 kilometres within Russian territory) that left heavy casualties on the Russians. The results were so devastating that Putin's forces had to increase their missile attacks on buildings and infrastructure in retaliation, launching at least 70 missiles at various Ukrainian cities in the process.
Following a successful counter-offensive by the Ukrainians in a few weeks ago which saw the recovery of over 500 settlements and 12,000 square kilometres of territory in the Kharkiv region, Putin has literally gone mad and desperate. He has now drifted into what the European Union (EU) refers to as terror mode. Since then, Russia has been making sure it rains down bombs daily on innocent Ukrainian civilians while taking many of them hostage in the process. Following the loss of Kherson, Putin has simply gone on a deliberate blistering earth campaign ensuring that every critical infrastructure from electricity, water, communications, and major roads are not spared. The world cannot continue to watch this madness helplessly.
Putin's deliberate and well-targeted attacks on Ukraine's infrastructure can pass for crimes against humanity because from every indication, his calculation is to freeze them into submission as winter sets in. Several cities in the country are currently without electricity and at risk of being frozen to death. The world cannot sit back and watch Putin weaponise winter. The coordinated attacks on critical infrastructure must stop.
The reality of today is that all the efforts made to find a middle ground and broker peace between the two sides have failed because Putin's ego is at stake and Ukraine is not ready to submit and become perpetual slaves. Despite this fact, the world cannot sit back and watch the war go on unabated. The United Nations will need to do more to end the war. Already, US president, Joe Biden has made a strong case for a truce that Russia is not prepared to accept. Biden is doing this because he is sadly aware that the Ukrainian resistance has been fuelled by the fact that the US and its allies have continued to encourage the conflict by arming Ukraine. In November, the amount of aid that has been provided by the US to Ukraine rose to $68 billion and already, Biden has requested the US Congress to authorise a fresh $37.7 billion for the Ukrainians. For the Europeans, €19.7 billion has been expended with a promise to spend a further €18 billion in 2023. These are funds that will have gone into helping helpless citizens overcome the harsh economic realities in these countries. This has to stop.
At this juncture, the world must innovate and find other ways of mounting pressure on both sides in the conflict to bring this needless war to an end and bring the negative effects it has inflicted on other parts of the world to an end.
It is good that in recent days, Putin has backpedaled on his earlier threats to go nuclear, however, his megalomania is an indication that nothing is guaranteed. This is shown in the way and manner in which he has continued to attack nuclear power stations just to regain control of several territories. The world must understand this danger and act fast.
As a way of ending this, the world must find a way of getting China which is one of the key members of the UN Security Council that is allied with Russia to persuade and appeal to Putin to de-escalate. China must be made to understand that having to battle turbulent financial markets, unaccustomed slow growth, and a rare threat to the authority of the Communist Party, it can no longer afford to continue to give tacit support to the war by encouraging it. China must be made to move very far away from its moderate hints of disapproval to outrightly issuing a strong rebuke to Putin and Russia's leadership.
Another thing that must be done is that the two pariah states of Iran and North Korea who have continued to constitute mischief by supplying Russia with weapons must be decisively dealt with. These countries have continued to fuel the conflict in furtherance of their permanent hostility against the US and any of its allies. The world must find a way of dissuading them from any further support by tightening the sanctions on them.
Finally, everyone must understand that the earlier this war ends, the better for the world. The level of the devastation inflicted on every country involved in the global supply chain is unimaginable. Forcing Putin to truce should be everyone's target and every world power must be ready to do everything possible to bring the senseless war to an end to save humanity.