The disgrace and shame are no longer local, it is now international. A few days ago, the presidential candidate of the All Progressives Congress (APC), Bola Ahmed Tinubu was in London. Quite strangely, this time, his purpose in the United Kingdom was not to hold endless nocturnal meetings with aggrieved opposition Governors or to go for routine medical check-ups or treatments. No, this time he was in London to disgrace Nigeria on the international scene.
As the candidate of the ruling party, Tinubu quite understood the stakes and what holding an engagement session at Chatham House, London meant. But Tinubu and his handlers did not care. They went there and did it anyways. The good thing, however, is that session ostensibly took him farther away from Aso Rock.
For starters, the Chatham House is the Royal Institute of International Affairs which is the equivalent of the Nigerian Institute for International Affairs (NIIA). The institute is a top-rated elite Policy House where many people who are aspiring to be leaders in their state or country, so to speak, go for British screening and some sort of endorsement. Over the years, Chatham House has managed to build for itself a reputation for independent interrogation of governments, individuals, and societies. This explains why Tinubu and his handlers chose to be in London while other Presidential candidates were back home facing independent Nigerian journalists in a town hall meeting.
Read Also: You Can't Force Me Into Debates – Tinubu Blasts Atiku, Obi
Since the commencement of the current campaign season, Tinubu has made it a habit to consistently avoid media engagement with Nigerian media firms. His handlers have often propounded different kinds of senseless theories to explain the reasons for this obvious anomaly. The APC has continued to insist that Tinubu was evading the media because he wants to speak to Nigerians directly and not through TV screens. The APC often conveniently forgets the fact that millions of people are always glued to their TV screens compared to the few thousand people the party manages to hire for campaign rallies. That said, it was rather ironical, hypocritical, or both that the same Tinubu who made those petty insinuations has no issues with facing another set of media audiences in the United Kingdom.
To further complicate issues, Tinubu attacked Nigerian media firms by implying that they were extortionists. He claimed that his major reason for snubbing Nigerian media houses was because they want to make money off him and he has consistently rejected that. Tinubu has consistently used every available opportunity to unleash vitriol on the Nigerian media, his foot soldiers go for interviews combat-ready to bully journalists and his online urchins are always available on social media to cyberbully anyone with a contrary opinion. All this simply points to a man who has nothing to offer Nigeria and Nigerians.
Prior to the much-touted lecture at Chatham House, many Nigerians had high hopes. It was assumed that it was a wonderful opportunity for Tinubu to finally come clean with the Nigerian people by providing clear and concise answers on matters concerning his age, state of health, criminal past, educational background, etc that have been shrouded in deep controversies. Alas, this set of Nigerians were left disappointed as Tinubu was not willing to set anything straight. One thing Tinubu has failed to come to terms with is that despite Nigeria's sleazy reputation in the world, none of her leaders in history both military or civilian had a background as shady as he currently does.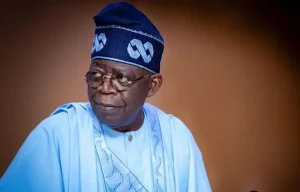 From all available facts, the only thing one can attribute to Tinubu or anything that can be related to him is a borrowed robe. Despite all the allegations flying around against him, he has not openly come out to effectively disclaim the allegation that the name he currently bears is not his name; that the parents and family he claimed were not his; that the certificates he claimed to be his are not and that the schools and institutions he always claimed to have attended, have either denied him or failed to confirm his attendance. The question on the minds of many Nigerians is; what sort of baggage is bigger than this for a country like Nigeria which has obviously continued to struggle to sell itself to the world, to now have its president burdened by this pernicious antecedents? Do Nigerians really understand the implications of a Tinubu Presidency?
Perhaps, the only thing that went positive for Tinubu and his handlers was rather than adding to his long list of well-circulated gaffes which are now almost unavoidable anytime he speaks, Tinubu opted to take the easy way out of the situation by making his homies and surrogates answer questions for him during the charade. And despite taking that funny route, there was nothing special in terms of cognate capacity among those he nominated to help him find answers to the questions posed to him. None of the Tinubu responders is a specialist in the areas they spoke about. That is why none of them actually mentioned anything spectacular by way of deeper-than-ordinary and common knowledge or insight on the issues.
Many Nigerians were not just disappointed that Tinubu was handing down important questions about his future policies to his so-called team of minions to answer, it got even worse when he called on Kaduna State governor, Nasir El-Rufai, to provide answers to the questions on security. This was a governor that has sat down quietly watching helplessly while terrorists killed over 400 people in his state in the span of six months.
It was such a shameful outing that even when Tinubu deferred to answer himself at some point during the shenanigans, he had to read his answers (including his date of birth) from hurriedly scribbled notes which were handed to him by his handlers all in the full glare of a global audience! What excuse does APC's litany of propagandists and spinners have to explain away the actions of a man who had to read his own Date of Birth from a slip of paper handed to him? How can a sick Nigeria be handed down to such a man?
The experience at the Chatham House clearly highlights in no small measure one incontrovertible fact and that is that Bola Ahmed Tinubu does not have the mental, physical and emotional capacity to occupy the exalted office of the President of the Federal Republic of Nigeria. As clearly stated in the grossly Nigerian Constitution, anyone adjudged… 'or otherwise declared to be of unsound mind.' cannot be elected to lead Nigeria. Evidentially, Tinubu has remained consistent in his display of various signs that show that he lacks the presence of mind to undertake such a task.
The most mis-recommending factor standing against a Tinubu presidency is that, in mental depth, the Landlord of Lagos is just a whiff higher than that of the incumbent President, Muhammadu Buhari. Remove the cockney accent he feebly mimics, you will find out that most times, his extempore speeches lack coherence, logic, and verve. Needless to say that Nigerians who are expecting a change from the status quo should not even have Tinubu in the conversation because there is nothing on the ground to suggest that difference between Tinubu and Buhari is not six and half a dozen.
In conclusion, Nigerians must get used to the fact that with the calamity that the Buhari presidency has sunk Nigeria into, it will be more cataclysmic to have a Tinubu succeed him. Governing Nigeria is beyond identifying surrogates who will man juicy political offices for future political gains. What Nigeria needs at this time is a cerebral, comparatively morally overboard, healthy, and emotionally intelligent president that will steer it out of its current mess by deliberately pushing for restructuring it to make it more efficient.