Today, dark clouds hang over the educational system in Nigeria. It's on the verge of collapse and the managers of the sector are standing hands with Akimbo waiting for the evil day. The leaders in the country are bereft of ideas or worse still, lack the political will to implement them and the whole country is fast headed to a life-swallowing ditch on a fast lane, who will save the Nigerian educational system?
Over the past few decades, the quality of education offered in Nigerian public tertiary education has become an eyesore. Year after year, the degeneration has remained consistent and competitive with preceding years. The current All Progressives Congress (APC) led government more than any other government seems the most determined to bury the sector despite the small flashes of resilience on display.
Sometime in 1986, and then again in 1999, controversial Nobel laureate Wole Soyinka received all manners of flaks when he made a case for the closure of Nigerian universities 'for between one and two years to enable the authorities to address the many problems facing tertiary institutions in the country.' Today, even people who had attacked his proposal at the time as being too radical now take his basic point that the system requires an infusion of new ideas to rejuvenate it. By every standard, the reality on the ground suggests that more than a two-year closure is required to make anything out of the Nigerian tertiary education system.
Read Also: The Flaws In Our Educational System; Whose Fault?
Today, a visit to the orientation camps of the National Youth Service Corps (NYSC) will leave any sane mind in tatters at the products of the Nigerian tertiary education system. A large chunk of the students will meet there do not show even the slightest sign of basic education and these are supposed to be degree holders and graduates. The story is horrible and filled with mind-numbing stench.
The National Bureau of Statistics has continued to brandish unemployment statistics every year. What they have however failed to clearly come openly to tell Nigerians is the number of these millions of unemployed Nigerians who are 'employable'. It will shock Nigerians to their marrows when they find out the number of expatriates working in Nigeria as a result of unskilled manpower in Nigeria. Year in, year out, Nigeria has continued to churn out thousands, if not millions of half-baked and in some cases, 'unbaked' graduates into the labour market and this has continued to leave far-reaching implications on the market.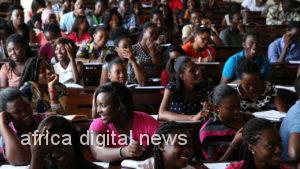 Today, employers in Nigeria are often frustrated and left in horrible states when there is a need to make recruitments. In fact, a large chunk of university grad­uates from Nigerian higher institutions can hardly be touched with a 10-metre pole by se­rious-minded employers. Upon pushing out job adverts, thousands of CV's will swarm them only for them to embark on the tedious job of sorting and going through them only to end up with chaff. This has pushed many HR professionals to settle for less thereby impeding the growth of their firms and making them unproductive. Many companies and firms in Nigeria have been pushed out of business simply because they could only find quacks in the labour market when they need to hire the best brains to move them forward. The story is pathetic, to say the least.
To be clear, it is not only the Nigerian educational system that has failed. In fact that Nigeria has failed as a state is no longer a subject for debate, having emerged as the global poverty capital, and playing host to two of the world's top four most deadly terrorist organisations, with three-quarters of the constituent components (South and Middle-Belt) seeking urgent extrication by way of a referendum from what has become a union of death. The failure of the educational system is only but a symptom of this failure.
For the very rich and influential in Nigeria, they have simply given up on the Nigerian educational system for their children's dedication. For their children's education, they simply settle for schools in Europe and North America, or at worst schools in other educational African countries. Currently, an estimated 75,000 Nigerian students attend universities across Ghana, contributing millions of dollars annually to the Ghanaian economy. How are the mighty fallen?
The reasons for this terrible trend are too numerous to mention, they include poor quality training with many hav­ing low content knowledge of their teaching subjects. Low level of remuneration, leading to low enthusiasm for teaching and discourag­ing optimal performance on the job. Mismatch of teach­ing course with the course assigned to teach in school, lack of interest in teaching as a profession, weak capaci­ty in using exciting teaching strategies to boost academ­ic performance of students. Poor attitude to schoolwork on the part of students as they look forward to cut­ting corners to pass, and negative mindset about the value of education owing to employment difficulties after graduation. All these problems are being fuelled by the fact that there is a big disdain for education in the country.
The current All Progressives Congress (APC) led government in Nigeria does not simply care. Perhaps, this is because the country is led by educationally backward individuals who do not value it. For them, education is not a priority, and that is the truth.
Nigerians must understand the situation and immediately rise to demand the best from their country. If Nigeria can build and equip her schools to meet inter­national standards and be learner-friendly; train a new breed of 21st-century instructors who are steeped in the use of modern methods of instruction and are at the cutting edge of knowledge in their subject matter; provide a curricula running from basic through higher educa­tion that will lead students to develop 21st-century skills and make them acquire val­ues of good citizenship, nothing will stop the country from doing a U-turn and moving on to claim their rightful place in the comity of nations.
In conclusion, Nigeria is sitting on a time bomb. If nothing is done about the rapid degeneration of the educational system in the country, the country might just be on its way to an imminent implosion. Poverty, insecurity, bad governance, crime, and social vices are all products of poor educational standards. Nigeria cannot continue to head down this slippery slope because the consequences will be devastating!