The FIFA World Cup is perhaps the most complex sporting event at the international level. Every four years, it draws an intimidating number of visitors, media attention, and a global spotlight. This year, the tournament is being hosted by Qatar, which is perhaps the smallest nation to have had that privilege. Interestingly, Qatar's hosting of the FIFA world cup has brought about what is arguably the highest controversy around a host country for any football event.
With a size of 4,471 square miles, Qatar is a country sitting on a barren sandy plain where most of its 2.8 million residents reside in areas around the capital city of Doha. In 2010, it won the race to host this year's world cup tournament, and this reality has become an interesting one twelve years later.
When it managed to secure hosting rights, many of the stadia, facilities, hotels, and amenities needed to successfully host the tournament were not present in the country because it did not have a football tradition prior to that. With this in mind, Qatar converted its massive migrant population to labourers amid a barrage of criticisms.
So far, Qatar has spent over $200 Billion on the tournament. From every indication, the government in Doha is fully aware that there is no way it will make such a huge fortune as returns from hosting the highly-rated tournament but it is satisfied with just boosting the image of the country and making a statement.
Read Also: London: Transport Network Blocks Qatar Ads Over LGBTQ
In the build-up to the tournament, Qatar was heavily criticised and scrutinised for issues bothering its political system, culture, condition of workers, etc. The truth is that while most of the claims on the conditions of workers were very valid and legitimate, some of the criticism lashed out at the small country had traces of bias.
This is not in any way trying to downplay some of the ugly human rights records already established against Qatar.
However, the coverage by foreign media have been hypocritical. Let's consider some examples.
After Russia won the race to host the FIFA World Cup in 2018 and then went on to successfully conduct the event, no one remembered their human rights violations, labour abuses, and other deficiencies. No one discussed the fact that the Russian government has a strong anti-LGBT stance. Again, when China in 2008 hosted the Olympics, they were not scrutinized that much. If all these happened back then, why is Qatar being treated differently today?
Qatar on its part has made some changes to adjust its posture to some of these issues. A few months ago, the head of the Qatar World Cup project, Nasser al-Khater was asked whether gay couples can hold hands in public and his answer was a 'yes'. In addition, Qatari officials just recently even stated that fans will be allowed to drink alcohol.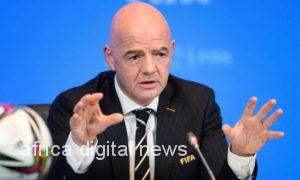 Despite the fact that Qatar has partially permitted alcohol and made a commitment to respect gay couples' privacy during the course of the tournament, the Qatari government is, to date, still under intense criticism from the media and human rights organisations who have completely continued to push this message.
While the Arab nation took a step back on some of these issues, the 'other side' of the divide has continued to demand more while disregarding the values of Qatar's religion and culture. Although none of the three countries—France, China, Russia —are Muslim, they all imposed similar limitations at different points in time, and there was no media backlash. How fair has the world been in this instance?
The assertion that Western media sources have an Orientalist bias toward Qatar hosting the top football organisation is not false given the extensive anti-Qatari coverage so far. In addition to being in the south, Qatar is an Arab and Muslim nation and this is something many people do not clearly understand. The ongoing hostility to Qatar appears to be a chance to denigrate Arab and Muslim traditions rather than criticism for the cause of human rights. Because alcohol and LGBT acts are prohibited by Islam and other major world faiths, they are definitely illegal in Qatar and several other Muslim nations. There is nothing new about these things, so what are the arguments really about?
From every indication, it appears that some groups of people mostly from the west clearly have an agenda different from enjoying the football tournament as they always do every four years. What this agenda is, is yet to be unraveled but the constant hitting out on Qatar leaves so much to be desired. The implication here is that many months or years after the completion of the ongoing tournament, Qatar will continue to battle demonising campaigns because of these issues which are not peculiar to them.
Again, there is nothing new happening in Qatar now that wasn't happening before now. None of these happenings are recent. They were all there for donkey years, and journalists have always had the chance to visit Qatar and draw attention to these problems as much as they like. Why they didn't do so before now will leave every conscientious wondering why now and why Qatar.
It is evident that the West travelled out to Qatar with one intent – to showcase the cultural hegemony of that small country, self-flaunt herself as a mascot of everything good, and a self-appointed spokesperson for humanity.
Every action so far taken points to this and this is something that must stop.
Despite being an elitist European himself, Gianni Infantino who is in charge of perhaps one of the most exploitative and corrupt sports organisations on the planet, a fortnight ago took out time to lambast the West for what he described as colonialism and imperialism.
While the world is encouraged to continue to call out Qatar over the dignity and compensation for migrant workers who suffered damages in the build-up to the tournament, a line has to be drawn somewhere, and this is not something the West should decide.
Finally, as the saying goes, look in the mirror before you judge others. The West must take this advice and save the world from the embarrassment of these hypocritical actions. Respect for people and their many cultures is something we must all learn and become practical about it. As the proverbial saying goes, 'when you get to Rome, behave as the Romans'.