Mr. Godwin Emefiele is without any argument the worst central bank governor Nigeria has ever had. Over the last eight years, he has plunged the Naira into an unprecedented fall with his insanely clueless monetary policies which have left Africa's most populous country on her knees, made her the poverty capital of the world, and deepened the misery of her citizens. 
Nigerians won't be having it this bad if they didn't have a stooge as the head of their apex bank and the fact that he has escaped being fired despite his open sabotage against the Nigerian economy tells a painful story of how rotten Nigeria has become.
Emefiele inherited the Naira at N155 to $1, and today the currency is on a free fall as it hovers around N900 to $1. The living standard of Nigerians has continued to get worse, and nobody is providing answers or getting sacked.
The CBN Governor, Godwin Emefiele, is an embodiment of all that is wrong with Nigeria. Every decision he has continued to take ever since he took office gives him off as a mind-blowingly self-serving, infernally incompetent, incomprehensibly clueless, foolishly over-ambitious, and cruelly insensitive human.
Read Also: Naira Needs Redecimalisation Not CBN's Clueless Redesigning
Sometimes, some of his actions leave analysts wondering if he is who he claims to be. In 2021, it was painful to see Emefiele who should have a more intimate and rarefied knowledge of Nigeria's monetary policy than anyone stupidly conclude that the value of the naira was in an inexorably downward spiral at that time because a Nigerian-owned UK-based website called AbokiFX was publishing the black-market foreign exchange rates of the naira. To further buttress his stupidity, Emefiele even offered at that time to engage in physical combat with Oniwinde Adedotun, the owner of AbokiFX, so the value of the naira could rise again! This is surely not the statement of a normal human being whose judgement anyone should trust and who can be defended against absurdist intentions.
Emefiele has, over the years, continued to thrive in ignorance and glorify small-mindedness. If he is not banning crypto, he is blocking the accounts of protesters. If he is not engaging in stamp duty controversies, he is plotting the design of the Naira. Every decision he has taken since he assumed office has done nothing but plunge Nigerians into misery and pain. In the midst of all this, the sad reality is that Emefiele is merely a stooge for his Fulani slave masters who have further compounded his woes.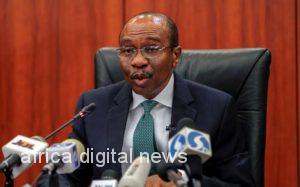 This year, many Nigerians were befuddled when in an unexampled, norm-bending fatuousness, Emefiele openly became politically partisan. While still holding sway as a supposedly apolitical CBN governor, he unsuccessfully made a bold attempt to be Nigeria's President! This can only happen in Nigeria! That move perhaps displaced the level of impunity Emefiele has been running the CBN with ever since he got into office.
A few years ago, Nigerians were taken aback when the report of how Emefiele failed to investigate how Alhaji Isa Funtua, a close ally of President Muhammadu Buhari, acquired Keystone Bank and 9Mobile (formerly Etisalat) through very fraudulent means. The details were dirty, and the tales were sordid. There was no reaction from Emefiele or the presidency and as usual, under the inept Buhari administration, nobody was punished. What many Nigerians failed to understand was that Emefiele was and has always been an errand boy. To be clear, the Buhari administration renewed his term, precisely because of the questionable deal he struck with the late Ismaila Isa Funtua and other members of the Aso Rock cabal.
It is common knowledge that holding a political position in the Nigerian government never serves any purpose other than self-aggrandisement, self-enrichment, entrepreneurism, and this explains why Emefiele has remained a willing tool in the hands of the Fulani Oligarchy.
If he had some degree of conscience in him, Emefiele would have long thrown in the towel and not been used as a weapon of oppression on innocent Nigerians whose lacerated backs continue to be badly ridden by the heartless Nigerian establishment.
A fortnight ago, Emefiele reappeared in the news, this time, it was to announce a decision to redesign the Naira. He listed the need to combat terrorism and banditry as well as the desire to regain monetary control of the Nigerian currency as his reasons. As beautiful and promising as this sounds, this was not his reason for announcing such as move on the eve of an election in which his party – the APC was contesting.
Many Nigerians were not paying attention when, sometime this year, Buhari appointed Ahmed Halilu, the older brother of his wife, Aisha, as the Head of the Nigerian Security Printing and Minting, which is responsible for the printing of Nigeria's currencies, passports, and other important official documents. Halilu was first quietly appointed as one of only two executive directors at the Nigerian Security Printing and Minting in around November 2019 when Nigerians appeared not to be paying attention. Despite the fact that these appointments were characterised by nepotism, and considering the fact that appointments into such sensitive positions shouldn't be shrouded in secrecy, Nigerians either didn't care or were too overwhelmed to react. Buhari got away with this and just in September this year, he went ahead to promote Halilu from an executive director of Nigeria's currency printing to the head of the government-owned company.
What has been happening ever since is that the grossly ineffective Emefiele has remained a pawn in the hands of the Aso rock cabal just to continue to partake in the sleaze. How then are Nigerians shouting to the rooftops to defend the clueless Naira redesign policy? Can't they see that it is just a move to steal and stash enough new currencies even before the new currencies hit the vaults? Can't Nigerians connect the dots?
Finally, for Emefiele and his likes, it is important to remember posterity. By not standing with the Nigerian masses whenever it mattered most, he has committed his name to the dustbin of history and nature will judge him harshly.
Resigning from the position should be the best decision he should take at this time to save his battered reputation. For his kind currently serving in the Nigerian Fulani Oligarchy-controlled government, the day of reckoning is coming and nature is taking useful notes.