Having young people take up leadership positions remains a burning desire for many people around the world and particularly in Nigeria. The youths are often seen as the light that empowers the world, especially with their intelligence and creativity. It is, however, very sad that the present Governor of Kogi State, Yahaya Bello has over the years continued to inflict heavy blows on people who hold dear, these desires and aspirations. 
People who hold these beliefs should however not be blamed for the 'Bello mistake' this is because the older generation has actually failed Nigeria and Nigerians by every standard by offering catastrophic leadership in their heydays and often refusing to exit the scene. Talk about chaotic rulers who enjoyed free and quality education with free healthcare services during their youthful age then turn back to consciously sabotage and destroy the system that made it possible for them to be in places of power. So the call to allow young people to replace them is very much in order.
Yes, Yahaya Bello who is incidentally a youth has also failed, just like the old guard, but then again, it is pertinent to understand that he only failed because he has a small mind. Small minds can never successfully achieve big things, It is impossible.
Beyond the smokescreens, everything Bello has depicted, represented, or institionalised as the helmsman in Kogi State over the last 5 years gives a clear picture of the tiny nature of his mind. Frolicking with an army of women and young girls despite officially being married to 3 wives is something small minds do. Making the Kogi State Government House a pilgrimage ground of some sort for all kinds of morally deficient celebrities is something small minds vigorously pursue. Owing salaries and pensions while mindlessly looting the common patrimony of a State is something a conscienceless small mind can brew. It is only a youth that can carefully hide under the shadows of 'youth' to get to power only to metamorphose into a tyrant. Buying SUV cars worth over 30 million Naira for heavily endowed actresses with funds meant for the development of a decrepit Kogi State can only be done by small minds. Is Bello not a small mind?
Read Also: Confused Governor Bello And The Massive Backside Of Etiko
Lately, perhaps the most remarkable exhibition of the small-mindedness of Yahaya in recent times is his penchant for women especially the ones endowed with big backsides. People who regularly visit the Kogi State Government House would tell you how frequently Bello needs them to soothe his libidinal curiosities. To make them readily available, Bello has undertaken to bring them closer to government by even appointing them to key positions, his present ADC exemplifies that.
Some people who don't know Bello have gone to town, guns blazing that Bello is pursuing gender inclusiveness by making those appointments. Those assertions are beyond laughable. How can a man who condoned without consequences the killing of Salome Abuh, women leader of the Peoples Democratic Party (PDP) in Wada Aro Ochadamu Ward in Ofu Local Government Area of the State, during the 2019 elections be pursuing gender balance? In the same 2019 elections, another woman in the person of Natasha Akpoti was viciously attacked and violated by thugs commissioned by Bello simply for seeking election as Governor of Kogi State, how can such a person get the credit? How can a man who habours a commissioner who allegedly raped a young woman in the presence of her 3- year-old son be pursuing gender inclusiveness? Far from it! Bello's gestures have been moved by his uncontrollable quest for pleasure and self-seeking satisfaction from women.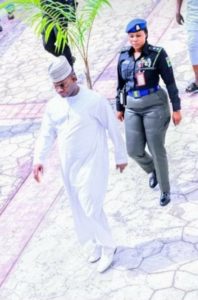 Gov Bello and his ADCToday, Kogi remains one of the poorest states in Nigeria with a high rate of unemployment. Despite the enormous resources in the State, thousands of graduates are roaming the streets without jobs as crime continues to provide an easy way out. Those who even dare strive to be self-employed find it difficult to excel because the environment and its policies do not encourage the idea of self-employment in a State where the government deliberately incapacitates its own people. Such a terribly governed State! Everywhere in Kogi State looks like a countryside except the Government House where Yahaya Bello resides. All these anomalies can only thrive when a small mind is the numero uno.
Bello is not just a slave to his below-the-belt faculties, he is also a slave to self-aggrandisement. On a daily basis, he consciously gets himself drenched in chasing vain glory that typically examples a small boy who hasn't attained mental maturity. Bello and virtually all his aides ride on a fleet of armored vehicles namely; Mercedes Benz G-Wagon, Lexus LX-570, Mercedes Benz S-Class, Toyota Land, and a BMW 7-Series by today's market prices, these cars cost hundreds of millions of naira to acquire. Even with the firm knowledge that Kogi State's allocation is usually too meagre to fund his insatiable appetite for vain luxury, Bello doesn't care, the civil servants can continue to wail in penury while he Bello continues to rub reckless and intimidating Opulence on their gaunt faces. To date, Kogi State Government has acquired a total of about 63 armored vehicles. Comprising of SUVs, Sedans, and Hilux. This has cost the State a whopping sum of 13 Billion Naira. This is more than what the Presidency has spent on vehicles since 2015. How can he sustain this wicked lifestyle and still manage to pay salaries? It's surely an impossible mission.
Governor Yahaya Bello's government has no glamour, dignity, taste, meaning, integrity, empathy, and honour. Yahaya Bello is neither a figure of good leader nor an average one. He is the worst example Nigeria has ever produced. The 'White Lion' as he is fondly called by sycophants is simply a boy who providence and an unjust system inflicted on the innocent people of Kogi State. Every citizen of Kogi State deserves every iota of pity.
Take away the fact Nigeria is a crime scene, Nigerians should be seeing Bello's crazy 2023 presidential bid as what it is, yes, an INSULT. It is an insult to the collective psyche of right-thinking Nigerians to have a small boy who brandishes a small mind to attempt to rule them. Such a boy must be high on Burukutu or Marijuana. But then again, Nigerians are already used to absurdities so Bello can continue to dream and wallow in self-inflicted delusions.
AFRICA DAILY NEWS, NEW YORK