It would be arduous for any sane person to easily come to the terms that today's Imo under Uzodinma has in 19 months received accruals in excess of 140 billion Naira, at least not in a State where salaries and pensions have remained unpaid for over one year, not in a State with a horrible economic space that has seen more and more people plunged into abject poverty, definitely not a State where infrastructure is now in its lowest ebb, surely not in a State that has grown synonymous with every pronounced ill and anomaly in the country, alas, it appears like a dream, but then, it is a stark reality.
It is no longer ink worthy to posit that foisting Uzodinma on innocent Imo people is the biggest carnage yet that the Fulani oligarchy has orchestrated against Ndi Igbo, from the very beginning, Uzodinma was on his way to failure because no one has been able to seamlessly serve two masters at a time; it was surely going to be herculean for Uzodinma to serve his slave masters in Abuja and Imo people at the same time. As foretold, Uzodinma chose Abuja, and Imo has never remained the same, sadly.
From January 14th to this day, Uzodinma has thrown leadership to the dogs in Imo, a State of erudite and highly enlightened people has now become a laughing stock. For a sitting Governor, to publicly confess that the Supreme Court made him Governor via the fraud and forgery 'Ben Johnson Way,' show everyone how bad governance has fallen.
Today, Imo bleeds while Uzodinma blossoms; junketing from one location to another in Abuja; lavishing Imo's common wealth on frivolities has become Uzodinma's new trade mark. Siphoning and looting the common patrimony of Ndi Imo has now become the new normal.
Read Also: Religious Delusion: Can Uzodinma Ever Be Sincere To Himself?
Factually speaking, it is on record that as an oil-producing State, Imo under Uzodinma has received 178 Billion Naira as statutory monthly allocations from the Federal Accounts Allocation Committee (FAAC) in 19 months, under the same period, the State has received figures in excess of 66 billion Naira as Local Government statutory funds which Uzodinma has continued to siphon and fritter away while allowing the rotten Local Government system to gasp for air. Talking about Internally Generated Revenue, Imo has generated over 28 Billion Naira over this period. These figures are obviously excluding the different remittals which have been accruing to the State government over the same period, it is on record that the Economic Financial Crimes Commission (EFCC) has remitted over 2 Billion Naira to the State's coffers as funds recovered from the former Governor of the State, Rochas Okorocha.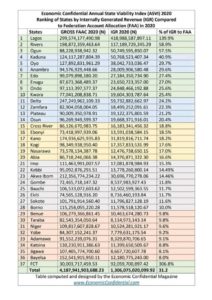 Can Uzodinma account for these monies? Can Uzodinma render accounts as to how he spent over 150 Billion Naira? Can he? As a Governor, Uzodinma runs one of the most opaque financial systems in the country. The little gains the Ihedioha administration made with regards to transparency in governance and enacting institutions to checkmate corruption have been watered down by the corruption patron. Under Uzodinma, the accountability has been relegated to the trash cans and dustbins. It is that bad.
Perhaps, it is slightly not so surprising that Uzodinma has squandered this amount of funds in less than two years, yes, when one considers the fact that he has travelled out of the State on a whopping number of 73 times in just 19 months, surely it would present an idea. Travelling aboard chartered private jets as Uzodinma does is definitely something private billionaires do. Hiring a private jet for a single trip by today's exchange rates shouldn't be costing anything less than 10 million Naira, you can do the math! Uzodinma lodges in different 5-star hotels in Abuja attending to his numerous concubines and attending APC functions at Imo's expense while the Eastern heartland groans under acute maladministration. It is simply painful, to say the least.
Under Uzodinma, despite the humongous funds available to the State, Imo State is the State with the 3rd worst road infrastructure in the entire country! Just a simple google search would quench your curiosity. Most roads in the State have now become death traps where Ndi Imo are subjected to all manners of inhumanity despite being an oil-producing State. Asides the few roads in the heart of Owerri which were commenced by the previous administration, Uzodinma barely knows what the constructions of durable roads possibly mean, as the 'Government of shared prosperity' what his Government has rather been is the government of shared agony to Ndi Imo. Who did Ndi Imo offend?
It is rather baffling how a State with such an amount of monthly allocations has remained negative on virtually all performance indexes. The ease of doing businesses has crumbled in the State under Uzodinma to the extent that investors don't even mention Imo when considering investment destinations, who would want to bring investments to a State where the siting Governor openly admitted publicly that he invited the military into Imo State to aggravate and exacerbate the little civil strife in Orlu area of the State which has kept Imo in a turmoil till date? Nobody would do that certainly.
This clearly explains why today's Imo is the State with the worst unemployment numbers in the entire south east. How does Uzodinma's Imo manage to fritter away funds when 83% of its youths are unemployed? Does Uzondinma even have a conscience? Does it require rocket science to create the right environment for the private sector to come and set up plants that would create both direct and indirect jobs for Immolites? Today most Imo youths are turning into perpetual Internet fraudsters in large numbers and Uzodinma does not even give a hoot!
Where is Uzodinma channeling Imo State's monies to? Is it to the health sector where the life of the overwhelming majority of Imolites are is as potent as one health emergency? The 27 empty general hospitals the government of Rochas Okorocha bequeathed to the State have now been overgrown by weeds and new habitats for rodents and reptiles while Imolites die avoidable deaths daily due to a non-existent primary health care system. This explains why Imo's life expectancy has dropped from 57 to 53 in less than two years. Surely, what Uzodinma cannot destroy, does not exist.
Imo State has become very hellish that due to insecurity which has pervaded everywhere, many parts of the State have literally been taken over by criminal elements. While killings and arson are ongoing in Orlu, Orsu, and Oru East, other parts have become sanctuaries for armed robbers and bandits, and Owerri itself has become the capital of POS-targetted robberies in Nigeria. It is such a sorry state.
While these anomalies hold sway, it is important to again remind the Omuna born fraudster, that he would not remain in Douglas House forever and as he repaints old roads for commissioning by his Aso rock-based master in ineptitude, he should remember that the heydays would not be here forever, he would never escape justice, at least not that of posterity.
AFRICA DAILY NEWS, NEW YORK