Cristiano Ronaldo, Lionel Messi, and reigning FIFA Best Player of the Year Robert Lewandowski were included in the UEFA Men's Team of the Year for 2020.
The Team of the Year was unveiled on Wednesday and published on UEFA's official website.
Also Read: Victor Osimhen Named Serie A Fastest Player
Aside the three players mentioned, others who made the list are Neymar, Thiago Alcantara, Sergio Ramos, and Manuel Neuer.
Others are Joshua Kimmich, Alphonso Davies, Kevin De Bruyne, and Virgil van Dijk.
Also, there was the Women's Team of the Year which was dominated by Olympique Lyon players.
It is the first time UEFA will organize the Women's Team of the Year.
Below is the full squad;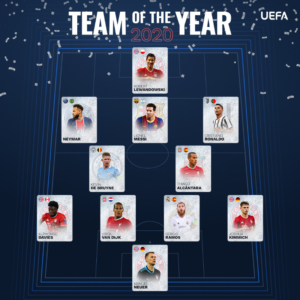 AFRICA DAILY NEWS, NEW YORK